There is no doubt about it: an old house can be seductive. What's often forgotten, however, is that the love story doesn't always go to plan. Renovating or improving an old house can be expensive and time consuming – a real labour of love.
When you see the estate agent's details, or first step through the door, there are certain questions that must be asked:
Does the house suit your way of life?
Are you prepared for draughts and damp spots?
Can you cope with low doors and beams, uneven plasterwork and sloping floors?
Do you have the time and money for any necessary renovation works?
If the answer to these questions is 'no', you may be wiser to walk away.
Why buy an old house?
An old house has many qualities that make it special. Even the humblest two-up, two-down property will have little touches of craftsmanship that give it individuality.
Walk down any street of traditional houses and you'll see a plethora of what might seem like almost unnecessary detail. It may be moulded brickwork, carved stonework, or a simple flourish on a window frame. Coupled with the attractive patina of age, it's this texture and thoughtfulness of detail that gives old properties character and makes them worth cherishing.
Another reason to like period buildings is because of their idiosyncrasies and the qualities of the materials used to construct them. Many reflect the geology and landscape in which they stand because they're constructed using local materials and techniques. Most have solid, 'breathable' walls and are built with lime mortars, renders and plasters.
Top tips for buying a period property
Matthew Slocombe, director at the Society for the Protection of Ancient Buildings (SPAB), offers his key considerations for buying an old home:
Look for authenticity. The 'oldness' of a period building cannot be manufactured. Look for genuine survivals. It may be that fireplaces have been boarded up and plaster overlaid with modern materials, but if the originals survive behind this, it offers a much better starting point than a gutted interior.
Choose a home that will fit your longer term needs. Look a few years ahead and consider whether the building is likely to fit your plans without major change. In a modern house, adding extensions or knocking down walls may be relatively straightforward. In an historic building it may not be.
Adjust your lifestyle. Don't expect an old home to be the same as a perfectly level, hermetically sealed modern box. Floors may slope, windows may be draughty, and elaborate modern services may be difficult to accommodate. Accept these limitations as part of the experience, not defects to be fought against.
Distinguish between decorative and structural needs. Small cracks are normal in old buildings and can be easily remedied as part of the redecoration process; larger cracks may hint at structural movement or other problems.
Deal with structural issues first. Kitchens, bathrooms and decorative works may be fun to do, but they should be bottom of your list. Fixing the roof and making sure the gutters, drains and electrics work properly will provide you with a sound basis from which to make other changes.
Settle in before making big changes. A vacant house offers an opportunity to tackle problems without upheaval to occupants, but avoid the temptation to do too much, too fast. A period of occupation often brings realisation about what's necessary to change and what's not important.
Get good advice. The cost of professional advisers can seem off-putting, but sound advice is an investment that can save you large sums later on. Make sure your architect or surveyor understands old buildings. The advice of a structural engineer, conservator, quantity surveyor or historian may also be invaluable.
Listen to craftspeople. Good ones know exactly what they're doing and their expertise is often under-appreciated.
Repair is good. Repair is often better than replacement, saving useful materials and embodied energy. Decay is rarely uniform and repair can allow the undamaged parts to remain.
Don't ignore consents. Planning permission and building regulation requirements should always be adhered to. This is particularly so in the case of listed buildings and those in Conservation Areas. If you buy a listed building that has been altered without permission you inherit the liability and enforcement action could be taken against you.
Get involved but know your limitations. There is no better way to get to know your building than through practical work. However, it is important to know the limitations of your own skills, to consider safety issues, and to get training if you are unsure. The SPAB and others run practical conservation courses. If you are trying out new skills for the first time, choose an inconspicuous area or a less sensitive structure on which to practice. If in doubt, call on an experienced craftsperson.
For more expert guidance, register for free tickets to The Old House Show, a new event for old homes, organised by SPAB in partnership with Period Living. The show takes place 7-8 September 2018 at the Old Royal Naval College in Greenwich.
For a limited time, Period Living readers can save 20 per cent on the cost of a SPAB membership.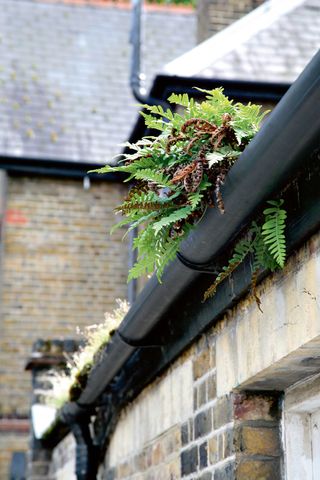 Problems to look for when viewing an old house
Damp is the first thing to look for and you may even smell it. From the outside, note any damage to the roof which might be allowing water in. Gutters and downpipes that are blocked or broken should ring warning bells. Similarly, plant growth on walls can indicate areas of damp.
Inside, look behind curtains, under carpets and into cupboards for signs of damp and, if possible, investigate the roof space for further signs.
If the house has cavity walls, check iron ties, which were used to tie the two leaves of masonry together. Check them for signs of corroding, which can lead to instability, unevenness and cracks in external walls.
More from Period Living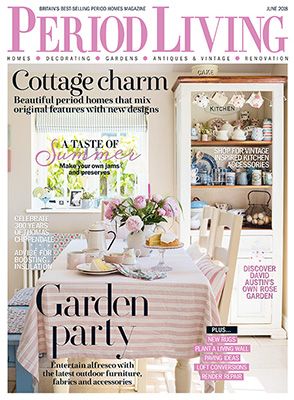 Period Living is the UK's best-selling period homes magazine. Get inspiration, ideas and advice straight to your door every month with a subscription.
Damp proof courses in walls were typically formed with slate or pitch and sand. Frequently, they were built too close to the ground, meaning they became covered by earth and paving, making them ineffective.
Cracks, bulging walls, sloping floors or crooked windows or doors are always a concern and might indicate serious structural issues. These may be due to historic settlement or – more of a cause for concern – decay within the structure or subsidence, possibly caused by nearby trees or damaged drains.
Check for lead, which was commonly used for the underground pipes. Now we know that lead deposits in drinking water can damage health, so all lead pipes should be replaced.
It is worth opening windows and doors to see whether they operate correctly and to inspect joinery for signs of decay. Similarly, 'springy' floors or rickety staircases can indicate that all is not well.
Eroded brick or stonework, defective pointing and cracked or damaged render may also indicate trouble ahead.
Understanding the structure of the building is vital. Some properties that appear to be brick are, in fact, timber frame, while render coatings may cover a whole variety of unexpected materials.
Never assume that, because one part of a wall is of a certain material, the whole house is the same: often a wide variety of materials are found in one building. Internally layers of plasterboard or dry-lining may be hiding all manner of problems.
Always seek out houses with original features. When items like perfectly good original windows are needlessly replaced with poor replicas or, worse still, totally inappropriate styles, this devalues the property both aesthetically and, according to estate agents, financially.
Equally, be wary of past repairs or alterations, as poorly executed building work often holds unpleasant surprises. Quick fixes and the use of cement mortars, renders and plasters can all lead to problems in the future.
What to do before buying an old house
Always invest in a detailed structural survey – find a specialist via SPAB or your local council conservation officer. It may be expensive, but it is better to understand fully the extent of repair before committing to a purchase. Where necessary, enlist the help and advice of experts.
Before putting in an offer, try to get some idea of the costs involved in repair. Ask a builder or your surveyor to provide estimates – you may be able to use the figures when negotiating the final price.
Too many people take a rose tinted view when buying an old house that requires work. Old building projects can be extremely stressful and put a strain on the best of relationships, so carefully review the task ahead, your budget and timescale before you proceed. Don't be afraid to walk away if you have any doubts.
Before you start any building or renovation, make sure you have a working budget and sufficient funds in place to complete the work. Add a 20 per cent contingency figure for unforeseen problems, and double your contingency amount for large, very old or neglected properties.
If the building is listed, also speak to the conservation officer to find out what might and might not be allowed via the planning process when you apply for listed building consent. Once you are armed with this necessary information, you should then gain any necessary planning permissions.
It is important to do your research and find out about the history of the building and the materials and techniques used to build it. You can seek advice from expert companies who will research the history and heritage, or conservation of a building, such as House Detectives.
Also engage a renovation team – architect, structural engineer, builder – that is sympathetic to old buildings with conservation needs.
Moving-in checklist
Once you are in the property, make it wind and watertight, even if this is only on a temporary basis. Ensure the roof is not leaking and that rainwater goods are in good working order.
Check the safety of electrical circuits and heating systems, and for leaks.
Ensure the building is secure. Protect features such as fireplaces, staircases and floors with temporary boarding.
Concentrate on external issues: roof and chimney work; repair brick, stone and timber-frame walls; overhaul and draught-proof windows, doors and lofts.
Install new plumbing and electrics.
Undertake work to floors.
Decorate externally and internally.
More on renovating