If you're in need of some design inspo, learn how to make a small kitchen look luxurious. Picture the ideal luxury kitchen, and visions of open spaces flooded with natural light might come to mind. While these are often the hallmarks of luxe, they also can carry a substantial price tag.
Thankfully, in the realm of kitchen design, the essence of luxury transcends more than aesthetics. Luxury is a feeling that can be derived from a combination of many factors including spaciousness, cleanliness, premium materials, the right lighting, and elegant color palettes.
From clever space utilization to savvy material choices, these small kitchen ideas showcase that luxury is not solely defined by the price tag but is, instead, a mindset. Luxury is about making thoughtful choices that elevate the overall ambiance and create a sense of indulgence, regardless of the amount of square footage or budget.
6 ideas to make a small kitchen look luxurious
Contrary to the common belief that luxury in kitchen design comes with a hefty cost, these expert tips serve as a strategic workaround with some small kitchen must-haves. From elevating your cookware collection to creating a cohesive color palette, your dream luxurious kitchen is only a few creative ideas away.
1. Match the furniture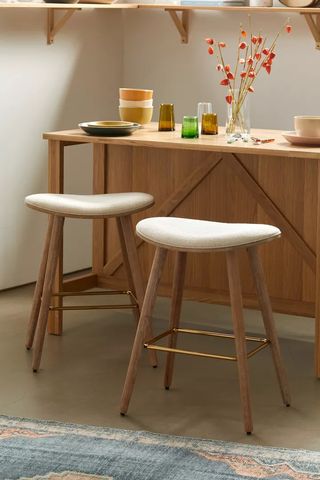 When it comes to designing a space that feels luxurious, matching furniture for small spaces can go a long way. Even if the styles of chairs or tables differ, it's best to use similar color tones and materials to create a cohesive luxe design. From using repeated patterns to matching your hardware, there are plenty of ways to incorporate this idea into your updated kitchen design for more luxury appeal.
A matching set of barstools, like these Threshold wooden stools from Target, will add a sophisticated touch.
2. Use the best materials you can afford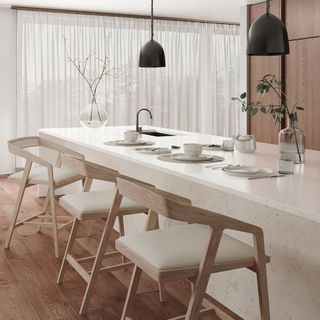 Peak functionality, durability, and a beautiful look are all factors in understanding how luxury design is defined. This means that designing with luxury in mind means seeking out the best of the best materials, especially when it comes to the largest items.
"Incorporate quartz countertops for a touch of opulence and practicality, as they are not only visually stunning but also durable and easy to maintain," interior designer Kerrie Kelly of Kerrie Kelly Design Studio advises.
If you're not undergoing a big renovation and just need to inject a bit of luxury into your kitchen, skip plastic in favor of metals and natural materials where you can on future buys. Even a small touch, like this bamboo cutting board available on Amazon, makes a difference. An investment in high-quality materials in both the big and small details can mean a more timeless and sophisticated kitchen design.
Kerrie Kelly founded her California-based design studio in 1995 to make great design more accessible. As CEO and Creative Director of the Kerrie Kelly studio, she leads a team of exceptional designers and has built long-term relationships with her brand partners.
3. Consider the lighting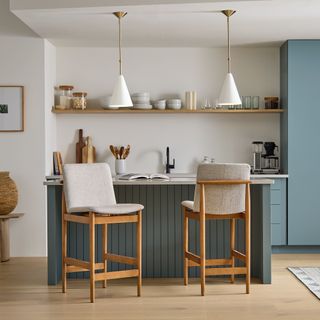 As far as small kitchen lighting ideas go, you typically have two great options: a large encompassing chandelier, like this stunning traditional chandelier available on Wayfair, or two to three smaller matching ceiling lamps. For other lighting, consider what will give off a natural or even subtle glow.
"Layer in subtle, ambient lighting with under-cabinet and toe-kick illumination and pendant lights to create a warm, inviting atmosphere," interior designer Kelly advises.
4. Use matching kitchenware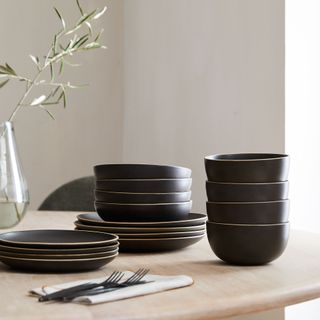 Cohesiveness and thoughtful design are the cornerstones of luxury kitchen design. When it comes to details, matching your plates, bowls, flatware, and cookware are all great traditional ways to add a touch of luxury to your every day. A good-quality dinnerware set, like this Threshold stoneware set from Target, looks super luxe but costs just $25.
For a kitchen that is patently coordinated, even using similar color tones in the best dinnerware sets (rather than exact replicas) can still make your space feel more put together.
5. Embrace neutral tones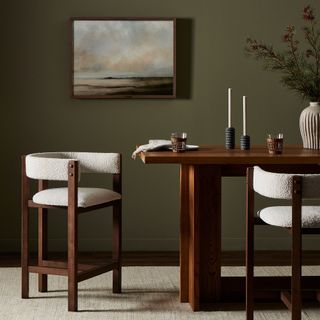 Rather than creating an eclectic, multi-colored kitchen, consider creating a color palette you can stick to. A maximum of three bold colors can be repeated throughout your kitchen design, from the window treatments to the cabinet color to the rugs.
Despite the fact that minimalist white-painted kitchens are currently the most popular way to create a luxurious-feeling kitchen, dark and bold tones, like using dark greens and black paint, can also feel luxurious and high-end.
6. Invest in high end where you can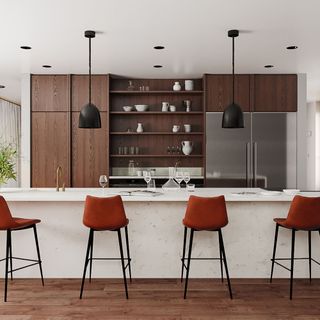 Long-lasting style is everything in designing a luxurious space which means durable appliances are often found in the most luxe kitchen designs. When it comes to upgrading your appliances, even something as simple as purchasing a new toaster or one of the best coffee makers can increase your kitchen's appeal.
Interior designer Soledad Alzaga recommends changing even the smallest of details when you can. "A way to make your kitchen feel more luxurious is with hardware on the cabinets and fixtures like faucets and lights," she says.
Therefore, even if you're unable to stretch the budget for big-ticket items, such as an oven or a new refrigerator, or even a high-end brand-name small kitchen appliance, consider finding items like budget appliances made from premium materials or hardware made from matching metals to get the luxe look without the price tag.
FAQs
What role does lighting play in making your kitchen design feel luxurious?
Lighting is one of the most important elements in a luxurious kitchen design. If you find your overhead lighting isn't enough, try swapping out the bulb or purchasing another fixture. Natural light is the best at brightening your kitchen's mood so be sure to purchase curtains that don't block the sunlight.
What are some kitchen design elements that make it more difficult for your kitchen to feel luxurious?
When it comes to luxury, cleanliness is the most important element. If you're kitchen is kept organized and clean, then you're halfway to having the luxe kitchen of your dreams. By keeping your oven, kitchen counter, and cabinets pristine, you can feel luxurious in your kitchen. You may find making a kitchen cleaning checklist will you stay on top of all the tasks at hand.
---
When it comes to creating the luxurious kitchen of your dreams, don't let square footage or your budget deter you. There are many ways to incorporate luxurious materials, colors, and small kitchen trends in your space so you can feel luxe each and every day.