A fancy new dinnerware set will be an instant upgrade for your kitchen ⁠— especially if you've been eating out of takeout boxes and Tupperware. Trust me when I say that I ate out of so much plastic at college, but, 10 years later that's all changed. I've switched my dorm for a dreamy two-bed apartment, and instead of using aluminum trays as crockery, I've spun things 360° with some pretty plates.
The plate and bowl sets I've picked for myself aren't those that have been put out on display at your mom and grandma's house. They're there to be used — so get them out, girl! Sorry, but you've also got to stop lying to yourself that those ill-assorted plates from previous rentals are mismatched intentionally. It's only "chintzy" when it's vintage... chipped porcelain is not a "lewk" hun. So, luckily for you, I've found five of the best dinnerware sets around ⁠— for looks and features ⁠— that are high quality, easy to keep clean, and super cute. Even better news? If you're someone who only buys non-toxic cookware, I've also featured some eco-friendly picks that might be up your street.
Though I haven't tried, tested, and reviewed everything you see in this guide, we've served up some knowledge from people who have, so you've got all the specifications on a platter. Bon appetit!
The best dinnerware sets to buy in 2023
Why you can trust Real Homes Our expert reviewers spend hours testing and comparing products and services so you can choose the best for you. Find out more about how we test.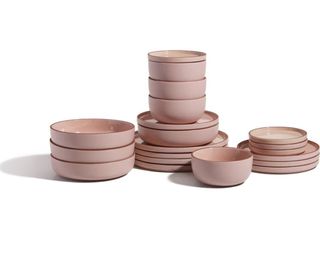 A stand-out in the style and sustainability department is the Set the Table set from Our Place. When used at home, its speckled finish and contemporary shape made a pretty addition to our otherwise plain dining table set-up. And whilst we were initially concerned about potential chipping due to its delicate feel, it did survive one accidental drop!
What we love about this dinnerware set
These stackable plates, side plates, and bowls are practically designed for an all-around upgrade to everyday eating. In the same color options as their signature non-stick frying pan, the Our Place Set the Table set is modern and on-trend. Sustainably made from recycled and virgin porcelain ceramic, it's beautiful both inside and out. With a raised rim to prevent overspill too, these plates are particularly perfect for meals with gravy or sauce. The Always Pan may have taken social media by storm, but we predict this eco-friendly plate set will be the next to find its way into your kitchen cupboards in the same way that it's done so for two of our reviewers.
Good to know
You get four full plates, four midi plates, four midi bowls, four demi plates, and four demi bowls so there's a size to suit all mealtimes. While it can survive all of the elements (ie: microwave, oven, freezer), you should let the plate come to room temperature before going from extreme hot to cold (and vice-versa).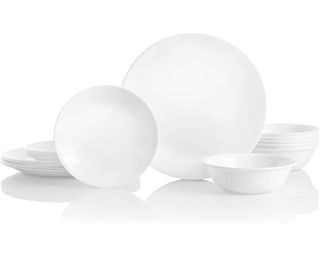 Move over ceramic — there's a new sheriff in town! For that classic restaurant feel (that's also suitable for casual eats), you can't go wrong with this recycled tempered glass white dinner white set. This Corelle compilation is under $60 and has been given an average rating of 4.7 stars from almost 12,000 customers. Though there are five different patterns to choose from, I think the crisp white simplicity makes the best canvas to show off my foodie skills. In my head, I'm next year's MasterChef contestant with these.
What reviewers love about this dinnerware set
When scanning through the thousands of reviews, there was a consensus that this brand's products are durable with some sets lasting decades! This doesn't surprise me, as the brand has been going since 1970, so have had over 50 years in the game. And while you might think glass is fragile, the material has been heat-treated to give it a virtually unbreakable composition. Both plain and patterned work well in formal and relaxed settings.
Good to know
This 18-piece set includes six 10.25-inch dinner plates, six 6.75-inch appetizer plates, and six 18-oz soup/cereal bowls. But, in some cases (when purchased from Amazon), a few of these arrived broken or weren't in the box at all.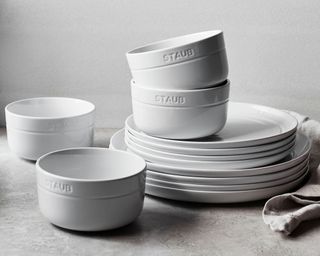 Though STAUB is probably better known for its quality cast iron cookware (including *that* dutch oven used by Courteney Cox), they undeniably create good tableware too. Though I haven't physically plated up food on it myself, this rustic stoneware set is the perfect modern traditional touch for any home. It's giving dinner in the south of France vibes.
What reviewers love about this dinnerware set
It'd probably be easier (and quicker) to list what they don't love about this set (that's mentioned below, btw). In short, this stoneware collection is aesthetically-pleasing, isn't too heavy (or light), doesn't crack under the pressure of thermal shock, and it can be used in your popular kitchen appliances to reheat leftovers. Though stoneware is naturally porous, the enamel glaze will protect it from water damage if you soak these in the sink.
Good to know
The 12-piece dinnerware set features all the key pieces you need to set your table in style. The set includes four 10.2-inch dinner plates, four 9-inch salad plates, and 4 x 5-inch cereal bowls. In keeping with the homely feels, the base is a little distressed — it's not necessarily a bad thing, just something one reviewer said wasn't in keeping with their taste. This set has been known to be on sale around Black Friday too.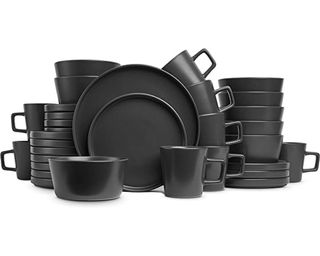 Love a bit of modern black home decor? This fashionable set is the perfect dinnerware set for those who love monochrome or have lots of structured tailoring in their wardrobe. I've got my eye on the black with white rim version which is tableware's answer to a pinstripe suit. Plus, unlike the others in this guide, it comes with four mugs too for that put-together look.
What reviewers like about this dinnerware set
Don't underestimate the durability of this earthy and organic stoneware — its sultry, soft matte look can be deceiving. In the dinnerware set category on Amazon, these are only pipped to the post by the Corelle plates. They are on the heavier side, but we think this is a great feature that makes them feel more expensive and industrial-chic/mid-century modern. Plus... if you've got butterfingers, their overly-sturdy nature is unintentionally convenient! For soupier dishes, the raised lip prevents sauces from spilling off the end of the plate.
Good to know
This set includes four round dinner plates, four salad plates, four bowls, and four handled mugs. All with a post-modern lipped rim design. Though they're suitable for the dishwasher, some reviewers found it frustrating that they couldn't fit the thicker-than-normal plates into the designated slots. Otherwise, they're super easy to clean — pie, sauce, and grease included.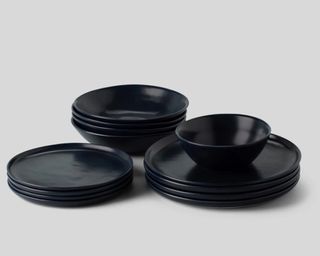 Nope — it's not another black dinnerware set. It's blue. You see, navy blue decor is having a moment right now, so it'd make sense to go all matchy-matchy with this smart set. These get chocolate brownie points for their eco-credibility as they're made in a zero-waste ceramics facility in Portugal. Say 'Obrigado' to me once you've sat down and seen these stunners IRL. What'll surprise you is that each piece is crafted by artisans using a blend of recycled and locally-sourced clay from just a few miles up the road. Though they are dark, I think they'd stand out quite well year-round, whether you're eating outside, or keeping guests out of the cold.
What reviewers thought of this dinnerware set
Though the dinner plates are quite large by most people's standards, reviews appear complimentary on the whole. Buyers like the asymmetry and unique nuances in the set, and the word 'beautiful' was generously peppered through a lot of the comments — if you'll pardon the pun.
Good to know
This set comes with four of The Dinner Plates, four of The Salad Plates, 4 of The Breakfast Bowls, and The Pasta Bowls (love a 'Plowl' I do!). Though you do save 10% when buying it as a bundle, you could mix and match the colors up as everything is available to buy individually. If you notice that your knives and forks have scratched up the surface — don't worry! A little Bar Keepers Friend powdered cleanser will take care of it. Oh, and if you get the Speckled White version, it's a lot more flecked than the image shows. I assume reviewers didn't like this because it made the crockery look dirty, even after it'd been cleaned. This set is a little chunky, so the same issues with fitting them in the dishwasher might arise.
---
3 things to consider when choosing a dinnerware set
Before you start shopping, there are a few factors to think about to ensure you find the best dinnerware set for you.
1. How many pieces do you need ⁠— and how do they store?
It's initially worth calculating how many place settings you need. We recommend four place settings for a two-person household, and eight for a family of four or five. In terms of pieces, you'll need to make up one set, most of our favorites have already made that decision for you. Offering a selection of 12 pieces, these typically include dinner plates, side plates, and small soup or cereal bowls, while larger sets may also include mugs and other add-ons. Some exceptions to these sell their sets separately.
It's also worth paying attention to the size and shape of each individual item. Choose pieces that are appropriate for your eating habits and cupboard space — and don't forget to make sure they can fit in your dishwasher (if they are dishwasher safe, of course).
2. What are they made from?
To know what you are buying, consider the material of your dinnerware set. A popular choice is porcelain. Loved for its glossy, smooth finish, porcelain is made from fine clay and is resistant to chipping. For more formal place settings, bone China is a mix of kaolin clay and bone ash, extremely durable and fired to a borderline translucent finish that comments higher prices than most. Stoneware is a practical option that's on-trend for its rustic look. Its single firing and glaze finish means it doesn't achieve a bright white finish like porcelain or bone China, but many prefer it for its weighty feel and pocket-friendly price.
3. Match your dinnerware set to your home style
Select a style that suits your kitchen. With a range of colors, patterns, and finishes, we recommend finding a set depending on its use. For everyday use, a design that's simple and practical provides the best blank canvas for every meal. Sets with more decorative designs may become dated. Instead, save the pattern and print for an occasion-only set. And if you're looking for one that does both, then a plain color with a modern edge, like a speckled or reactive glaze finish is durable enough for everyday use but nice enough for entertaining. Another tip: brighten up a basic set with colorful glassware, placemats, or tablecloths for a spruced-up table setting.
How we chose these dinnerware sets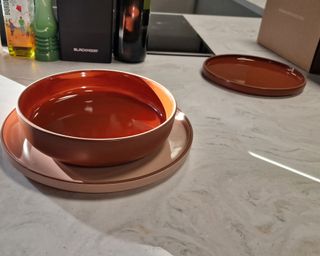 From breakfast to dinner and dessert, many meals were eaten off the Our Place set in order to test the look, durability, and overall value for money. Whilst it might have been somewhat possible for one person to eat their way through numerous rounds of five different plates of food, it seemed only sensible to share food for thought on our favorite dinnerware sets amongst the Real Homes team.
Otherwise, the four other sets we included in our roundup have not been tested ⁠— just being honest! We did, however, read a significant sample of reviews, to sum up what's hot and what's not, including whether they could be cleaned in a dishwasher. Rest assured that only the best-rated dinnerware sets (by reviewers who actually own these sets) have been included in this guide.
Meet our dinnerware set reviewers:
Hey, I'm Christina, e-commerce editor at Real Homes. Though most of my time is spent reviewing small kitchen appliances, I also have to take photos of the foods cooked inside these gadgets... meaning that I'm constantly surrounded by dinnerware sets, plates, bowls, and platters.
I had the lucky task of sifting through tonnes of reviews to find the sets that really stood out. I remember having an absolutely awful avocado green set when living in my college dorm because mom decided that this would deter people from "borrowing" my stuff. Thankfully, I've seen the Our Place set IRL when the brand sent my colleague a set to our test kitchen. I can attest, it literally is tablescaping goals.
As our head of reviews, Millie cares about home cooking, so her dinnerware certainly gets a lot of use! She loves the mix-and-match potential of the Our Place Set the Table set. The ability to stack the plates perfectly on top of bowls for storing leftovers or reheating is also perfect for those who like to batch cook. She will admit that her big plates don't get much of a look-in, as she's all about those big pasta bowls for eating just about any meal cross-legged on the couch.