These home security solutions are just what you need if you're looking for easy ways to protect your property from intruders. Particularly at this time of year, when crime rates are significantly higher on account of the long, dark nights.
And while good quality locks and old school burglar alarms – which most of don't even use – are a great start for protecting your home, the world of home security has evolved much beyond this. And there are an awful lot of easily installed – and super affordable – security measures that will be effective in deterring criminals.
When you're done browsing our top tips, browse our pick of the best home security systems and make the most of all the advice and information available on our home security hub page
---
---
1. Invest in the right home security hardware
Where can I buy home security essentials?
Start out by double checking all entry points (doors, windows and gates) and ensure they're fitted with high-quality, fully functioning security hardware that has been independently tested and approved.
Your hardware should meet insurance requirements, be third party approved – Sold Secure is a great example –and, ultimately, keep your property safe.
If you discover that's not the case, you may consider one of the following, taking time to consider the suitability of each variety for your home:
A night latch (also known as a Yale lock);
A mortice lock;
A Euro lock cylinder – these are generally used on uPVC doors as well as some composite and aluminium doors;
A keyless door lock – browse our pick of the best – which uses smart technology to better secure your home (and means you won't have to worry about forgetting your keys, again);
A patented lock, which will be unique to you and your property. One of the major perks of this kind of lock is that the keys cannot be copied without proof of ownership. While initial investment in patented or restricted locking systems tends to be higher than 'off-the-shelf' locks, in the long run this could potentially save you money.
If you're not sure where to start, you can always get professional advice from your local MLA-licensed locksmith.
2. Secure your home's perimeter
Home security is not limited to the locks and technology you use – your choice of boundaries and the design of your home will also have an impact. Factors worth considering include:
Is your home surrounded by bushes? If so, it's worth noting that they can make it easier for intruders to access your property without being seen. Privacy is important, but maintain clear sight-lines to entries so that burglars are deterred;
It may seem obvious, but you'd be surprised how many people leave windows open, putting their home's security at risk. If you have a window next to a flat roof, it should properly locked when you are not nearby, especially if there is easy access to the flat roof by way of a drainpipe or trellis;
Don't let a broken fence make it easy for people to get in to your garden.
Lock gates to create an added hurdle for potential thieves;
Lock your shed – not only might you lose tools, they could even be used to force entry to your property.
This illustration below shows potential home security risks: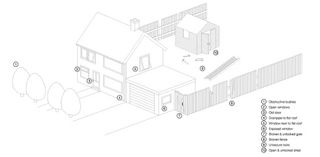 While the following illustration demonstrates a well secured homes exterior: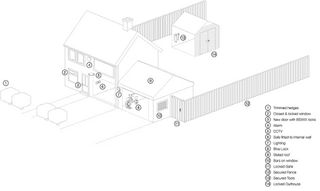 3. Secure your outbuildings
It's also important that garages, sheds, bike sheds or outbuildings are well secured, not only to protect contents from theft, but to close off access routes into your home, and ensure any tools or contents inside can't be used to gain entry, either. Bear the following in mind when checking the security of your outbuildings:
Check the quality of locks on sheds and outbuildings to make sure they are working properly and aren't rusty or weak;
Mortice security bolts should be installed to the top and bottom of doors where possible;
If your shed door or frame, is too small and thin for a mortice lock, invest in a good hasp, staple and padlock;
Pay attention to hinges, too, ensuring thieves cannot easily remove them and take the door off that way. Fitting hinge bolts to each leaf should hold the door in place if someone tries to break the hinges;
If your outbuilding is attached to your home, treat linking doors as you would your final exit door, because criminals may use them as a means of entry to your property. If they are hidden from view, this could give the burglar more time to spend trying to break in.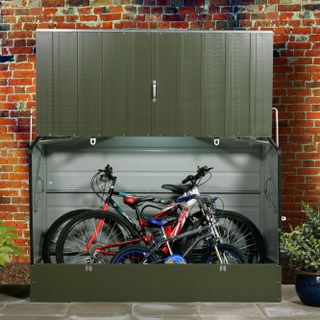 If you're dissatisfied with the effectiveness of your current security set-up, you may consider implementing the following, additional security measures:
Use grilles and welded mesh sheeting, fitted on the inside of your outbuilding, to increase security;
Consider using netting or reflective sheeting to stop a potential thief from seeing what's stored in the shed or garage;
For things like power tools, you can get steel containers fixed securely to the floor;
For ladders, spades, forks, tools and bikes, you can install ground anchors that allow you to chain them to the floor.
Most MLA-approved locksmiths can carry out a security assessment of your outbuildings to advise on the type of locks you might need, free of charge. If you're installing security yourself, go to Sold Secure for independently tested and approved products.
4. Conceal your valuables
Leaving valuables in plain sight, whether Christmas gifts under a tree, a smart computer inside a bay window, or even packaging for expensive goods by the bin is an invitation to burglars. Of course, thieves know our houses are all stuffed with goodies, but opportunist thieves don't need that extra temptation to break in.
A professionally specified and fitted safe is great for keeping valuables, such as expensive heirlooms and jewellery, out of sight, as well as storing spare sets of keys and important paperwork, such as passports.
It's worth noting that safes have a cash rating, which is the amount an insurance company will cover when money is left in it overnight – multiply by 10 to calculate the cost of jewellery.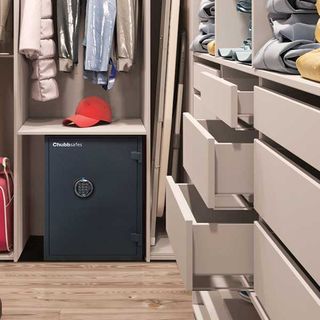 5. Provide a deterrent with smart lighting
Statistically, burglaries increase by 38 per cent after the clocks go back because the nights are darker for longer, offering concealment for intruders. It also makes a dark, empty home easier to spot, so make sure to keep yours well lit if you're serious about protecting your home.
The easiest way to do this is using smart lighting, which can be controlled, using your smartphone, from any location. Smart lighting systems also allow users to set schedules, so you won't have to worry about remembering to turn the lights on and off when you're away.
In fact, many intelligent lighting systems come with a holiday mode built-in, which automatically replicates your family's lighting habits when you go away, so the house appears occupied.
Interested? Browse our guide to the best smart lighting gadgets .You may also find out guide to the best outdoor flood lights a handy read.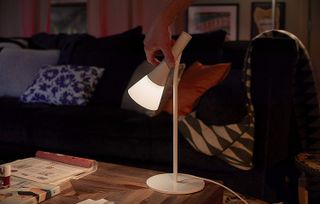 6. Put burglars off with a visible burglar alarm system
The best place to install security cameras is somewhere that potential intruders can see them. While this may seem counter intuitive, its ability to act as a deterrent is more significant than you may initially realise. It's also worth noting that burglars usually target the front or back doors, so ensure cameras are pointed at these key areas.
In terms of specific positioning, we'd recommend choosing somewhere that's at least 3m above ground level, so burglars can't smash the cameras.
Bear in mind that while a camera acts as a visual deterrent to most burglars and can catch somebody in the act, preventing them from trying in the first place is the best home security strategy (see all our points above!).
Wondering if security cameras are really worth the investment? Our handy guide was written with you in mind: do you really need smart security cameras?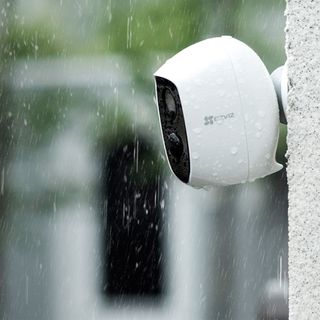 7. Install a video doorbell
A new addition to the world of home security, video doorbells – or smart doorbells, as they're also known – allow you to view who is at – or near to – your front door via your smartphone, whether you're in or out.
They also allow you to communicate with whoever is at the door – handy for when deliveries arrive when you're out. These smart doorbells also allow you to look back at who has been at your door, and some even have facial recognition and will send you alerts when someone arrives at the door that you know – or that the doorbell doesn't recognise.
Sound like the solution for you? Browse our guide to the best video doorbell. Or, read more in our handy guide: do you really need a video doorbell?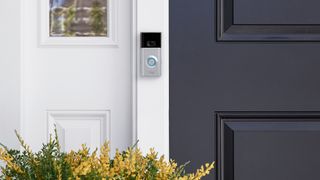 8. Don't announce your holiday on social media
While posting updates of your everyday life on social media might be a habit you particularly like to keep up while on holiday, it can be an advertisement to everyone who can see your feeds that you're away.
In fact, it's worth knowing that home insurance companies to have started including irresponsible social media posting as a reason for refusing claims post-burglary. So, it's worth being cautious as to who you share your news with.
9. Get a dog
A big dog will, naturally, make burglars think twice – but even a small, yappy dog will create unwelcome noise that's just another deterrent to would-be intruders.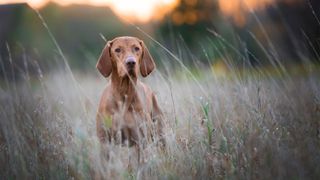 10. Don't make your absence obvious
Post gathering inside the door, milk or deliveries left uncollected outside, curtains that remain open or closed... anything that advertises an empty house is an open invitation to potential intruders.
We'd recommend enlisting neighbours or friends to come in regularly to maintain the appearance of occupation – just ensure they know how to reset the alarm...
11. Install motion sensors
Motion sensors in the garden can be programmed to sound the alarm and raise the garden lights if they are triggered by an unwelcome presence.
Just make sure to set the level of motion to an appropriate level for your home, or garden, as you wouldn't want a sensor going off every five minutes because the cat, or any other form of wildlife, is moving around.
Windows can be fitted with vibration sensors, and if one is accidentally left open, a message will appear on a touchscreen panel in the hallway or on a phone, telling you exactly which window it is.
More on home security: