Whether it is through traditional locks or hi-tech integrated security systems, Dr Steffan George, MD of the Master Locksmiths Association, Matt Nimmons, MD of the Custom Electronics Design and Installation Association and Anthony Neary of Safe.co.uk, advise on the best ways to protect your home and family.
Invest in the right hardware
First double check all entry points (doors, windows and gates) and ensure they're fitted with high-quality, fully functioning security hardware that has been independently tested and approved. This is to meet your specified insurance requirements, as well as keeping your property safe.
There are a wide variety of locks on the market, all intended for different purposes – whether it's a nightlatch (often referred to as a Yale-style lock), a mortice lock or Euro lock cylinder (used on uPVC doors as well as some composite and aluminium doors) – so it's important to check the suitability of a lock for what it is you want to protect.
You can get professional advice from your local MLA-licensed locksmith, and always use products approved by a third-party certification agency, such as Sold Secure at soldsecure.com.
Securing the perimeter
Home security is not limited to the locks and technology you use — your choice of boundaries and the design of your home will also have an impact. Below we compare good and bad examples of designing in security.
Common mistakes
Obstructive bushes around a property make it easier for intruders to access your property without being seen. Privacy is important, but maintain clear sight-lines to entries so that burglars are deterred.
Leaving windows open and relying on old doors with old locks also puts your home at risk. You should also think about access to windows. A window next to a flat roof should be properly locked when you are not nearby, especially if there is easy access to the flat roof by way of a drainpipe or trellis.
You should also keep your garden secure. Don't let a broken fence make it easy for people to get in to your garden. Lock gates to create an added hurdle for potential thieves. Lock your shed — not only might you lose tools, they could even be used to force entry to your property.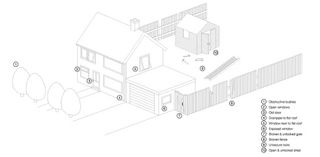 Safer solutions
The following are all great ways to keep your home safe:
Trimmed hedges
Locked windows
New, locked doors
Alarm
CCTV
Safe fitted to wall inside
Exterior lights
Bike lock
Pitched roof
Bars on exposed/vulnerable windows
Locked gate
Secure fences
Secure tools
Locked shed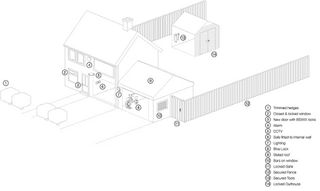 Make your locks unique
If you're prepared to invest in a whole new lock system, a patented lock is a good idea. They are unique to you and your property, and the keys cannot be copied without proof of ownership. While initial investment in patented or restricted locking systems tends to be higher than 'off-the-shelf' locks, in the long run this could potentially save you money. For example, in situations where you would usually wish to change your locks, they can be reconfigured rather than replaced.
Secure your outbuildings
It's important that garages, sheds or outbuildings are well secured, not only to protect contents from theft, but to close off access routes into your home, and ensure any tools or contents inside can't be used to gain entry, either.
Check the quality of locks on sheds and outbuildings to make sure they are working properly and aren't rusty or weak. Mortice security bolts should be installed to the top and bottom of doors where possible. If your shed door or frame, is too small and thin for a mortice lock, invest in a good hasp, staple and padlock. Pay attention to hinges, too, ensuring thieves cannot easily remove them and take the door off that way. Fitting hinge bolts to each leaf should hold the door in place if someone tries to break the hinges.
Extra security measures include grilles and welded mesh sheeting, which can be fitted on the inside. Netting or reflective sheeting can be used to stop a potential thief from seeing what's stored in the shed or garage. For things like power tools, you can get steel containers fixed securely to the floor. And for ladders, spades, forks, tools and bikes, you can install ground anchors that allow you to chain them to the floor.
If your outbuilding is attached to your home, treat linking doors as you would your final exit door, because criminals may use them as a means of entry to your property. If they are hidden from view, this could give the burglar more time to spend trying to break in.
Most MLA-approved locksmiths can carry out a security assessment of your outbuildings to advise on the type of locks you might need, free of charge. If you're installing security yourself, go to Sold Secure for independently tested and approved products.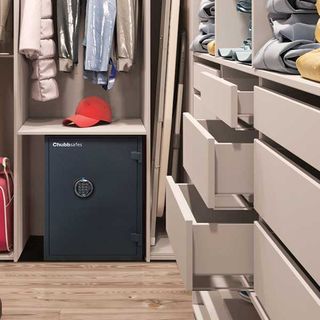 Conceal your valuables
A professionally specified and fitted safe is great for keeping valuables, such as expensive heirlooms and jewellery, out of sight, as well as storing spare sets of keys and important paperwork. Safes have a cash rating, which is the amount an insurance company will cover when money is left in it overnight. This rating is multiplied by a factor of 10 for jewellery. You can also put burglars off with ruses such as a fake TV, which emits multi-coloured LED lights, similar to that of a real television, and timed lighting, as well as visible, functioning alarm systems and CCTV cameras.
Home Security Technology
The latest in security technology can offer a high-level deterrent to would-be intruders that can be easily controlled by the homeowner. This can be integrated with the very latest hi-tech lighting and automation facilities.
Provide a deterrent
Many intelligent lighting systems come with a holiday mode, which automatically replicates your family's lighting habits when you go away, so the house appears occupied. Perimeter detection can be effective at putting off intruders.
Motion sensors in the garden can be programmed to sound the alarm and raise the garden lights if they are triggered by an unwelcome presence, while automatic gates can be opened and closed at the touch of a button from anywhere in the house. Windows can be fitted with vibration sensors, and if one is accidentally left open, a message will appear on a touchscreen panel in the hallway or on a phone, telling you exactly which window it is.
Burglar alarms
If there is a break-in, then it is possible to combine your alarm system with an intelligent lighting and audio system, so that all the lights in the property will automatically switch on or flash incessantly, as well as playing loud music or sounding alarms. Inside the home, motion detectors, smoke detection, heat alarms and carbon monoxide detection equipment can all be fully integrated on the relevant control system.
Upgrade your protection
For more stringent security, it is possible to have sophisticated voice-operated, video-based or biometric fingerprint entry systems installed. Although you can use an audio entry system or even a standard telephone handset to control an integrated security system, video entry systems and CCTV are becoming popular features that allow homeowners to see who is at the front door just by looking at their TV screen.
Video images from external security cameras are simply distributed over a radio-frequency system. TVs can then be tuned directly into the CCTV channel without the use of any additional hardware and appear as a pop-up screen when activated. Even more useful is being able to control and view CCTV cameras remotely over your home's PC network or the web.
Network cameras can be moved around at the touch of a button to zoom in on different parts of the building, while audio and video footage is automatically recorded onto a large capacity hard disk drive as soon as its infra-red sensor detects movement. The latest integrated security solutions also enable control of the property via a tablet or other mobile device, either by dialing into a network or sending a text message, which allows you to control them remotely.
Security tips from Anthony Neary, MD of safe.co.uk
The best place to install security cameras is at least nine feet above ground level so burglars can't smash the cameras. Burglars usually target the front or back doors, so ensure cameras are pointed at these key areas.
A camera acts as a visual deterrent to most burglars. CCTV can catch somebody in the act but preventing them from trying in the first place is the best home security strategy.
Statistically, burglaries increase by 38 per cent after the clocks go back because the nights are darker for longer, offering concealment for intruders. It also makes a dark, empty home easier to spot, so keep yours well lit.
Burglars are opportunists. When trying to identify a target, they are looking for a weakness in security. Homes with security alarms on the exterior will naturally deter burglars, and doors which include insurance-approved locks will likely prevent them from attempting a break-in in the first place.
Remove temptation by not leaving valuable items lying around the home that are visible from the front windows.