Dreaming of a bathroom makeover? Or think it might be time you gave your bathroom a different look with just a few new additions? These are just a few of the telltale signs that you might be overdue a quick bathroom update and we can help get you there...
Check out the latest bathroom ideas from the design experts and otherwise keep scrolling for our official 10 signs that your bathroom fully deserves an upgrade... (and show your other half if they don't agree).
Before you panic, even if your current bathroom features all or variations of the below, there are so many ways to build your perfect bathroom on a budget. Just take a look at our how to guide for inspiration and ideas.
1. Your bathroom features something pink and fluffy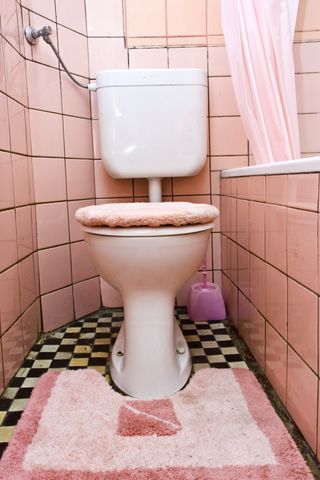 You're embracing your inner Barbie and what better place to do this than in your sanctuary of peace and cleanliness, right? Wrong.
If it's pink and fluffy that you want, save it for a bedroom, as anything furry near a toilet is – let's face it – gross. And looks like you live in the 1970s. If you really want to add some colour, why not take a look at some bathroom paint trends that will actually make the space look much better? And by the way, THIS is how to do pink room ideas.
2. You've got carpet on the floor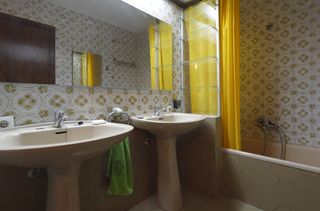 A decade ago you may have opted for carpet thinking it'll be cosy, but now all you can think about is the damp and dirt that's lurking in those fibres! You used care enough to try and keep it dry, but now a squelching floor and sodden socks have become the norm.
Find out how to choose the best bathroom flooring, and say hello to a brand new, stylish and practical floor.
3. You'd rather die than actually have a bath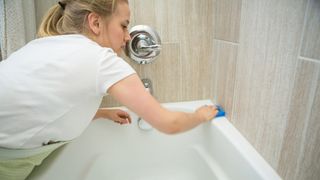 You wince at just peering into the bath and seeing the grime and mould that won't budge no matter how much elbow grease and Mr Muscle you use. The thought of sitting in it sends shivers down your spine.
It's alright though, if you don't look at it, it can't hurt you. Or can it? It might be time to get a new bath. Or just find out how to clean a bath so that it's squeaky, squeaky clean.
4. You can see pipes… everywhere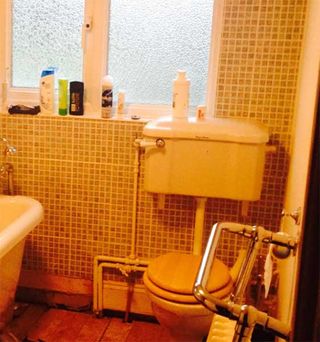 Industrial chic is bang on trend for a kitchen, so who says this can't work in a bathroom? Exposed pipes are a hot new trend and you're just rockin' this look in your own unique way. Sorry guys, this is one room where pipes should be hidden away – find out how it should look with our guide to bathroom plumbing.
5. You take really short showers to avoid a flood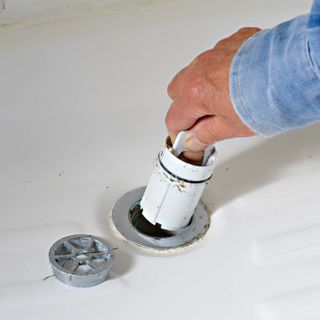 Two minutes into every shower you find yourself standing in a pool of luke-warm water. No matter how many times you clear that drain, the pond always returns and limits your shower to 30 seconds or you risk flooding the whole bathroom.
Your first step is to unblock the drain. Hair and soap slime (especially when combined) will quickly cause a blockage, so carefully remove anything you can reach through the plughole, then use thick bleach or special drain unblocker.
If you are still having issues, call in a plumber – or if aesthetics is also an issue, why not buy a new shower? Or you could just find out how to clean a shower while you're saving up.
6. Your tiles are filthy beyond repair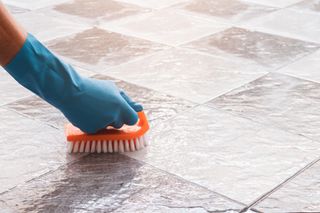 You used to take pride in your bathroom and scrub it until it gleamed. But now there's only so much you can do. You've become so used to the discoloured grout and water stains that you barely notice them, no one notices tiles, do they? Yes, yes they do. Choose some new bathroom tiles.
7. You've got a jazzy shower curtain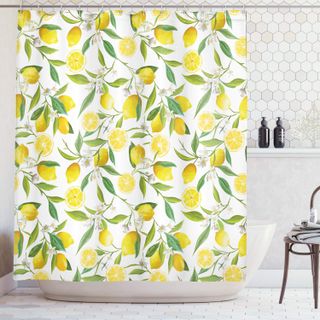 What better way to add a splash of colour to your bathroom than with a nice bold shower curtain? It may be mouldy and discoloured at the bottom and you spend your shower avoiding touching it, but it's practical and keeps the rest of your bathroom safe from shower spray. You deserve a new shower enclosure or screen if you ask us.
8. You're hiding your floor with multiple bath mats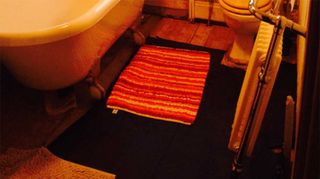 You're adding a quirky touch to your bathroom with some clashing colours and patterns, because that's all the rage right now. Layering bath mats to create as much distance between you and the rotting floor as possible is a great solution, don't you think?
That floor will need replacing sooner or later, but in the meantime, see our pick of the best bath mats.
9. You've got a neglected bidet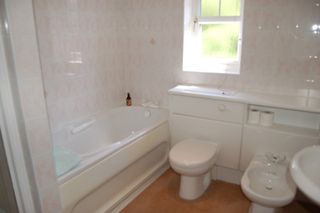 It was there when you moved in and now it's just a familiar sight. You've never actually used it for its intended purpose, but if it wasn't there, where else would you rest your leg to moisturise?
And on that note, if you are going to design a bathroom from scratch be sure to reference our guide for expert info.
10. You've got net curtains
You keep telling yourself it's just a hint of vintage chic and net curtains are easy way to protect your modesty. But there's such a thing as obscured glazing these days, or window film… anything but net curtains, basically! These are our favourite bathroom window ideas – from blinds to shutters.
Read more: