Waterfall countertops are a popular design that can be found in kitchens of all styles and sizes, although they are especially popular as part of a more luxurious kitchen design.
So, 'Are waterfall countertops worth it?' is a question you may be asking yourself if you are undertaking a kitchen remodel, or, in some cases, a bathroom remodel...
Eugene is a partner and CEO at the San Jose-based Studio S Squared Architecture.
When it comes to finding the best kitchen countertops, there are lots of factors, including type and material, to consider ahead of making a final choice for your home. Here's what you need to know about this countertop type, according to kitchen design experts.
What are waterfall countertops?
A waterfall countertop is a type of countertop where the countertop material continues over the edge and falls all the way to the floor on both sides. Eugene H. Sakai, CEO at Studio S Squared Architecture says that waterfall countertops are usually used as part of kitchen island ideas, but they 'can be done anywhere that has an edge like in the cabinetry wall pictured below where we used wood instead of stone to create the effect. The corners are mitered on the chosen surface creating a continuous line that appears to fall off the end, like a waterfall.'
Megan Dufresne, the founder of LA-based interior design firm MC Design adds that 'this technique requires double the slab material if using stone, so that does need to be considered when choosing this look for your home. These countertops are modern, dramatic, and offer a clean, aesthetically pleasing look.'
Waterfall countertops are versatile and will suit a number of kitchen styles, from modern kitchens to coastal, although we perhaps wouldn't recommend them quite so much for traditional kitchen designs.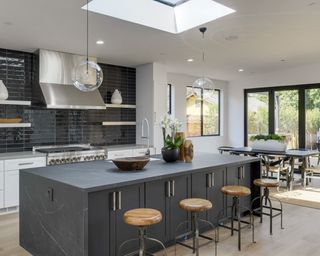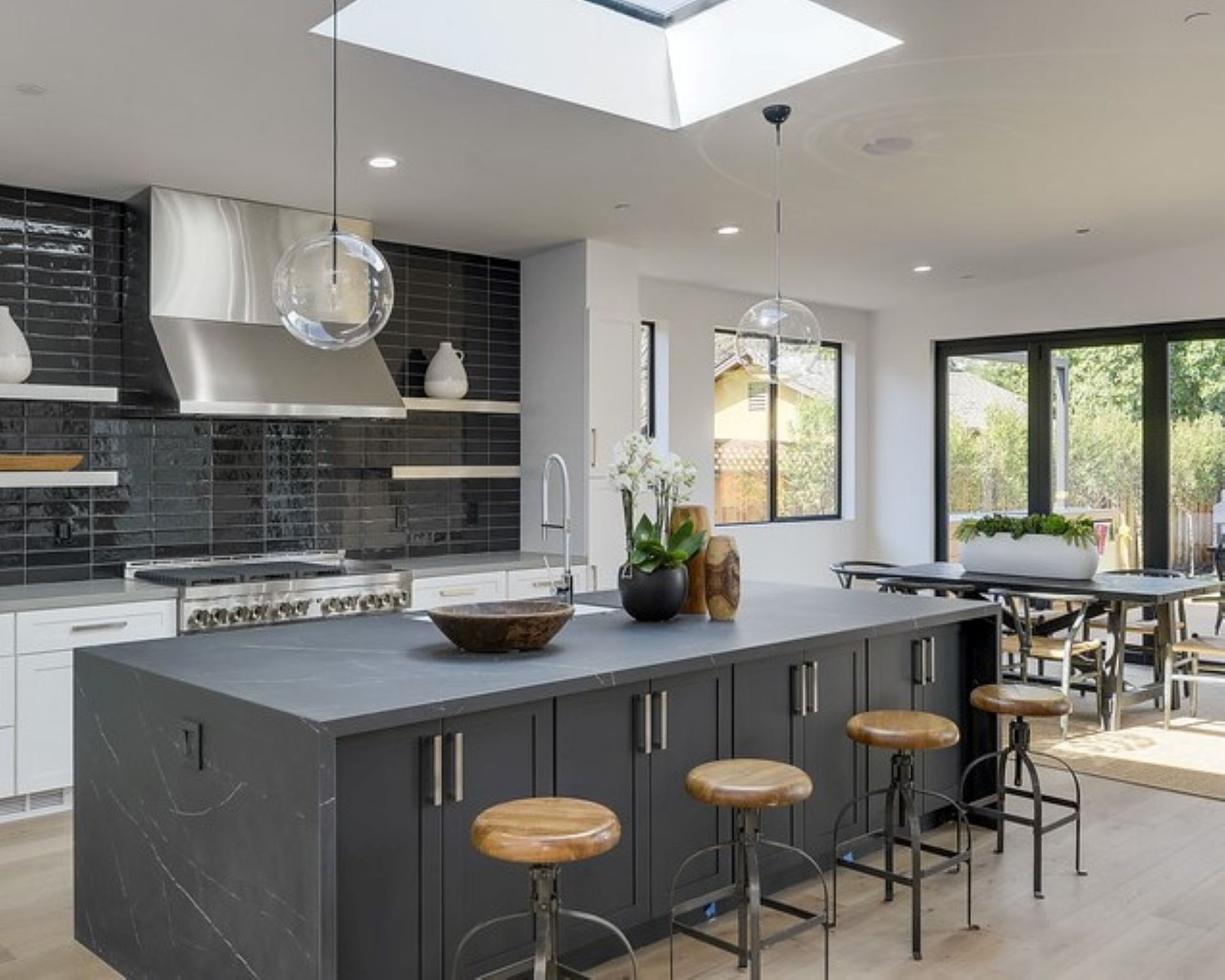 How are waterfall countertops installed?
According to Sakai, waterfall countertops 'are installed by gluing slab material (real stone, quartz, porcelain) over plywood and wrapping that same material over the edges of the plywood with an angled miter joint.'
Of course, because this countertop design involves both extra material and extra labor, it will set you back more than the standard cost of quartz countertops, for example, that finish at the edges. You do need to bear this mind if you are considering a waterfall countertop. According to Ceasarstone, 'Stone slabs (including quartz) for a waterfall countertop cost from $40 to $100 and beyond per square foot. Installation will run you as much as $100 per square foot.'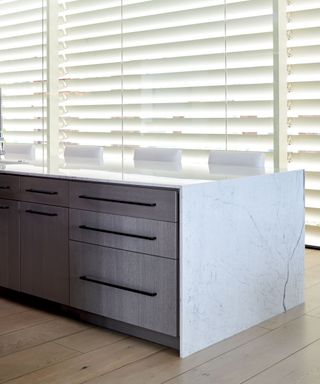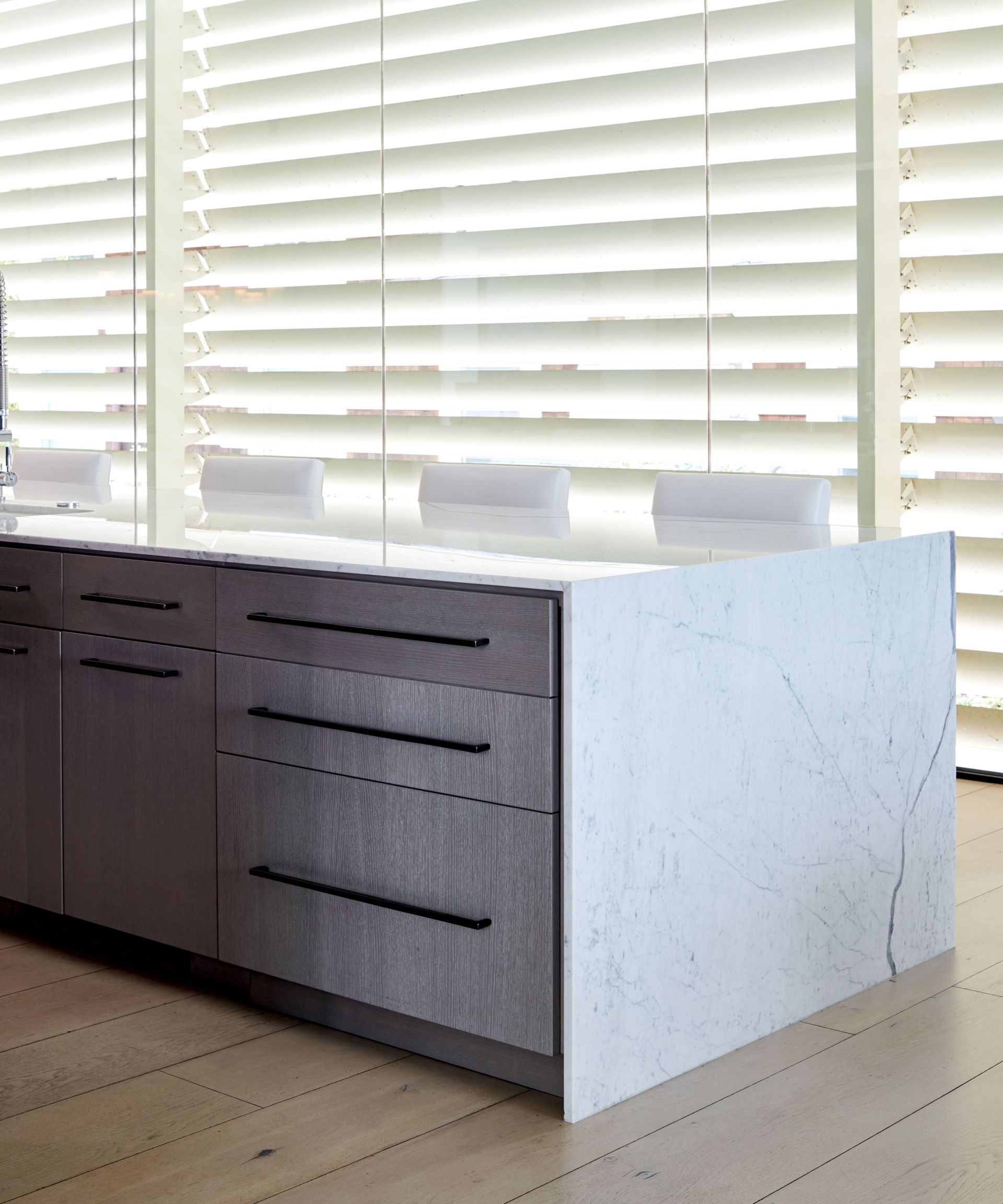 Are waterfall countertops worth it?
At this point, you are probably wondering, 'are waterfall countertops worth it?' Understandably, the higher cost and longer build may have made you pause for thought.
Well, our kitchen design experts are unanimous for waterfall countertops. Sakai explains that the main benefit of waterfall countertops 'is aesthetic as the richer slab material can become more impactful when used both horizontally and vertically.'
However, that's not the only advantage of this design. 'As a secondary benefit, the waterfall material is more durable than a typical cabinet panel, so this can be a good solution for a high-traffic area, which let's face it, most kitchens inherently are!'
So, while it's true that a waterfall countertop will cost you a few hundred dollars more initially, it will make the overall design of your countertop more robust, and add more design impact. It's a worthwhile investment – especially for luxury kitchens.
Are waterfall countertops going out of style?
If you are upgrading your kitchen with a resale in mind, you may be wondering whether waterfall countertops are going out of style and therefore may put off a potential buyer. You needn't worry. Dufresne tells us that she doesn't see waterfall countertops going out of style 'any time soon', thanks to their modern and versatile look.
Sakai adds that watefall countertops 'are more popular than ever! If anything, the wow factor of a waterfall counter is a bit diminished by the fact that you see these more often than not in a high-quality kitchen.' Waterfall countertops are a staple feature of high-end kitchen design.
They may well go out of fashion in a few years' time, as tends to be the case with many ultra-popular kitchen trends. But this won't be anytime too soon, so if you want to impress discerning buyers and add value to your kitchen, then a waterfall countertop is definitely the type of feature that will do the trick.
With all of this said, luxury kitchen design elements make the most sense in kitchens that are otherwise designed and maintained to a high standard. They may make less sense in a small kitchen that needs an overall upgrade. A waterfall countertop is more of a cherry on the cake of your kitchen plan or design, so focus on an essential remodel first.