These clever patio cover ideas will help you transform your outdoor space into an even more functional and beautiful place to spend time in.
Whether you enjoy your paved space for a morning coffee or for routine outdoor cinema sessions in the summer, choosing covered patio ideas, be them temporary or permanent, is a sound move for more privacy and rain protection. From permanent patio canopy options which will instantly give your patio the coveted outdoor living room look, to more budget-friendly designs and more, we have the best inspiration.
1. Start with a pergola and build it up
Building a pergola is one of the most versatile ways to create a covered patio. You can start by building a simple structure and then increasing coverage with evergreen foliage (ivy always works well), seasonal climbers such as wisteria and jasmine, and waterproof sheeting on top if you need it. Pergolas are also easy to accessorise with garden lighting – try festoon lights combined with pendant lanterns for a cosy look.
2. Create a makeshift green roof
Green roofs are often added to outdoor structures as a decorative waterproofing membrane. While it may not be possible on a patio space unless it is part of an extension, you could still nod to the look to create more of a wildlife haven and not to mention, private space in your enclosed patio area.
3. Make a patio part of your extension
For a covered patio area that feels like an outdoor room, build it out as part of your house extension. Having a more robust structure in place is an investment, but it will add value to your property on most accounts, especially as it will give your the opportunity to include the likes of a chiminea fire pit, plush outdoor sofas and more as you would in your living room.
4. Or, choose a glass box extension
The beauty of a glass box extension is how it can create a seamless link between the indoor and outdoor space. Floor to ceiling windows hung on the paving make for a cool and minimal finish, letting you spend time under your patio cover, or lounging out on the wider outside space.
5. Keep it minimal, but functional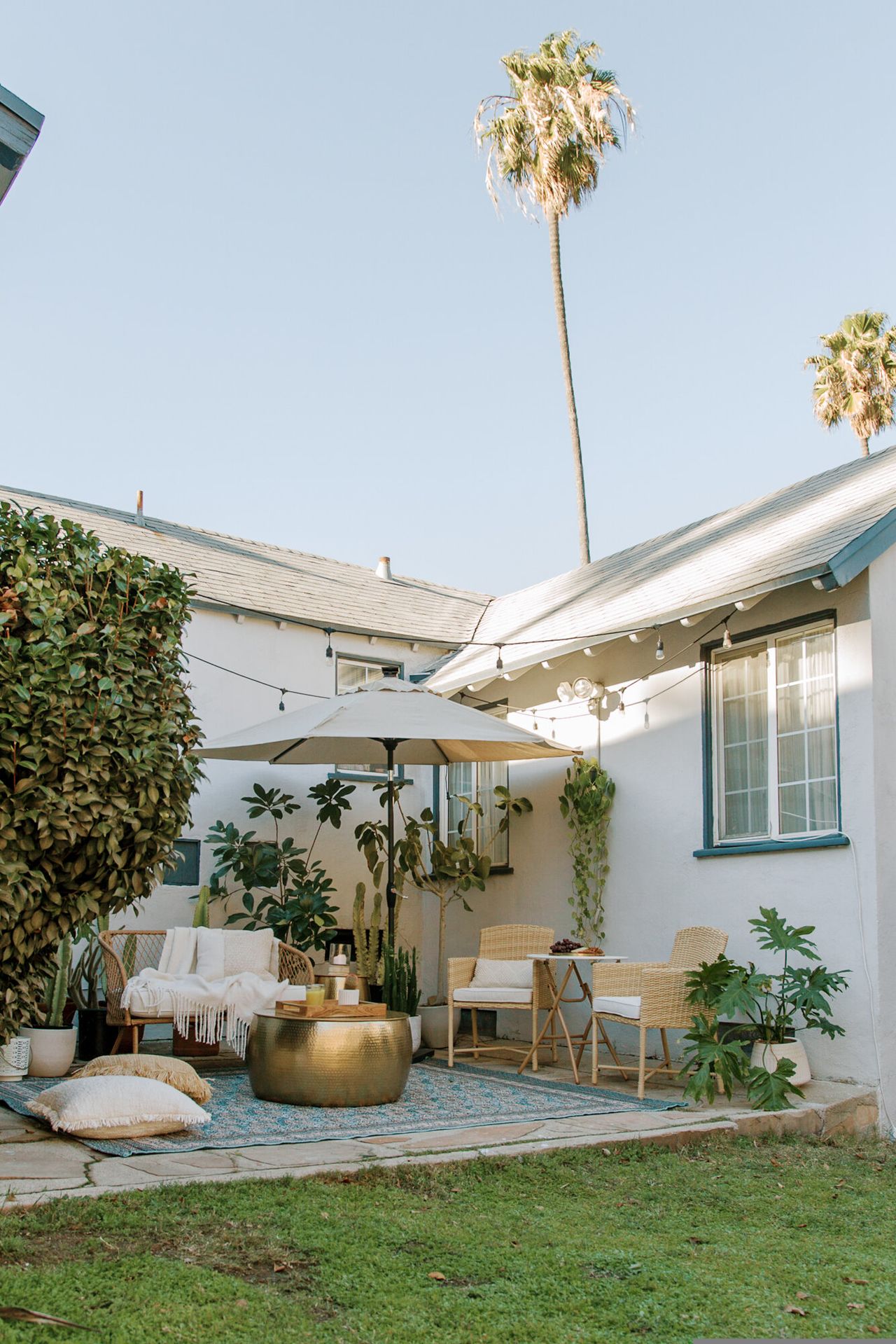 A parasol that you put up super quickly, that blends in and that does the job of keeping rain at bay, is one of the best patio cover ideas around. Keep your color scheme minimal for an even more chic finish.
6. Keep it well lit
With all patio cover ideas, there is always a risk that you block out some sunlight so be sure to take this into account when you come to design your best setup. What's for certain is that garden lighting will enhance the end result furthermore. Create a dreamy setup like this under your patio cover and you'll still feel like you're staring at the stars.
7. DIY a roof with garden netting
If you're looking for occasional, light patio coverage, then a garden net is one of the easiest and cheapest ways to create a covered patio atmosphere without having to do lots of DIY or investing in expensive permanent options. Of course, a net won't protect you from heavy rain, but on a fine, chilly evening, paired with a patio heater and some pretty fairy lights, it can help create an enchanting atmosphere. The Solig net is just £15 from Ikea.
8. Get a garden sail for a patio corner
Garden sails are all the rage at the moment, not least because their billowy shapes look great in Instagram photos. Sails are also an inexpensive way to created a covered patio, and they can be easily removed as when you want. A good way to create a covered area in a patio corner over your corner sofa, without needing to invest in a permanent structure.
9. Invest in a louvered canopy
Want more substantial patio roof ideas for a larger backyard? A louvered canopy, like The Algarve by Renson shown above, is a versatile structure that can be attached to a house almost like a mini-extension or freestanding, and the blades are adjustable depending on how much coverage you want. It's not cheap (£9,200), but it's cheaper than an extension and could help you build an outdoor room or outdoor kitchen. Or, create a simpler structure, like the one below, for a much lower cost.
10. Create targeted coverage with a tilted umbrella
Parasols are the perfect solution for small patios and balconies – you can easily get enough coverage for a small area if the umbrella is large enough and tilts. They're also useful in any season, protecting you from rain and wind during colder weather, and sun during the summer.
11. Ensure everyone is catered for
Having said that, garden parasols are not necessarily just for small backyards. An extra-large, sturdy umbrella can easily become a semi-permanent covered patio fixture. The Tribu Vitino Pendulum Tilt Garden Parasol (above), for example, comes with two base options – one for general use and one for heavy-duty use, making it suitable for windy weather. It's huge, too – three meters in diameter, making it suitable for covering your entire patio furniture set.
12. Choose clever outdoor seating with built-in coverage
If your patio is small and you want an interesting-looking alternative to an arbour or pergola, then this unique garden wheel bench could be the answer. Granted, it's not really an option if you already have lots of garden furniture, but if you're moving house and want a completely new look, it's such a great idea. The interior is water-resistant, too, and the polycarbonate roof helps keep the heat in, like a mini-greenhouse.
Is a covered patio worth it?
We think so, but it totally depends on your needs. Whether you and your family spend a lot of time outdoors or, if you just sit out in the evening every so often, and only when it's warm. If you're the former then having a guard against the elements to protect both you and any outdoor furniture, is essential. If you sit more in the latter category then you could still consider patio roof ideas that aren't permanent and that are as easy to put up as they are to put down, like parasols, as they will help with prying neighbors if your patio is overlooked, and add a touch of luxe too.
If you're thinking of enclosing your patio area with a more permanent structure then this could of course even add value to your property as it would be classed as a home improvement, much like when you add a garden room or outbuilding to your backyard.
On the roof 🙌