Have you heard of coffee table decor? It's the art of decorating your coffee table so it becomes an integral part of your living room - we've found some fabulous ideas below for you to see!
Because, as well as a coffee table being a practical piece, it can also be used to display favourite items like books, vases and trinkets. In fact, if you play it right, it could become the focal point of your living room - surrounded by your sofas and armchairs. It's where the drinks sit when you're entertaining and your favourite books piled up to read at the weekends and holidays. Some coffee tables are larger than others but the same styling rules can apply, so read on to get our top tips on how to give your coffee table a stylish new look.
After you have decided how you are going to dec out your coffee table, head over to our living room ideas page for more inspiration.
1. Use a coffee table to link your patterns
We love how this look flows from the armchair to the coffee table to the sofa – all because of the pattern on the cushions and vases - it's a genius way to move one's eye visually across a space. The other reason it works is because of the heights of the vases and the round shapes tie in with the shapes on the cushion and rug – being cohesive is key for an allover look.
If you love this living room, you will love our cream living room ideas gallery too!
2. Layer up your coffee table
Coffee tables come in various shapes and sizes, round tables are great as they don't have any sharp corners for you to knock yourself on and are a bonus for the same reason if you have young children. As a rough rule, round items look better on round tables and vice versa for square items – and you can see how well this works here in this white trio of tables.
3. Mix and match your colours
Although this coffee table is small, it's still key to this living room. It ties in because it has black legs like the sofa, chair and side table on the right. And the mustard vase completely matches the sofa and the cushion designs. The small bowl works for the same reasons – what you put on your coffee table is imperative to the rest of the scheme, see it like the heart of the home, instead of its the heart of the living room!
4. Display your blooms as coffee table decor
Use your accessories to complement the design of your coffee table. This beautiful piece with gold edging holds the attention of even this bold blue room. You can choose an eye catching vase so it stands out even more - opt for one that also has gold accents and buy blooms that have height. Use smaller pieces around it so it remains the star of the show.
5. Pick luxurious metallics
A beautifully etched coffee table like this design doesn't need much on it as it's gorgeous enough as it is! So choose what you place on it with care. We love how the amber glasses blend into the design yet add a new dimension – as does the decanter. Plain tumblers just wouldn't have had the same effect.
6. Pick a dual use coffee table for your display
We love dual purpose pieces, especially in small living rooms, so always opt for a coffee table with storage when you can. This rectangular design has a lovely big top for you to display your favourite books on. Trays are a great way to zone sections, you can group things together on one tray like you can see here, and candlesticks are ideal for adding height and interest and a bit of solid color.
7. Simply pile up the books for easy coffee table decor
A lovely pile of books is often all that's needed on your coffee table and sometimes all there's space for! You could place a scented candle on the top and a favourite novel to have to hand when you want it. Always style with groups of three, that is a top stylist tip , like three books in a pile, never four. Don't ask us why – it simply works and that's good enough for us!
8. If in doubt decorate a coffee table with candles
Scented candles are bliss whatever time of year and a coffee table is the ideal place for them to live. Due to coffee tables being in the centre of the room they are perfect for the scent to originate from so it will equally spread through the room. We love how this table also has dinner candles on too – varying heights is key to a successful display – and we adore the vase with the branch in it!
9. Stick to a simple colour scheme
You don't need to use many colours to create an impactful display, here, the common denominator is brass and it works so well. Anything metallic adds style to a scheme and brass is a big trend right now, choose a few key pieces like a round tray, small bowl, vase or use it for storing brass stemmed glassware. Consider your coffee table design too - the brass legs link to the brass accessories - it's a win win!
10. Use your space effectively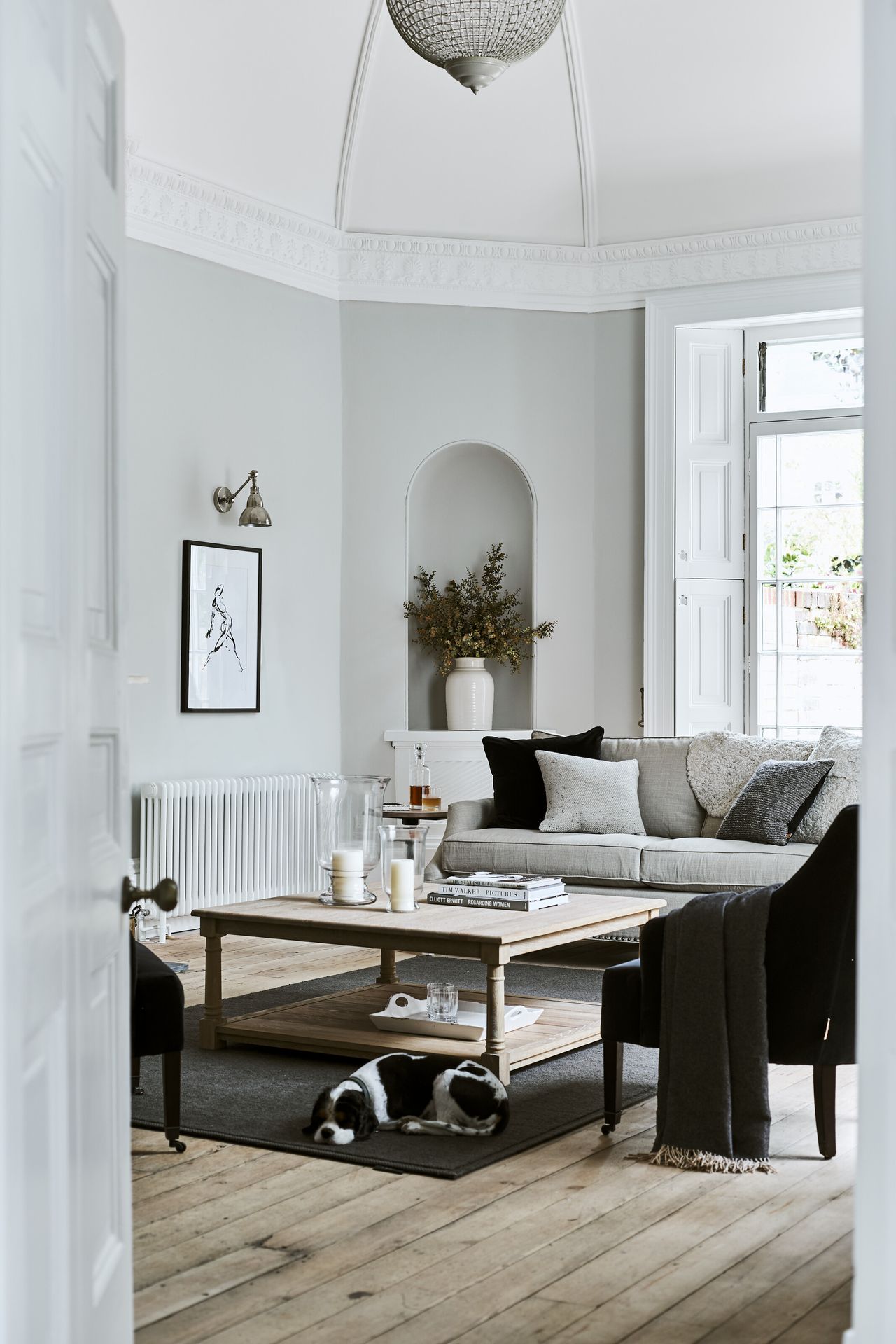 Now, just because you have a good sized coffee table doesn't mean you fill it to the brim with stuff! On the contrary – we believe that less is ALWAYS more. This beautiful display is the perfect example of this – a trio of books and two hurricane lamps - that's all. The hurricanes being clear glass allow you to see through them, this is good because in this case you don't want them to be the focal point as this living room has a calming relaxing feel where everything is perfectly balanced visually. Underneath sits a tray that can be used for drinks when needed.