Still sipping instant coffee? Girl, you need to wake up on the right side of the bed (for once) — and by that, we mean that you need to invest in a filter coffee maker. This way, you can enjoy unlimited cups of the good stuff, with little to no effort required from you. Whether you're after a small coffee maker to nestle in the corner of your countertop or a sizeable machine for when your pals are over, one thing rings true — a coffee maker is a household essential, period. And while a leisurely trip to Starbs for a specialty latte is a treat that I wholeheartedly endorse, those walk-ins and drive-thrus definitely add up. IYKYK.
Quick Menu:
1. Quick list
2. Filter coffee maker reviews
3. What to consider
4. FAQs
5. Where to buy
6. How we test
So, in case you need any more justification, an at-home drip coffee maker gives you the luxury of being able to drink as little or as much java as you want — when you want. But most importantly, a premium coffee maker will brew a reliable and strong cup of joe. Whether you're in need of a massive 12-cup pot to fuel a crowd or just your solo caffeine routine, we've reviewed the very best models out there. Scroll to read our mini reviews and make your mind up on which one's the best for you and your lifestyle. Out of the eight coffee makers in this guide,
Hey, I'm Christina, ecommerce editor at Real Homes. Some might assume that I just eat and drink for a living, but I've got a real passion for coffee and geek out over the inner workings of the best small kitchen appliances.
I'm quite used to receiving my coffee in an instant, so it was nice to relax and enjoy the experience of a drip coffee machine when testing the Technivorm Moccamaster. I'd almost go as far as to say that it was *almost* as calming as watching fish swim in an aquarium or tank.
The quick list of drip coffee makers
Want to cut to the chase and find out what the best drip coffee makers are? Below, you'll find a roundup of our choices, detailed the best overall, the smallest in our edit, and the best filter coffee maker for your purse.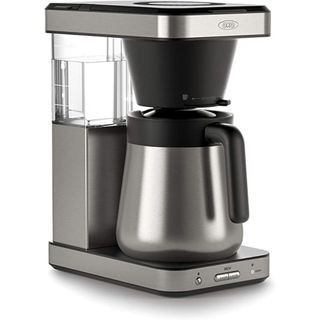 #1 pick
OXO 8-cup Grind and Brew Drip Filter Coffee Maker
Pull out all the stops with this 2-in-1 coffee grinder and drip filter coffee maker. OXO has such a fabulous reputation for its kitchenware, so we're not surprised this small coffee maker is #1 on our list. Make a whole carafe or a single serving, for some me-time.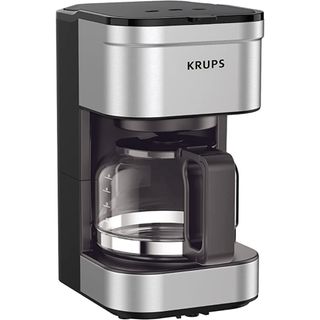 Compact
Krups Simply Brew Compact Filter Drip Coffee Maker
Only two of you in the house, but fancy a little bit nicer than a practical pod coffee machine? Then this drip filter coffee maker is the perfect compromise. Its contemporary design sits comfortably in modern kitchens and the Pause & Brew allows you to pour a cup of coffee mid-brew if you really can't wait for your caffeine.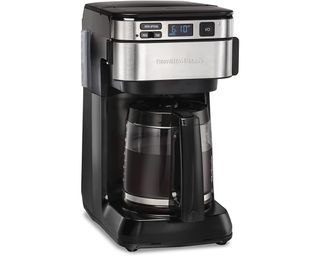 Budget-friendly
Hamilton Beach 12-Cup Programmable Coffee Maker
For $39.99, this programmable filter coffee maker offers incredible value for money. Choose from three colorways: Stainless accents, black stainless, or white.
Read more below
The best filter coffee makers to buy in 2023
Why you can trust Real Homes Our expert reviewers spend hours testing and comparing products and services so you can choose the best for you. Find out more about how we test.
The best filter coffee maker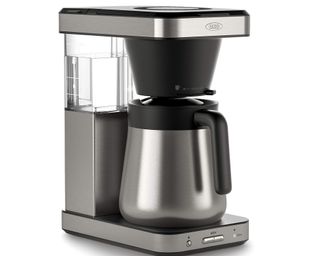 For the discerning coffee-drinking crowd, the Oxo 8-Cup Coffee Maker is one of the few at-home coffee makers with the Specialty Coffee Association's Golden Cup Standard qualification. What am I talking about? This means it meets the association's standards for water quality, coffee-to-water ratio, and grind/particle size distribution with a temperature between 195–205 degrees Fahrenheit, and it can actually make a whole pot in less than six minutes. Talk about timely.
In review
Oxo forgoes complicated settings and instead focuses solely on the coffee — perfect if you're like me, a coffee purist who takes your beverage black. It has minimal settings, so it does not have a programming feature, but if you're truly all about the coffee's integrity, you probably wouldn't let the grounds sit overnight anyway. Its signature rainmaker showerhead evenly distributes water over the grounds and this is, dare I say, quite therapeutic. Instead of a hot plate, it has a sturdy, leakproof double-wall, vacuum-insulated thermal carafe that keeps your coffee warm, even if you remove it from the machine. And, for anyone who won't always drink an entire carafe, it comes with an accessory to let you brew one mug's worth, much like a single-serve coffee maker would do.
Good to know
Its truncated and slim profile makes it ideal for small kitchen spaces and it can fit underneath most overhead cabinets. BetterBrew technology means you can control the water temperature, water volume, and brewing time. It has a smaller capacity than most coffee makers, but a full pot can satisfy two or three coffee drinkers. Cleaning-wise, after 90 cycles, the light indicator will turn on as a reminder to clean your coffee maker. Trust us, you don't want to see what happens if you don't clean your coffee maker.
Read our Oxo 8-Cup coffee maker review.
The best drip coffee maker with a grinder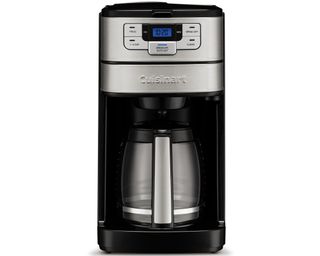 If you're looking for fresh coffee and lots of it, without spending a fortune on a fancy machine, then you'll want the Cuisinart Grind & Brew 12-Cup Automatic Coffee Maker. Why? It does it all: grinds fresh coffee beans (yep, just like the best bean-to-cup coffee machine), and makes great coffee whether you want one cup or 12. Just note, he's a big boy so one for large(r) countertops.
In review
When it comes to coffee, our motto is "the fresher, the better," so we're drawn to this machine's built-in coffee grinder. That said, there's the option, as with most models of this type, to use pre-ground coffee, too. The 12-cup capacity is another obvious plus. We also like that both the grind and brew features can be programmed, so you can have your fresh cup of coffee ready for you as soon as you open your eyes. Rise and grind, indeed. And if you're really in a caffeine pinch, the machine has a pause function so you can sneak a cup before the entire pot is ready. FYI, if you like your brew on the strong side — ignore the scoop guide which suggests you use one serving of beans for each cup of water. In other words: It was weak AF when we did this. Otherwise, the reusable filter is genius. Because I'm that girl that doesn't like touching slimy food in the sink, let alone soiled coffee papers.
Good to know
This coffee maker grinds the beans to a medium coarseness level, and then automatically uses them for your coffee, taking out the step of you having to transfer grounds from one machine to another. However, the grinder needs to be cleaned out after each use for the best results, as the steam from the machine gets into the grinder chamber. The grinder is also quite loud. So be warned, though it's nice to wake up and smell the coffee, you could wake up roomies (or neighbors if you've got thin walls). Let's call it (unintentionally), the best coffee alarm clock. Just not in the traditional sense! Also, due to the fact that the grinder and water tank are accessed through the top lid, low-hanging overhead cabinets could make it difficult to use. Therefore, you will want to make sure it has ample clearance to add coffee beans and water. It's pretty big, too, so ensure you've got the countertop space for it before you invest.
Read our Cuisinart Grind & Brew review.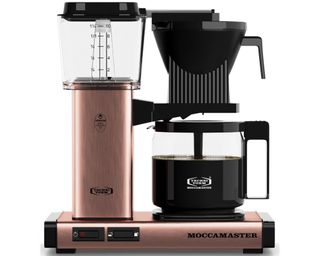 No, you're not dreaming — this is THE best filter coffee maker if you ask anyone who uses TikTok. Though the Moccamaster is on the spendy side, it's well worth it if you're picky when it comes to coffee.
In review
Don't be intimidated by this 15-part machine — it's easier to put together than you think. Once everything is in its place, it resembles a gourmet pour-over experience with its exclusive nine-hole drip arm that ensures even extraction and a smooth flavorful cup of coffee. Plus, it lets you choose between brewing a half or full carafe to reduce waste. I love that everything about the Moccamaster is handcrafted, including the unique copper heating element that maintains that your coffee always heats between 196–206 degrees Fahrenheit, while the separate hot plate will maintain the glass carafe at temperatures between 175–185 degrees Fahrenheit for 100 minutes before shutting off. It also has an extremely quiet operation and can brew a whole 10-cup pot in as little as six minutes. I did find the plastic parts to sometimes feel a little flimsy, but they are part of the modular pieces that make it so easy to replace without having to buy a new machine.
Good to know
At over $300, the Moccamaster is without a doubt an investment in your morning routine, but it does come with a five-year warranty, giving you peace of mind if anything starts to wear out. If you prefer thermal carafes to glass, the Moccamaster is also available in a thermal carafe, without the hot plate option. Most impressively, the Moccamaster meets the qualifications set by the Specialty Coffee Association and the European Coffee Brewing Center as the perfect cup of coffee. And, the sheer amount of color options (21 to be exact) is a true selling point if, like me, you express yourself through colorful decor. Proving it can be energy efficient as well as aesthetic, the dual-coil copper heating element automatically switches off when the brew is complete.
Read our Technivorm Moccamaster KBGV Select review where there's also a 15-second clip of how to use it from start to finish.
The best drip coffee maker with thermal carafe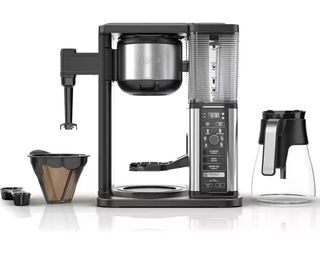 If you want a quality drip coffee maker, with the ability to make a variety of coffees at a price that is really reasonable, we've found that the Ninja Specialty Coffee Maker is not too tall of an order. Especially when it goes best iced coffee makers and best cold brew coffee maker modes. Like the Oxo offering, it's certified with the Golden Cup Standard Brewing, meaning it meets all standards for water quality, temperature, coffee-to-water ratio, and grind/particle size distribution. In our eyes, this machine's biggest selling point is that it can pretty much do it all.
In review
It comes with a glass carafe (or a thermal carafe option) for brewing a pot. Or you can change the brew strength and make a single-serve drink. It's even got a built-in milk frother that conveniently folds in and out, plus an iced coffee setting when only chilled beverages will do. And all of it is super easy to operate by selecting a few straightforward settings. While you can technically use the coffee maker to make lattes and cappuccinos, we'd stop short of calling it an espresso maker. In addition to the classic and rich brew types (a stronger brew), the specialty brew is more or less a "coffee concentrate," which could certainly be enjoyed on its own but is best used for creating more complex coffee drinks. The specialty setting also only brews four ounces of coffee concentrate at a time for a single latte at a time, rather than a full pot.
Good to know
The included measuring spoon makes it easy to calculate just how much coffee you will need for the machine and has a convenient storage spot on the side, so you never have to worry about misplacing it.
Read our Ninja Specialty Coffee Maker review.
The best 12-cup drip coffee maker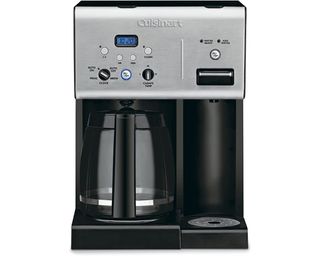 If you're looking for a reliable filter coffee maker, that will also satisfy any tea drinkers you know, then we can highly recommend this one from Cuisinart, (and so can 5,000+ reviewers on Amazon who gave it either four or five stars). In short, this coffee maker is everything you need — nothing you don't.
In review
We loved that you can program this machine to make your coffee any time of the day, or simply fill up the water tank, add coffee to the filter, and hit start for a smooth brew in an instant. This machine can make up to 12 cups of coffee at one time which is perfect for when you're hosting, but it also has a 1 to 4-cup setting for when you're not. One of the features we love the most is its separate 56-ounce hot water reservoir that can dispense hot water anytime, so you can use this coffee maker to make tea, hot chocolate, oatmeal, or even ramen. Essentially, you can get rid of your electric kettle for good. Another feature we loved is its carafe temperature setting, which keeps the coffee at the exact temperature you like it until the pot is gone. You can choose from low, medium, or high. The no-drip carafe poured coffee mess-free every time, too.
Good to know
The machine has an auto-off function so you don't have to worry about forgetting to shut it off. Another safety feature of note is the lock lever on the hot water dispenser so no one can accidentally trigger the hot water to pour out. In addition to the auto-clean feature, all of the removable parts of this coffee maker can go in the dishwasher. Failing that, you *can* clean a coffee maker with baking soda btw, but don't make these coffee maker cleaning mistakes whatever you do! Taste-wise, it's worth noting that this particular Cuisinart only offers one brew strength, so if you like to choose your brew strength you may need to look elsewhere.
Read our full Cuisinart Coffee Plus Hot Water review.
The best drip coffee maker for taste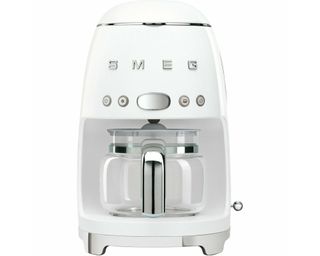 This colorful, eye-catching filter coffee machine is sure to snag some likes and comments in the background of the 'gram, but Smeg's retro drip filter coffee machine also makes a great carafe of coffee, too. It's available in eight colors to match any other Smeg appliances you're lucky enough to collect.
In review
This appliance does exactly what is intended — makes smooth drip coffee. And the filter coffee is really nice. Once the coffee is made, it is easy to clean and maintain the coffee machine once (like everything) you get used to it. NB: If you need help, I've got a whole load of coffee maker cleaning hacks.
NGL, there are a lot of settings to familiarize yourself with, but this isn't the cheapest machine, so I expect my coffee to be fine-tuned to my palette. Levers and buttons are your new BFFs as you can use the arm to tweak the time and water hardness, press controls to set the aromas, and use the 4-cup function. Take it from us, you'll want to ensure you've got a steady hand when filling the water reservoir because we thought it was a little on the small side. Hello, spills. Otherwise, once the tank is topped up, you have ample grounds in the filter — and your jug in position — it's literally a matter of pressing the ON button and "ecco" (that's voila in Italian) you're good to go.
Good to know
Be mindful NOT to unplug the machine after each use because all settings will be cleared, so you'll need to run through the set-up process again. We found the set-up to be a little tricky, and the water tank is done from above, so make sure you have nothing blocking you from opening it (like a low-hanging cabinet).
Read our Smeg DCF02 drip filter coffee machine review.
The best small drip coffee maker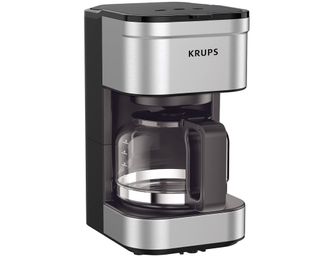 First, the hard news. If you're in need of a compact machine, prepare to exchange counter space for cups of coffee. However, that doesn't mean you need to sacrifice quality. Whether you only need a small amount of coffee (but more than the one-cup of a single-serve) or have a small space to dedicate to caffeine, this compact machine from Krups makes five cups. We haven't tried it ourselves yet, but we're going off what reviewers think of it.
What reviewers say
The Krups Simply Brew Compact Filter Drip Coffee Maker is a simple machine that makes an effective cup of coffee, so online reviewers say. We can imagine that the five-cup size is great for small households, occasional coffee drinkers, and of course, those wanting small kitchen storage ideas or looking for something to compliment your cozy coffee nook design. Core features include an easy-to-fill water tank with a fill indicator, a hot plate to keep your pot hot long after it's finished brewing, dishwasher-safe parts, and a pause-and-serve function. Users of the Krups Simply Brew remark about its ease of use, quiet operation, and that it makes a decent cup of coffee.
Good to know
Your coffee will stay hot for as long as you need, and like your hair straightener, don't forget to switch off the coffee maker when finished using the hot plate feature! The machine has a simple on/off button, so it's not programmable in advance, and there's no option to adjust your brew strength. It's basic, but it'll get the job done.
The best drip coffee maker under $100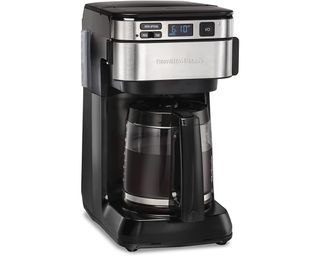 If you're not looking to spend much money on a coffee machine, you can still find a reliable option — like the Hamilton Beach Programmable Coffee Maker. It clocks in around $50. It still offers a range of features for a basic design. Though we're yet to test it, reviewers love it, hence why we've included it in our guide.
What reviewers say
Going off Amazon reviews, people who purchased this machine found that front-loaded the coffee and water contributed to a much more ergonomic user experience. And, the fact that you can start the coffee while still relaxing in bed (with a little help from Alexa!). On the flip side, shoppers noted that the unit was on the tall side and had issues with it not fitting under cabinets and that the 10-inch power cord felt a little short. Some customers also say that setting the coffee pot on the warming plate takes a little getting used to.
Good to know
It may be an inexpensive coffee maker, but you're not sacrificing much here in terms of features. It can offer three brewing options, programmable options, and thoughtful design features, like a front access water fill. It also has a Pause & Serve function and a two-hour automatic shut-off. The Hamilton Beach maker brews the coffee at 160 degrees Fahrenheit, which might appear lukewarm to those who like their pick-me-up piping hot.
Things to consider when choosing a filter coffee maker
When looking to purchase a coffee maker, there are a few things you'll need to consider when choosing the best drip coffee maker for you.
1. Price: How much should I spend on a drip coffee maker?
If you couldn't already tell, premium filter coffee makers wildly vary in price from a budget machine costing under $50 to luxury units that are over $300. Add in special features like frothers or espresso, and the price creeps up even further. We think that allotting between $100 and $150 is perfectly acceptable for a quality drip coffee maker.
2. How many cups can it make?
Drip coffee makers are preferred by many for their ability to make an abundance of coffee, whether to satisfy your caffeine needs or that of a crowd. Most will be around 10–12 cups, but some compact machines will offer carafes for just four cups. Most coffee manufacturers label a cup as five ounces, so take that into account when trying to figure out how much coffee you consume in a day. If it's just you, a single-serve machine is particularly useful, though many of these larger capacity makers have 1–4 cup options so you don't have to run full cycles or waste any coffee.
3. Carafes: Glass vs. thermal
The best filter coffee makers are available in either glass or thermal insulated carafes. Coffee makers with glass carafes typically make use of an external hot plate to keep coffee hot for long periods of time. They are usually dishwasher-safe but prone to breaking. The heat plate can also over-extract oils and lead to bitter or burnt coffee. Meanwhile, a thermal carafe can be sturdier against cracking and will keep drinks hot for longer without the use of a hot plate. However, they can not be reheated. Thermal carafes are usually more expensive than glass and will be reflected in the coffee maker's price.
4. Filters: permanent vs. paper
The big thing that can make or break a machine for some is the filter. Several of the best filter coffee makers come with their own permanent, washable, and thus reusable filter and others rely on disposable paper filters or a mixture of both. Reusable filters mean less waste, so they're better for the environment, and they cost less in the long run, as you don't have to keep buying disposable ones, but these machines tend to be a little more expensive to buy.
5. How many programs and features does it offer?
If waking up and smelling the coffee is what gets you going in the morning, having the option to program the coffee maker ahead of time can be a big win. You just have to remember to have the grounds ready to go. Some advanced models even connect to your smart home tech or an app on your phone so you can activate a brew cycle from a different room.
Another feature you might want to consider when selecting your machine is your ability to choose the temperature or brew strength, which gives you a degree of customization over your at-home brewing experience. The ability to pause brewing to sneak a cup is a popular feature if you don't want to wait for an entire pot of coffee to brew or even extra water filters. Typically, the more features you require will drive up the price of your machine.
FAQs
What is the best filter coffee maker you can buy?
If you're after the best of the best filter coffee maker, few make a machine as reliable as the Technivorm Moccamaster KBGV Select. When it comes to quality, it is truly unparalleled. Though, if you're looking for something a little less flashy, the OXO Brew 8-Cup has upended the Golden Cup Standard as one of the most affordable on their list of certified at-home drip coffee machines.
You can buy the OXO Brew 8-Cup from Amazon.
Where to buy a filter coffee maker
Though it's less common to have a filter coffee maker in your house versus say, one that accepts capsules — there are loads of places to get your caffiene machine fix. Here are a few to mull over:
How we test filter coffee makers
In order to ensure you spend your coin well, we call in samples (straight from the manufacturer) to review in our dedicated test kitchen, and in the comfort of our own homes to see how well they slot into a Real Homes reviewer's kitchen. Sometimes, we're allowed to keep loan samples for a number of weeks, and other times, we can keep the item permanently. In the latter case, we can update our review over a long period of time to see how well the machine performs and if there is any wear and tear you should expect.
Meet our drip coffee maker reviewers:
As a working mom, our former large appliances editor Jen thrives best when she had a cup of coffee in her hand. Reviewing the Smeg DCF02 drip filter coffee maker was a great test to see if a slower-performing appliance (when compared to the best pod coffee makers) would slot well into her busy schedule.
The Ninja Specialty Coffee System, and OXO 8-cup grind and brew drip filter coffee maker have both been reviewed by our former e-commerce editor Jaclyn. She has tested more than eight coffee makers for us and has also served up some broader kitchen content.
Freelance contributors who reviewed some of the drip coffee makers in this list
Even though Terri is used to testing $1,000+ coffee makers, she was pleasantly surprised by the Cuisinart Coffee Plus, which sells around the $100 mark. With experience in the real estate and home improvement world, she has a clear vision of how appliances can slot into your life, whether you own or lease your property.
Allison is a writer and mom of two living in Jacksonville, FL. She reviewed the Cuisinart Grind & Brew. In a nutshell, she liked how easy it was to set up, and the balance of convenience and luxury that this particular appliance offered.