Yellow kitchen appliances are a great way to celebrate spring and inject color into your kitchen scheme. As my favorite room in the home, the only yellow things that exist in my kitchen RN are some seasonal daffodils in a vase, a few bananas, lemons in a fruit bowl, and some turmeric-stained spoons (yeah — forget I said that). In short, I have nothing in the form of an electrical appliance to actually brighten up this room in the room long-term.
Coincidentally, Apple's iPhone 14 and 14 Plus have just been announced as being available this week on pre-order, and this time they've been given a sunny glow-up. So follow me down the yellow brick road as I show you the small kitchen appliances available in this cheery hue. These gadgets won't go out of style past summer, as this tone ticks all the boxes for a mid-century modern space.
Give these 3 yellow kitchen appliances some "FaceTime"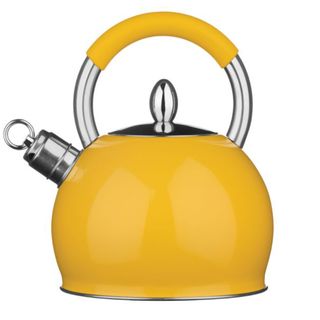 $26.99
1. Premier Kitchenware Stovetop Whistling Kettle in Yellow
A splash of color
Add a dash of color to your kitchen with this retro-style, yellow tea kettle. It's super affordable and has a large 2.4-liter capacity, which is perfect for generous servings of tea. Though the iPhone launch is hot off the press... this stovetop teakettle won't burn your fingers because the handle is wrapped in silicone to protect your mitts.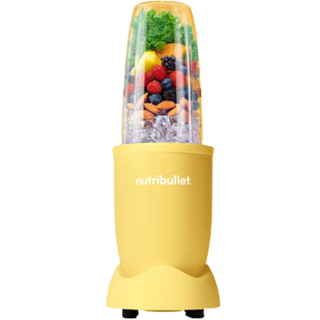 $119.99
2. Nutribullet Pro 900 in Matte Yellow
This sh*t is bananas, b-a-n-a-n-a-s!
"Yellow, is it me you're looking for?" Well if you're on the hunt for an appliance that can make everything, like smoothies, soup, cocktails, frappes, and pesto, then invest in this helpful workhorse. The beautifully designed 32-ounce blender doesn't take up too much countertop space and is easy to use. Plus, it offers a wide range of different blitzing options. It even has a clean function that'll degunk the device in around 45 seconds — just add soapy water and don't forget to put the lid on!
Real Homes rating: 5 stars out of 5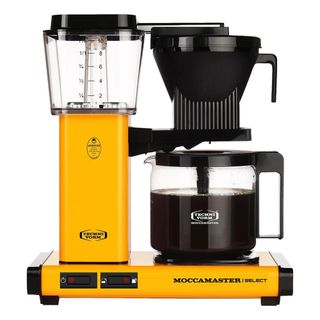 $359
3. Technivorm Moccamaster KBGV Select in Yellow Pepper
This yellow coffee maker has the drip
Cup for cup, though the Technivorm Moccamaster drip coffee maker takes a little longer than a pod coffee maker to deliver a hot mug of java, the drip-by-drip situation is truly mesmerizing. Good things take time and you can taste the difference with this temperature-controlled brew. It's a great buy for couples working from home who find themselves taking turns to do the coffee round. Making 1.25 liters of joe at a time, it's a stylish time and energy saver.
Real Homes rating: 4.5 stars out of 5
Read our Technivorm Moccamaster review.
Up next: 8 pink kitchen appliances to release your inner doll