Is anyone really surprised that Victoria Beckham's closet is utter perfection? How could we possibly expect anything less?
The fashionista and former singer took to Instagram to show off a floor-length silk dress she designed for Kim Kardashian, all while modeling the garment in her walk-in closet. As much as the bubble gum pink number got people talking, our eyes laser-focused on her organization system.
The cleanliness! The uniformity! The boho chandelier! How do you organize a small closet with lots of clothes to look less disastrous, more posh? (Get it?) We asked the experts to help us achieve what we really, really want.
A look inside Victoria Beckham's closet
While Victoria got a little zoom-heavy with her cellphone and detailed the intricacies of her pink dress, we started dreaming of (renter-friendly) closet organization tips upon seeing her aligned white tees, shoe storage, and expansive full-length mirror.
This isn't the first time she's taken us into her home on Instagram. We've gotten BTS looks at her glam process from her closet, and Netflix just set up shop in her elegant abode for Beckham, the documentary. (That's around the time we particularly honed in on her modern farmhouse kitchen.)
We've fallen for every inch of her Holland Park home that we've seen, and now that we're coming into a new season, changing our wardrobe, and storing summer clothes away until next year, we figured this was the perfect time to give a little TLC to our closets. After all, they're in the midst of a seasonal makeover.
"There are some really easy ways to help your closet feel glam, even when it is small," insists Siobhan Alvarez-Borland, lifestyle and DIY expert. "The number one way is to keep the look of the closet consistent."
Ready to get started? These apartment closet organization ideas, with a li'l inspo from Victoria, will make you feel at ease in no time.
Siobhan Alvarez-Borland is the founder of She Shines Media, the parent company behind the websites Mimosas & Motherhood (a family and lifestyle blog focusing on pregnancy, postpartum and parenting through the little years); Fun Family Meals (focused on easy, affordable recipes for families); and Budget Baby Budget (focused on empowering families towards financial freedom). Additionally, she is a postpartum doula at Fresh Starts Registry.
How to get a luxe and organized closet like Victoria Beckham
1. Utilize wall space properly
Regardless of the room, designers are in agreement that vertical storage and styling space is often underutilized. If you are working with a cramped corner and don't really have the floor space to store your garments, start looking up and thinking of shelving units that can hold your cozy knits and boyfriend jeans.
"The key is to maximize your vertical height," says Ariana Lovato, the owner and principal designer at Honeycomb Home Design. "We've used chic boxes to store extra clothes or bulky coats in and stack those at the top of the closet shelving."
As an Associate Kitchen and Bath Designer with the NKBA, Ariana has a strong understanding of design and culture to create spaces based on her clients' passions and inspirations. After several years in the industry, Ariana founded Honeycomb Home Design with the simple mission to create pure lifestyle spaces that are consciously functional and tastefully curated.
2. Choose the right colors
They say the worst colors for small spaces are anything dark and moody, so it's easy to see why we're instructed to opt for something fresh, light, and breezy in our closet, and small bedroom as a whole.
"Embracing an all-white palette immediately gives a clean, sleek aesthetic," says designer Artem Kropovinsky. "This color not only magnifies the space but also creates a backdrop that makes clothing and accessories stand out."
Artem Kropovinsky is an interior design expert and founder of Arsight, an award-winning interior design studio based in New York.
3. Choose the proper lighting
That neutral-tone aesthetic will only look as good as the lighting allows it to. If you need an area where you're picking things out, you have to actually see what you're doing, right? Without the proper lighting, you're liable to mistake a navy for a black and then you're entire OOTD look is off.
"Lighting plays a key role in enhancing whites," Kropovinsky adds. "Opt for cool white LED lights to truly bring out the crispness of the space."
4. Keep it consistent
Whether it's the way you're folding the clothes or the items you're using to keep your garments in check, always make sure there's consistency throughout your approach.
"The trick to a glam closet is uniformity," says Laura Price, the founder and director at The Home Organisation. "Replace all your mismatched hangers for thin velvet ones to create clean lines in your closet. It'll make the space feel less busy and because they're thin, they're space saving too."
Laura Price is the founder and director at The Home Organisation. After a career in PR for national events and with three young children, she realized that creating organized spaces brought her moments of calm in a busy life. With a vision to help many others experience the benefits of living an organized life, The Home Organisation was born.
5. Categorize belongings
"Having defined categories isn't just a great way to make your closet more functional, it also helps it look less busy," Price adds. "Keep each category of clothing together and fold or hang them the same way. It'll make getting ready, really easy, your closet more manageable, and give it a glam feel."
What to shop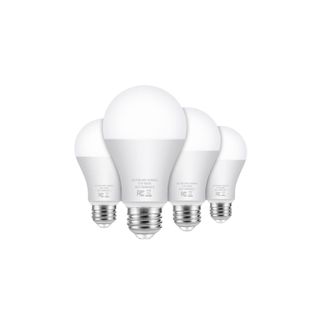 Four pack
LED Light Bulbs 100 Watt Equivalent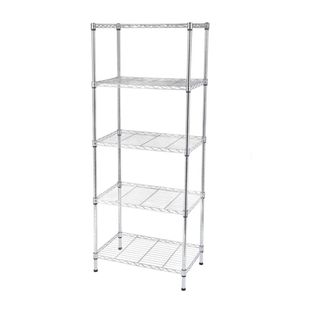 Five tiers
Navarro Steel Shelving Unit
Price: Was $68.99, now $53.99
Dimensions (in.): D13.78 x W23.62 x H59.06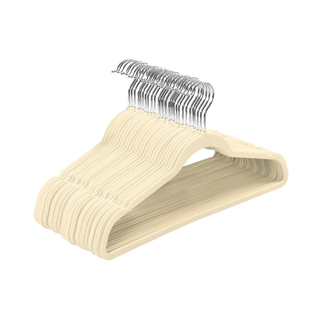 Pack of 30
Amazon Basics Slim, Velvet
---
Does the space still need some TLC? There are plenty of cheap ways to organize your closet for under $50 (including a few free ideas). With a little planning, your space will look like Victoria's in not time!