If you're constantly double-tapping on influencers' iconic closets and want to recreate the look IRL, you're in luck. Renter-friendly closet organization solutions that give you a dreamy space to store your clothes without costing you that security deposit can feel impossible to find, but don't stress.
I have you covered with closet organizers and storage ideas that can be adapted to your rental space, boost any existing built-in storage, and be tailored to your personal favorite products to stock up on.
And although some of us are blessed with flexible landlords and chilled dorm inspections, I know a lot of us aren't as lucky. So all of these tips are free of nails, paint, drilling, and any permanent changes to doors and walls.
1. Stock up on shelving
Why you can trust Real Homes Our expert reviewers spend hours testing and comparing products and services so you can choose the best for you. Find out more about how we test.
Even in the teeniest rental closets, you're bound to have some vertical space you can use to organize your folded clothes. And PSA, shelving doesn't have to be installed using nails, drills, or anything that would make your landlord cry.
Riser shelves are most popular in kitchen organization, but they're also ideal for satisfying stacks of knitwear, denim, or workout clothes. Adding them to even the most awkward cubbies and corners in your space will instantly double the amount of shelving you can utilize.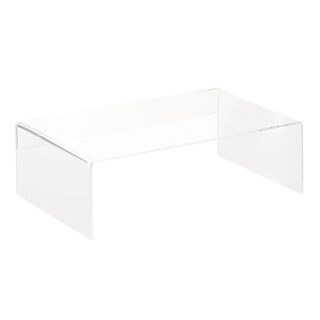 $32.99
The Container Store Large Acrylic Organizer Shelf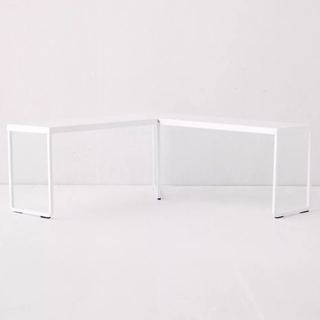 $39
Urban Outfitters Franklin Corner Riser Shelf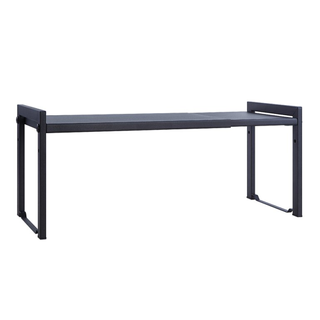 $41.99
Prep & Savour Expandable Shelving Rack
2. Door organizers > hooks
Who needs hooks? At first glance, they feel like a great option for storing jackets and sweatshirts, but hear me out, there's a better (and more renter-friendly) option out there.
Over-the-door hanging organizers will offer you waaaaay more space than installing hooks, plus you don't have to worry about any damage to your closet door. They also give you the flexibility to organize whatever items you obsess the most over — whether that's pairs of shoes, jewelry, or loungewear (my personal favorite) — instead of being limited to outerwear.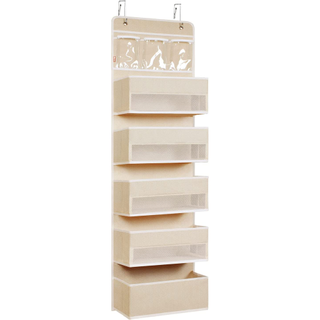 $32.99
Univivi 6-Tier Over Door Beige Organizer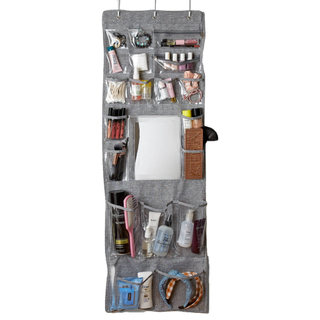 $39
Dormify Over Door Vanity Organizer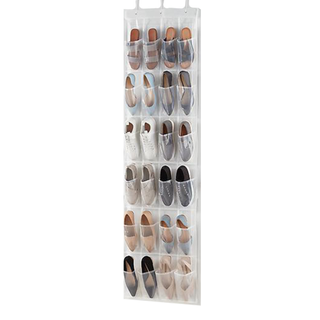 $19.99
The Container Store 24 Pocket Shoe Bag
3. Maximize your existing space with velvet hangers
One of the most achievable and affordable ways to get your closet organized in a rental-friendly way is to make sure your clothes are arranged as neatly as possible in your existing setup. Slim, velvet hangers can literally double your space on a closet rail, and having uniform hangers is ideal when it comes to compressing your clothes down.
So if you're planning a clothing clear-out as part of your organization project anyways (which I would 10/10 recommend), it's the perfect time to get every item out of your closet and put them on your new hangers, then arrange by clothing type and color. Trust me when I say, this quick fix will feel like an instant upgrade.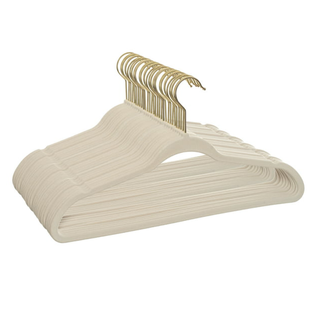 $9.98
Walmart 30 Beige and Gold Velvet Hangers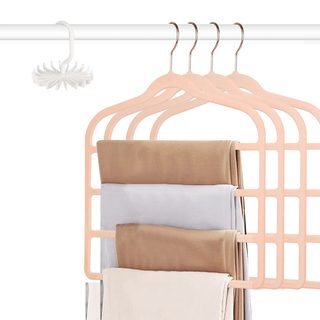 $12.99
Tinfol 4 Blush Velvet Multi-Tier Pant Hangers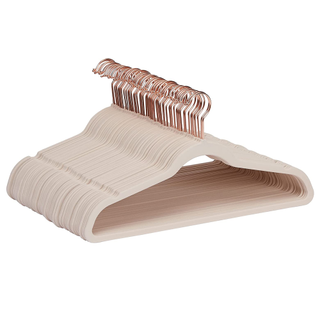 $24.66
Amazon Basics 50 Blush Rose Gold Velvet Hangers
4. Save some stress with a tension rod
If you've compressed your clothes down as much as you can with your new velvet hangers but are still dealing with a shortage of space for your dresses, going-out tops, and blazers, ease the tension (pun def intended) by installing a second rail and make the most of your vertical space.
Save yourself the stress over getting rid of some outfits you can't bear to part with a tension rod. It's an expandable rod that suspends in your closet using the pressure on either side of your wall to hold it up instead of any hardware.
Tip: Keep your heavier items on your closet's original rail and double-check the weight limit of your tension rod before hanging everything up!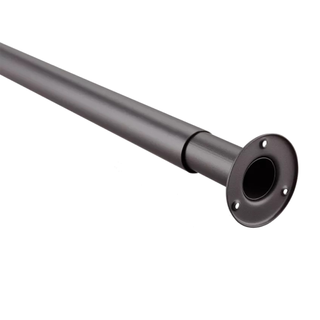 $14
Brightroom Closet Rod Connector Bar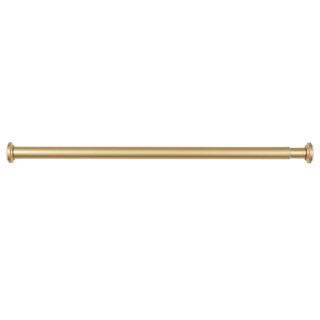 $22.99
The Twillery Co Gold Adjustable Tension Rod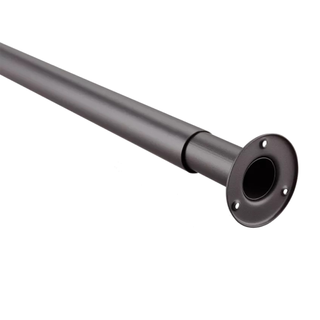 $25.46
TEECK Adjustable 40-73 Inch Tension Rod
5. Use extra rail space to hang organizers
If you're Team Folding over Team Hanger (aka the winning team in my book), you're probably faced with the opposite problem and have excess railing space, but no room to store your folded clothes outside of what may be built in. Solve two problems in one with a hanging organizer that creates cubbies in your vertical space and occupies parts of the railing that you don't need.
Pro tip: a hanging organizer can also act as a divider in shared spaces, separating your wardrobe from your roomies' when your rental only has one closet. My roommates and I were blessed with a walk-in freshman year, and we each had an organizer to use ourselves that also clearly marked where our designated closet space was.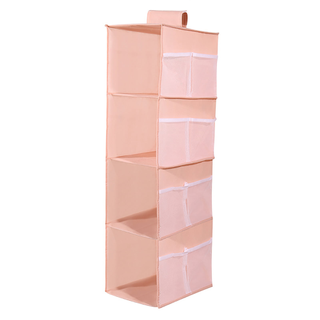 $14.99
Windfall Pink 4-Tier Closet Organizer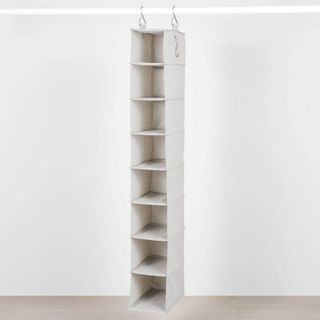 From $19
Brightroom Closet Organizer Shelves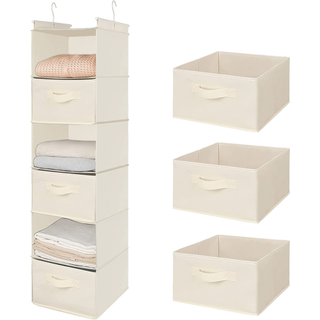 $24.78
MAX Houser 6-Tier Organizer With Drawers
6. Add some drawers or stackable storage
Even if your closet doesn't have cubby space built in, you can still easily store your folded clothes and make the most of spare floor space. Moving a dresser or drawer tower into your closet saves you precious area in your bedroom, and also gives you plenty of surface space to store and display your beauty products or accessories and clear off your nightstand.
If you prefer a more flexible option, opt for stackable storage in fun pastel and bright tones like the Felix crates from Urban Outfitters, the iconic HAY crates, or these stackable wire baskets from Anthropologie.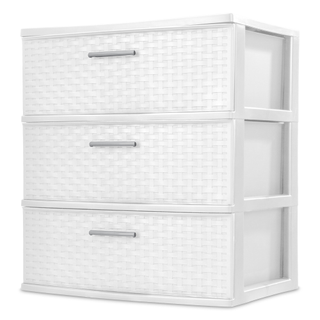 $26.93
Sterilite Weaved Look 3-Drawer Tower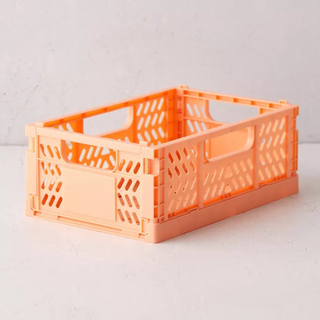 From $8
UO Felix Stackable Storage Crate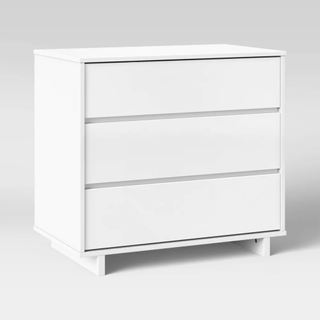 $120
Target Modern 3-Drawer Dresser
7. Hide that dirty laundry
Instead of letting your dirty clothes spill all over your closet or bring serious messy energy to the space, grab an adorable laundry bag to bring some organization, color, and cheer into your rental closet without touching a can of paint.
Hampers that can close are ideal for keeping the clutter to a minimum, and there are also divided options that let you sort your laundry in advance instead of digging through a giant pile of clothes at the end of the week. We also love the vibe of an industrial-style wheeled hamper, perfect for wheeling in and out of your apartment to the community laundry area.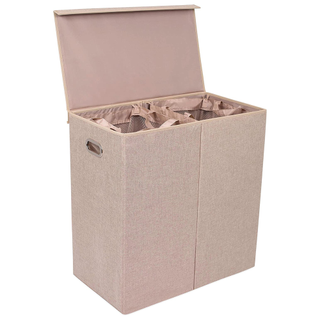 $51.96
BirdRock Home Double Laundry Hamper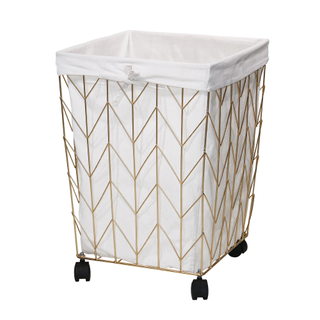 $29.98
Mainstays Wheeled Metal Laundry Hamper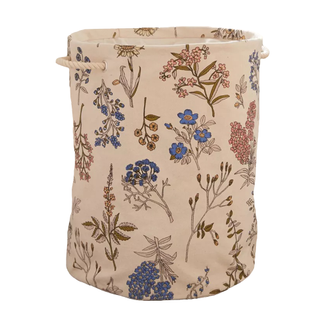 $59
Urban Outfitters Myla Laundry Bag
8. Shelf dividers
Most closets are designed with an open shelf above your clothing rail, and if you're anything like me, you're probably guilty of throwing pretty much everything up there. Clear out that space, and make use of it by organizing your knitwear, sweats, and athleisure with shelf dividers.
Once you're organizing using a big open space, it's important to create clear sections sorted by color, clothing type, or season. Dividers will help you keep these sections distinct, and keep your folded items looking A+.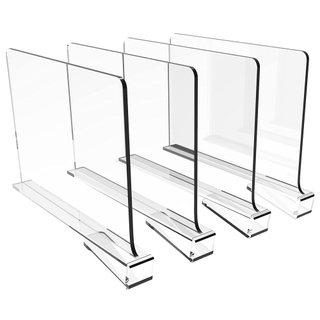 $17.99
CQ Acrylic 4 Clear Acrylic Closet Dividers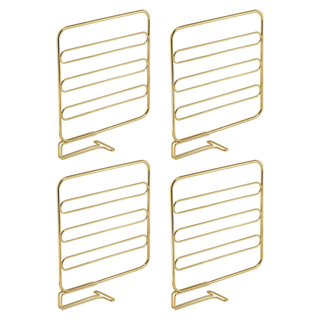 $16.49
MDesign 4 Pack Metal Closet Dividers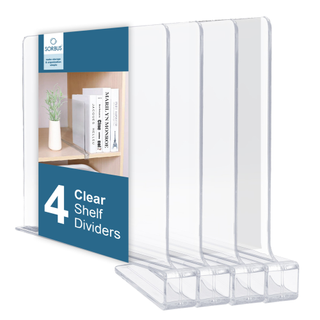 $29.99
Sorbus 4 Pack Acrylic Shelf Dividers
9. Splurge on a full system
If your builder-grade closet has absolutely nothing in it, don't worry. You can still have a super-organized space, even if you're starting from scratch.
Your fave shopping destinations like Target and Amazon all sell full systems including adjustable rails for hanging outfits and cubbies for folded clothes, towels, extra bedding, and purses or shoes. These organization systems can be tailored to your space, or you can DIY it and mix and match some of our favorite picks from above to build your own perfect closet, no construction needed.