Want to do some revamping? The Valspar Color of the Year and its pairings will surely help you make some changes in 2024.
Designers insist that one of the easiest ways to upgrade a space is with a coat of paint — and it's true. A few hours of labor could lead to a transformative final result. Every year, paint companies predict trending colors, so we chatted with Valspar about what to expect over the next 12 months and how to style each popular shade. Everything is a bit different, but the hues all share a common theme: they're lovable.
For the latest color trends that are sure to sweep homes everywhere, allow Valspar director of color marketing, Sue Kim, walk you through it all. And if you're really craving a generous DIY to tackle, we spoke to experts about the best color combinations for small spaces. Happy painting!
Valspar color of the year 2024 and top picks
Whether you're in search of the best colors for a small living room or reading nook, or if you're in the midst of a home office upgrade, Valspar has you covered in the color department. It all starts with Renew Blue, the 2024 color of the year. Hats off to the winner!
Sue Kim, Valspar's director of color marketing, has been forecasting the brand's annual color for over 10 years. With a passion for translating color through key lifestyle trends to create versatile color schemes for the home, she is an expert in enhancing spaces through color.
1. Renew Blue (8003-37D)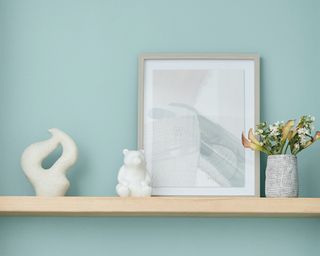 It's official — we're feeling blue. Renew Blue, that is. And trust us, it's a good thing. A versatile shade with an ode to Tiffany's signature color, Renew Blue is something that we can appreciate all seasons and turn to for a breath of fresh air.
"Blue is a classic shade that has become the new neutral for today's home and can be mixed and matched to fit a variety of design styles and applications," Kim previously said in a statement.
Now, what colors are trailing behind Renew Blue? Quite a few, actually.
2. Dusk in the Valley (8004-3B)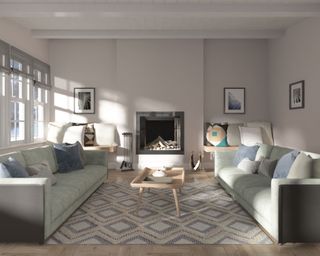 There's no doubt we've been through a lot over the past several years, and we need to take breathers whenever we can grab 'em. Embrace the calm with a hue like Dusk in the Valley and revel in its harmony — even if it's only for a moment or two.
"Grayed pastel soothes our senses, which are on overdrive with constant changes," Kim tells Real Homes. "Layering pale tints in natural materials creates a sense of calm and relaxation in our private spaces, like bathrooms."
Dusk in the Valley, and similar colors, make small bathrooms look bigger and they perfectly coincide with small bathroom feng shui rules. Let the chi flow!
3. Perfect Backdrop (8005-8B)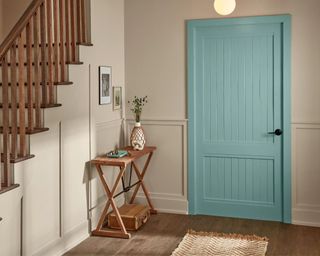 Let that neutral Christmas decor trend extend into the new year (minus the trees and candy canes). Perfect Backdrop is proof that "beige" and "boring" are not interchangeable — despite what you might've been led to believe.
"The familiar, natural tone has returned strong, emphasizing comfort in a space and welcoming you in a transitional space like an entryway," Kim notes. "Layer in accents through cool shades and create harmony by using same lightness of color."
Speaking of which, we spoke to designers about how to decorate a small entryway, and we think you're going to be very pleased with their findings (and a layer or two of Perfect Backdrop).
4. Forge (8004-48F)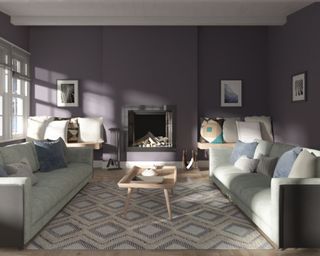 Why not *forge* ahead with a statement wall or nook using this moody hue?
"This almost black shade with a hint of purple gets the influence of the digital world and gives an immersive space," Kim says. "It is a perfect shade for a quiet space to enjoy JOMO (Joy-of-missing-out)."
If you need us, we'll be busy admiring our bookshelf ideas and picking a few fun reads for an evening in. (Anyone planning on reading/watching Lessons in Chemistry by Bonnie Garmus? It's all the rage right now!)
5. Green Trellis (5006-3C)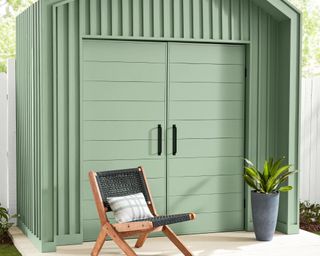 When space is scarce and natural light is not in ample supply, you'll want to do your best to bring a little bit of the outdoors in — Green Trellis can make that happen.
"In the world of white, gray, and beige, this hazy green can revive the mood and set the outdoor space as an extension of living space," Kim notes.
Though it goes without saying, it also begs for a few of the best indoor plants to accompany it.
6. Desert Carnation (2005-7C)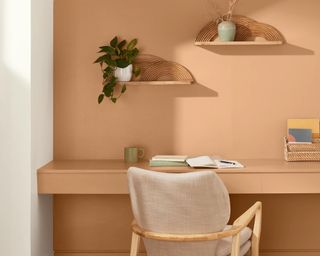 Ideal for all boho enthusiasts, Desert Carnation is the shade you were searching for.
"This faded natural terracotta inspires craft at home with individuality and warmth," Kim says. "The collected decor highlights the stories and connects the space with an appreciation of the past."
If you're working on a small nook area or want to give those small home office ideas a refresh, Kim says this is the perfect fit.
What to shop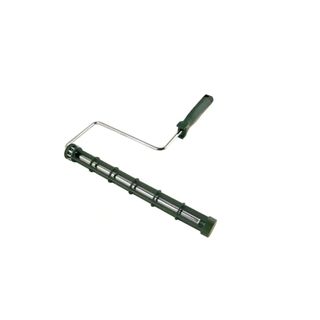 extension available
Sherlock Standard Paint Roller Frame
Price: $15.93
Dimensions (in.): 14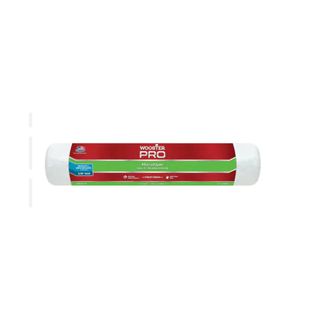 shred-resistant
Pro Microfiber High-Density Fabric Roller Cover
Price: $10.94
Dimensions (in.): 14 x 3/8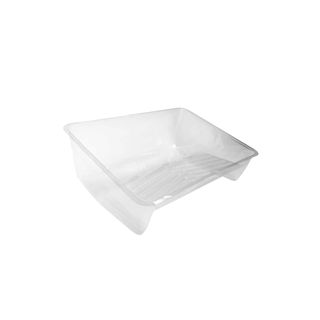 easy cleaning
Clear Plastic Bucket Tray Liner
Price: $6.57
Dimensions (in.): 14
FAQs
What is the color of the year in 2024?
According to Valspar, the color of the year in 2024 is Renew Blue, which is akin to the color of a Tiffany box. It's a cool shade that's meant to evoke a sense of calm and can be used at any time throughout the year.
"Inspired by fleeting elements like fog, mist, clouds, and glacier lakes, Renew Blue elevates the everyday mood, encourages self-expression, and evokes a feeling of balance and calm, with a twist of unique spontaneity," Sue Kim, Valspar Director of Color Marketing, said in a statement.
Additionally, Renew Blue is accompanied by other hues, such as Desert Carnation, an orange with warm undertones, and Dusk in the Valley, a gray with cool undertones.
Each brand has their own predictions, so watch their pages to see what they predict for the next 12 months.
How to use the Valspar Color of the Year 2024 - what should I do?
Although you can make a case to use Renew Blue in various rooms of your abode, we love it particularly for a bathroom.
'This mid-tone shade has become popular for relaxing or recharging environments with nourishing greens influencing the pure blue color family, enhancing a sense of personal wellbeing and tranquility," Kim says.
All that's left is to set the tone with some accents and storage.
"From handmade décor to vintage metallic finishes, reimagining the wellness mindset pushes the bathroom into a personal retreat," Kim adds.
Using a blue like this definitely aligns with small bathroom feng shui rules.
---
Curious what else is going to be popular after the ball drops? We've rounded up easy ways to to use 2024 colors of the year without paint. (That's right, not even a drop!)