Knowing the best paint colors for small living rooms is key to making sure your place looks as great as possible. The right shade can make a smaller room feel brighter and more inviting for you and your guests.
While it can be easy to just pick the shade you like best, in smaller living rooms you have to be more considerate than that. With not much space to play with, every inch counts — especially the walls, which make the biggest impression. Painting is also a slightly arduous task, so you don't want to realize you've chosen the wrong color after you've done the whole room.
If you've been scoping out small living room ideas and think a splash of paint is just the thing to freshen yours up, I've got you. I've spoken to interior designers and paint experts to find out the best paint colors for small living rooms, so you can paint with confidence.
Designers say that these are the 9 colors you should paint your small living room
From neutrals that will make your living room look bigger to bright colors that will show off your personality, these are the best paint shades for small living rooms.
1. Bright white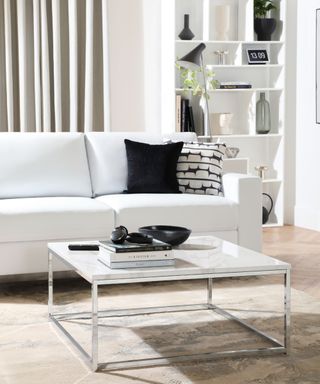 For those of you who are renting (like me) this will be great news, as chances are your rental will have already come with this shade. "A bright white with a satin sheen will be the most impactful for opening up the space and allowing light to reflect off of all surfaces, which will brighten up your living room," says Hanna Shiplett, interior designer at Eden and Gray.
Hanna Shiplett is a professionally trained and licensed interior designer located in Des Moines, Iowa. For the past decade, her interior design and build studio Eden and Gray has served the market specializing in high-end new builds, full home remodels, furnishings, and styling.
2. Green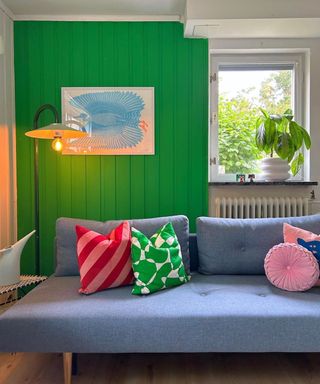 When you want to bring the outside in, green wall paint is a great choice. "A green living room looks chic when it features plenty of natural elements such as wooden furniture, indoor plants, and an earthy stone-colored couch," explains Sarah Lloyd, paint and interiors expert at Valspar. "For a sophisticated and contemporary living room space, dark green offers the perfect wall color."
Sarah Lloyd is a paint and interiors expert at Valspar, which is one of the leading paint brands in the US.
3. Navy blue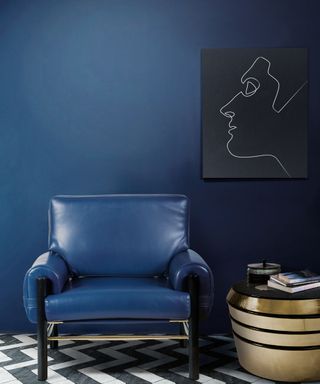 Dark blues like navy and royal blue will add richness and depth. "If you have a long and narrow room choosing to paint the accent wall in a deep hue at the farthest wall will allow for a depth perception trick, making the eye think the space goes further back, making the space appear larger than it actually is," explains Shiplett.
4. Orange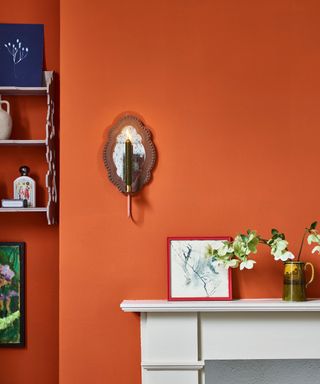 A striking orange is a great conversation starter for small living rooms. "Orange makes people feel more lively and adds a sense of movement to any space," says Ashley McCollum, color expert at Glidden. The deep tones of orange pair well with other colors on the color wheel like dark blues and browns, and can help make a small living room feel a bit bigger.
Ashley McCollum is a color expert for PPG's Architectural Coatings business in the U.S. and Canada, which includes Glidden. Prior to joining PPG in 2017, Ashley's career was heavily focused on color and visual merchandising for retail environments.
5. Passionate pink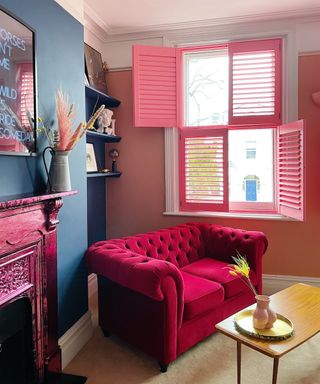 Barbiecore is here to stay, and that includes painting your walls in the iconic pink color. "Today's trendy crowd has embraced this sophisticated shade of pink as part of their small living room color schemes," says McCollum. "The warm tones are ideal if you have dark wood furniture, and add a touch of softness to the room." You might not be able to convert your rental into the Dreamhouse, but this shade will get you pretty close.
6. Teal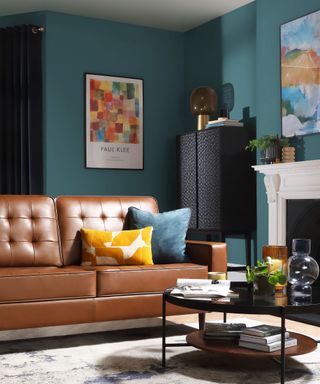 If you love travel, then teal paint can help to create the feel of a faraway destination. "Teal works wonderfully with warm tones of gold — try a daring gold sofa placed in front of the wall, and tone it down perfectly with natural flooring underneath," Lloyd suggests. This color will create warmth, while still adding playfulness and personality.
7. Pastel pink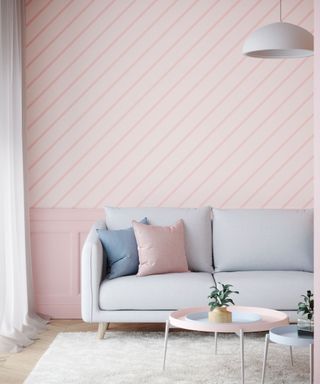 Don't want to go full-on hot pink in your small living room, but still want to use the sweet color? "A pastel pink wall paint gives living rooms a real Mediterranean feel, especially when combined with wooden flooring, bamboo furniture pieces, and green houseplants," Lloyd says.
You can also add a large round mirror to add plenty of reflective light to the space, which also enhances the texture of the colored walls.
8. Honey beige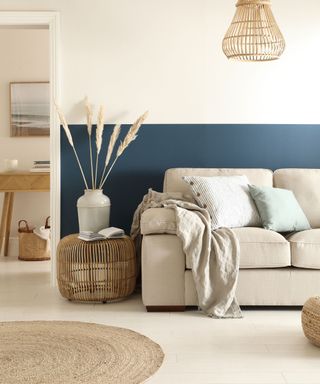 If you want a neutral with a little pizzazz, then look no further than using warm honey beige in your living room. "This is a fresh and energizing take on neutral colors for small spaces," McCollum tells me. As well as this, it offers flexibility and creativity in your color palette, as it works equally well with cool and warm tones in the space.
9. Aqua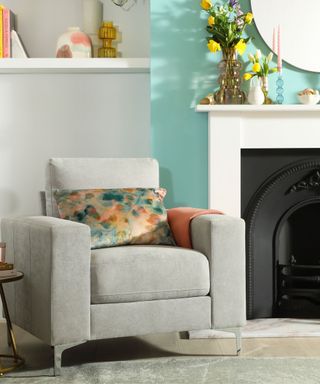 Shades of blue and green are popular colors for small living rooms. "If you spend a lot of time in your small living room hanging out with your family and friends, aqua serves as a serene backdrop for any party," McCollum says. She suggests using it with pastels, to help make the room feel breezy and spring-like all year long.
Get the look with these 9 paint buys
Want to take on our experts' advice and paint your living area in one of these colors? Here are paint color buys to help you do just that.
The prices below were correct at the time of publishing this article.

Neutral

Luscious

Rich

Bright

Dusky
5. Glidden Madagascar Pink Paint Bold

Sweet
7. HGTV Pink Ribbon Paint

Warm

Sea vibes
9. Glidden Misty Aqua Paint
FAQs
What color is best for a small living room?
The best color for a small living room is one that will make it look bright and airy. Brilliant white and honey beige are both great, versatile choices.
What color makes a small living room look bigger?
White paint will make a small living room look bigger. "Commercial white is a favorite color for those who prefer a pleasing neutral look and want to try and make a small living room feel bigger," says McCollum. "Shades of white tend to reflect light and assist in making spaces feel larger."
---
Now you know what the best colors are for small living rooms, you might be wondering what other colors will work in places like apartments. These are the best eight paint colors for smaller spaces.