The Home Edit's Walmart collection includes four foolproof storage solutions to keep your home tidy for good in 2022.
Professional organizers Joanne and Clea started The Home Edit in Nashville. They quickly garnered a huge fanbase on Instagram, thanks to their aesthetically pleasing rainbow lead organization system. They now have a show on Netflix and two books under their belts inspiring organization ideas around the world.
If you are a fan of the show you will already be familiar with the clear plastic bins the team magic into incredible storage systems. Well, now you can get The Home Edit experience (and look) for less than $25 at Walmart with four Home Edit X Walmart storage starter packs.
When tidying up, a strong storage system is key, however, this is easier said than done. Research by Walmart found that 70% of its customers didn't know where to start when it comes to organizing their homes.
That is where the Edit's come into their own, they are made up of 5 to 10 pieces and aim to take the guesswork out of piecing together a storage system.
The four organizing packs or 'edits' have been designed specifically for different rooms in the house. There is one for pantry organization, for the bathroom, laundry room, and a multi-purpose pack that will work all over the home.
The whole range has been designed in The Home Edit's signature clear style. This is so that not only does your storage look neat and consistent, but you can also see what is in each box.
The Home Edit Walmart Collection Edits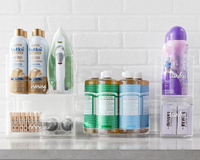 The Home Edit Laundry Edit | $24.98, Walmart
The Laundry Edit is made up of 5 pieces. It includes 2 Everything: Stacking Bins to contain detergents. 2 Everything Narrow Bins for dryer sheets and smaller laundry organizing essentials. The final piece is the Turntable to make bottles easier to find.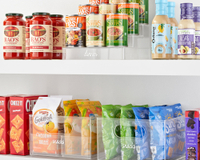 The Home Edit Pantry Edit | $24.98, Walmart
This starter pack has everything so you don't have to stress about a messy pantry. It includes 2 Everything Large Bins designed to zone your shelves and make them easy to access. You then use the 2 Large Insert Bins to create subcategories for your snacks and food. The final touch is the 3-tier riser, perfect for storing cans and condiments.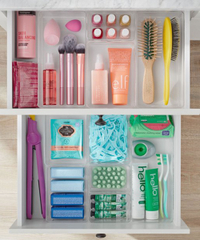 The Home Edit Bath Edit | $24.98, Walmart
This edit is made up of 10 pieces designed to use to organize under the bathroom sink or in a deep drawer. The set includes 3 Large Insert Bins, 4 Medium Insert Bins, and 3 Small Insert Bins. Mornings will be seamless when you aren't spending precious time hunting for your toothbrush and facewash.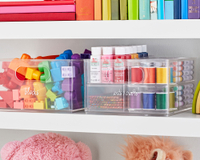 The Home Edit Multipurpose Edit | $24.98, Walmart
This pack has been designed to be used in any room of the house. It is made up of three sizes of the most essential storage item, according to The Home Edit - bins!. The set includes 2 Everything Large Bins, 2 Large Insert Bins, 2 Medium Insert Bins, and 2 Small Insert Bins. These can be used to tackle toy storage or even organize a fridge.
The stand-out buys are the Edits, however, Walmart is also selling a range of other items to supplement these or create your own custom storage system whether you are looking for home office storage ideas or living room storage ideas.
However, many of the items have already sold out including the ornament organizer and large stackable bins. So you better hurry!