Sofa-in-a-box company Swyft is launching a brand new sofa bed, and it looks super comfy. From Saturday, April 24, the stylish and sumptuous Model 04 will be available to buy for £1,995.
The Model 04 Sofa Bed's clever design means that neither the sofa nor bed is compromised. Because let's be honest, most sofa beds we've ever slept on have that slightly less comfortable sofa bed feeling - in both bed and sofa mode.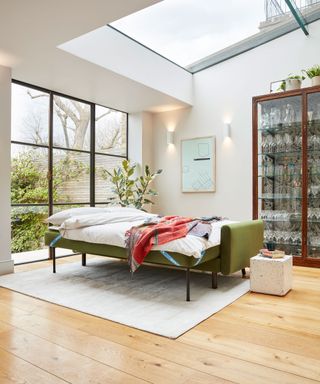 Sub-par sofa beds mean you and your guests have to put up with a piece of furniture that doesn't spark joy. This is usually caused by a combination of thin cushions and a metal frame beneath.
But Swyft's new sofa bed has cushions that are seven inches thick, made from high-density foam with over 300 pocket springs. It also has a mattress topper, which is stored away under the seat cushion when it's being used as a sofa.
Guests really will be in for a treat - it sounds comfier than our actual bed. If it's time to upgrade yours, take a look at our guide for the very best beds.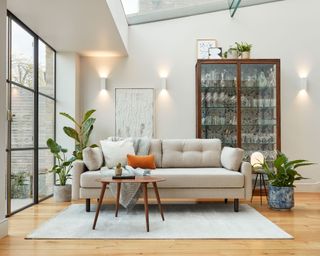 We're loving the sleek yet suitably squishy design and would happily curl up on it with a book or some Netflix bingeing.
The design is chic mid-century modern and will give your living room an instant update. It's available in various colors so you can find one to suit your home.
Swyft's stain-resistant colors in both linen and velvet are vine, teal, light grey, brick, pumice, shadow, and seaglass. Unlike many sofa beds, to the untrained eye, it justs looks like a sofa, until it's folded out.
A sofa bed is a great small living room design idea that removes the hassle when friends stay over or when kids come for sleepovers.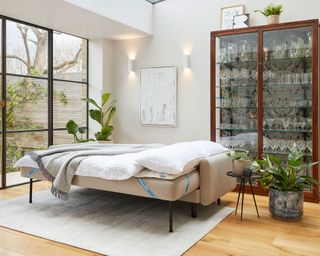 Now more than ever we're recognizing the value of multifunctional furniture. Our living rooms have become homeschooling spaces and offices, and every item is double-doing something.
Investing in pieces that have more than one use gives us much more flexibility and space. A footstool, pouf, or ottoman with living room storage ideas inside, or a bed that folds up to reveal storage underneath will help keep things tidy.
Similarly, small, occasional tables that can be folded away rather than one large coffee table, will mean your living space can adapt depending on how you're using it.