They do some of the best sofas around, so it makes sense that the sofa bed we all want and the number one buy on our list of best sofa beds is the Made's Haru sofa bed. It's an Insta favourite – and it's equally gorgeous in real life.
In velvet, it's a design you want to reach out and touch, and the retro-inspired look has the sort of lovely lines that would make it a star of pretty much any living room. Those of us on the Real Homes team who haven't succumbed have this beauty on our most-wanted list. The small Made Haru sofa bed is priced at £329 for the most popular colours (including the pink above), while less on-trend shades are at £299.
The best dupe for the Made Haru sofa bed
Now, it has a rival though. The velvet Logan fold-out sofa bed from Marks & Spencer (top and below) is a style sensation and utterly strokeable to boot. What's more, you can snap it up in the on-trend pink, the teal, dark or light grey for a rather appealing £299 for the small double – saving £80 on Made's version of those colours. That gives your plenty to spend on the other must-have homewares on your list – never a bad thing in our book!
We have our eyes on the dusty pink version of the Logan (above), but you might be equally bewitched by the teal velvet (below) that's an alternative.
After something more understated? There's also a dark grey velvet plus a light grey fabric if you prefer (but we're firmly on the side of velvet, in case you wondered).
When it comes to the Made Haru, the vintage pink has always been our top choice because it's on trend and catches the eye without having to shout. But we definitely appreciate the 1970s vibe of the flame orange, and the fab vintage gold, love the lastingly elegant sapphire blue, and appreciate the restful charms of the marine green and pine green options.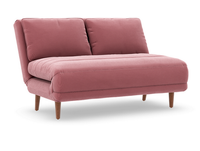 Logan Small Double Sofa Bed | £299 at M&S
Go on, treat yourself. This stunner of a sofa doubles as a comfortable guest bed that's easy to prepare for your visitors. Go for this fab dusty pink, or select from two other velvet or one fabric finish.