As kitchen ideas go, we've found what could be THE easiest one out there. One of the go-to design tricks we've noticed Dream Home Makeover star Shea McGee uses is layered chopping boards.
If you look closely, you'll find natural wooden cutting boards resting inconspicuously in the corner or on the side of a counter in 99% of her kitchen redesigns. It's a simple finishing touch, and when we tried it we were surprised at how much of a difference it makes.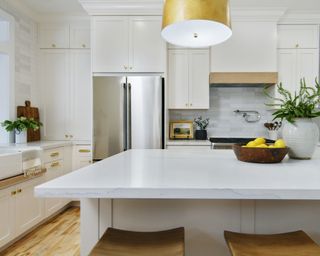 The wooden chopping boards are a simple addition that you might overlook. After all, they're something that you're actually going to need if you're planning on doing any cooking.
Besides the fact that they're handy to have around, the curved edges and natural wooden material soften and bring a shiny new kitchen 'down to earth.' If your kitchen feels like it's lacking something, a few round or curved cutting boards will instantly make it look more styled.
Kitchens are full of functional items made of harsh materials, from microwave ovens to kettles and plug sockets. But introducing natural, tactile textures is a subtle way to make a highly practical space feel more inviting.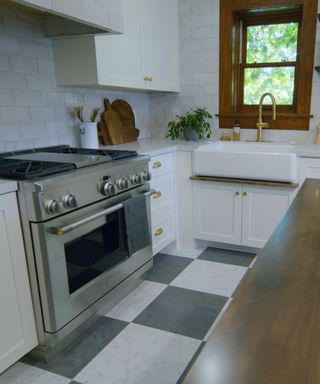 You can also make your tired kitchen more welcoming on a budget with our simple IKEA kitchen hacks.
Inspired by Shea, I picked up a couple of chopping boards from H&M Home for my kitchen - and I love them. Day to day, I use the smaller one way more often than I thought I would.
It's really handy to have a little one for cutting oranges for an Aperol spritz with friends, or chopping up some fresh chives from my herb garden to give my lunch-time bagel more flavor.
With their soft edges, the chopping boards make my rented kitchen look a little bit more homely and 'finished'. Keep your new chopping boards fresh with our how to clean a wooden cutting board guide.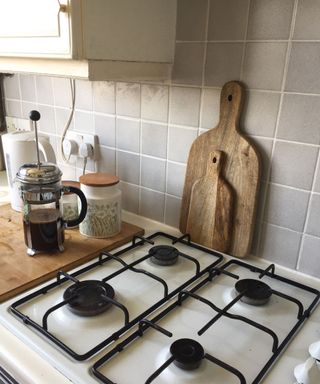 If you're anything like us, you binge-watched the entirety of Dream Home Makeover on Netflix. But there's still so much we can draw from the Studio McGee style for our own homes.
We previously wrote about Shea McGee's kitchen design secret that involves adding artwork in a gold frame on the kitchen counter.
It's basically about making a feature of something you use all the time. A similar idea would be to install a Bridgerton-style overhead rack for hanging pots and pans.
Simple, effective and cheap - the chopping board trick ticks all our boxes.