Fans of Dream Home Makeover on Netflix have witnessed the moment when one of Shea McGee's design projects comes together. It truly feels as though she's waved a magic wand and made a dated, L-shaped kitchen into the kitchen of our dreams.
As far as we can tell, this isn't actually the case. There are definitely some fundamental design elements at play, from which we can draw inspiration in our own homes.
One thing Shea McGee often does is to include artwork on the countertops of her kitchens.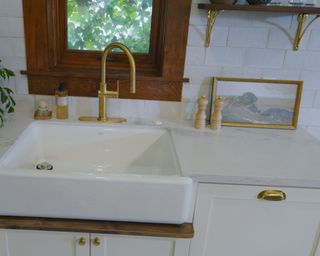 Eagle-eyed viewers will have spotted these unassuming, gold-framed landscape paintings appearing in many of her kitchen designs. And while it may seem like an insignificant detail, we believe it adds a lot to her schemes.
Modern kitchens, with all of their appliances and shiny surfaces, can quickly become quite harsh and sterile. But by introducing some artwork, you instantly soften the overall impression when you walk in, and it makes the space feel much more inviting.
It's a bit like adding wallpaper or a Roman blind into the bathroom - slightly unexpected touches we're used to seeing in other rooms.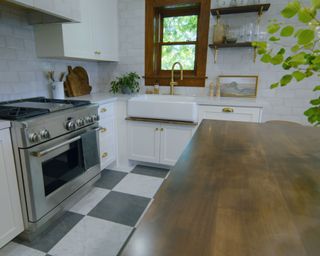 The landscapes Shea adds into her kitchens are always of an old-fashioned style, helping to strike a balance between the traditional and modern features. They also tend to be in grey-green tones, matching the color of the greenery she includes in the form of plants.
Many of us don't have space to put paintings on our countertops - we need that precious spacefor kitchen storage ideas. But, hanging them on the walls will have that same, softening effect.
Since Shea McGee launched Threshold, a line of homeware at Target early this year, we've been able to achieve that traditional modern Studio McGee look at a fraction of the cost. Artwork in the kitchen is another way we can bring some curated interior design brownie points to our own homes.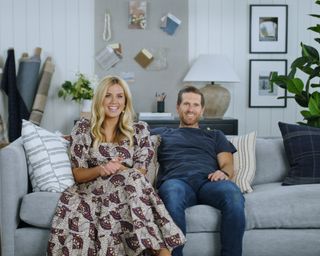 Since we don't typically see artwork in people's kitchens, it creates interest. Why not try adding artwork to primarily functional spaces in your home like the laundry room or give it a go as a mudroom idea?
Will you be using this design tip in your home?