Our Place Dream Cooker: Quick Menu
Listen-up foodies, fan-favorite kitchen brand, Our Place (makers of the beloved Always Pan), has just released a brand new gadget — the Dream Cooker. As an amateur chef and avid follower (*ahem* fanatic *ahem*) I need to snag this one ASAP.
While this isn't Our Place's first foray into appliances, the Dream Cooker is the first multi-cooker to be released by the brand. It comes with four cooking modes that seemingly do it all. But is this small kitchen appliance really all it cracks up to be?
I was blown away by its Wonder Oven a couple of months ago (read more about it in our review here), so I investigated everything about the new release. See everything the Dream Cooker can do, the features that make it unique, and where to pick it up.
Everything you need to know about the Our Place Dream Cooker
Where can I buy the Our Place Dream Cooker?
The new Dream Cooker is available on the Our Place website for $250. It's available in four colors — char (a charcoal gray/black), blue salt (a deep cobalt blue), steam (neutral beige), and spice (a terracotta orange).
Included with each purchase is a one-year warranty, a 100-day trial, free shipping, and free returns. The Dream Cooker comes with a cooker base, locking lid, inner cooking pot, condensation collector, and detachable power cord.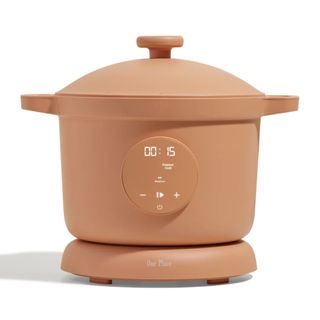 Multicooker
Price: $250
Size (in.): H15 x D13
Volume: 6qt
Material: Plastic, stainless steel, and, aluminum
What does the Our Place Dream Cooker do?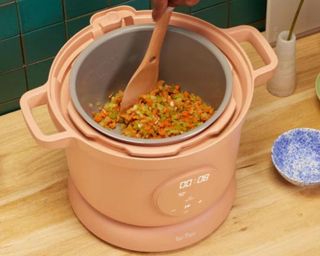 The Dream Cooker is a multicooker that claims to be able to cook just about anything. It has four main cooking modes — pressure cook, slow cook, saute/sear, keep warm. A multicooker can typically do the job of a slow cooker, pressure cooker, and rice cooker all in one. Think along the lines of the Instant Pot (find out more about this in our Instant Pot review).
There are some benefits that I think are pretty unique to the Dream Cooker though. I like the simplified control panel which doesn't have a slew of pre-set buttons you're never going to use. A really attractive feature for a rookie chef like me! It also has a hands-free steam release feature which makes pressure cooking even easier.
Reasons to buy an Our Place Dream Cooker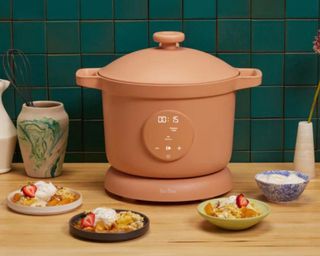 One of the prettiest pieces of non-toxic cookware we've seen, The Dream Cooker is coated in a nonstick ceramic coating and comes with nine safety features. Our Place also claims the Dream Cooker speeds up cooking times by 80% by creating an air-tight effect around the pot to increase temperature and pressure.
And of course, we couldn't overlook how gorgeous the design is. Like everything from Our Place, including the famous Always Pan (discover more about this in our review), the Dream Cooker is sleek and minimal with a beautiful selection of colorways.
---
As an Always Pan owner myself, I'm planning on picking up a matching Dream Cooker to complete my kitchen set. Our Place is always so on-trend, even releasing a Selena Gomez collab that we checked out. My tiny rental is already full to the brim with cute kitchenware, but an all-in-one appliance can really make a difference.