I avoided an Instant Pot with the same careful and decided determination that I've used in refusing minivans, Crocs and suburbia — as if using the popular pressure cooker would magically turn me into a Pinterest-perfection-seeking Stepford wife. When initially asked about testing this product out, I laughed and almost declined. Well, joke's on me. You see, I work each day as a strategist (of the content variety), feeling proud of my innate ability to garner results in an efficient way. After tackling a single recipe in my Instant Pot Duo, I realized that's precisely what it does.
As a step up from an entry-level Instant Pot, I can see why the Duo is their top seller. It offers more advanced features and programs than its predecessor without being absurdly expensive. And while I knew that it speeds up the cooking process (by as many as 6 hours), I hadn't put two and two together to realize that that also means improved efficiency and far less energy use!
We'll get to how easy it is to use in a bit, but the TL;DR version is that I was up and running, and by "running," I mean caramelizing onions, in under five minutes from breaking it out of the box. In less time than it takes me to deglaze my Dutch oven, I was serving a juicy, creamy, tender "Crack Chicken" meal to my discerning (read: children) dinner guests.
First impressions & unboxing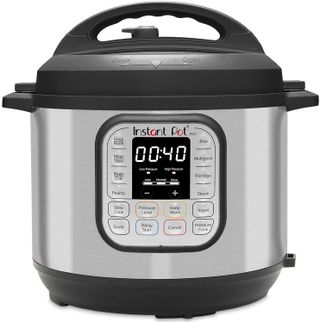 Instant Pot Duo: Specs
Size: L13.38 x W12.2 x D12.48 Inches
Weight: 11.8 Pounds
Capacity: 6 Quart
Modes: 7
Programs: 13
Dishwasher safe? Lid, inner pot, accessories
Controls: Digital
We've already established that I was very anti-Instant Pot at the onset and, I'll be honest, that impression didn't change immediately. I'm an aspiring minimalist who doesn't like a lot of counter clutter or redundancy in her home. When I pulled the Instant Pot out of the box, it was big enough for me to count that effort as daily exercise. However, as someone who puts the leisure in athleisure, that may not count for much.
It's certainly large and the manual is, well, comprehensive. But I found that, with a few quick Google searches and flipping through the included instructions, it wasn't difficult to navigate my way around it at all. In fact, kudos to the tech writing crew behind this user manual — just the right amount of entertaining content to keep me smiling.
The appliance itself had fewer bits and pieces than I was expecting and could assemble everything with minimal second-guessing and swearwords. When I compared overall dimensions of the Instant Pot Duo with my straight-out-of-the-80s slow cooker, I could see that it wouldn't require me to clear much more space out of a cabinet. Touché, Instant Pot, touché.
What's it like to use?
Alright, here's where I eat crow and, thankfully, a whole lotta delicious chicken. The Instant Pot Duo is a dream to use. I'm a visual and kinetic learner which is just a fancy way of saying that I hate to read things before I dig in. I'm my family's resident IKEA assembly expert for a reason. There seem to be quite a few options, button-wise, but the recipe I found very explicitly stated which setting to use and I had no trouble following them.
My initial worry with the Instant Pot was that it required a lot of preparation and didn't minimize the process in the same way that a slow cooker does, but I couldn't have been more wrong about that. With a full-time job, two children under five and the attention span of a fruit fly, I didn't think I'd want to prepare and cook at the same time, but am happy to report that it felt way more efficient than trying to prepare a slow cooker meal.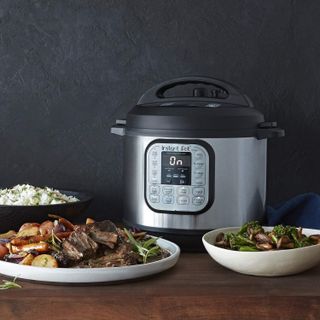 I could easily chop up some bacon and toss it in to start frying alongside some garlic and EVOO, because why not? Not needing a stovetop to create an entire recipe is a total game changer. The recipe I initially selected required a manual setting and manual release which, I'll be honest, felt a little dangerous in the moment. But once again, between the guide and online content, I felt confident the entire time — especially knowing I'd knocked a meal out of the park with just the touch of a few buttons.
Speaking of clicking buttons, as a digital professional it feels worth mentioning how streamlined Instant Pot's website is. I love that they have helpful "how to" videos and FAQs super easy to find. And, since this was the smash hit appliance a couple years ago, there is no shortage of "dos and don'ts" at your fingertips when you're getting familiar with it.
What can you do with it?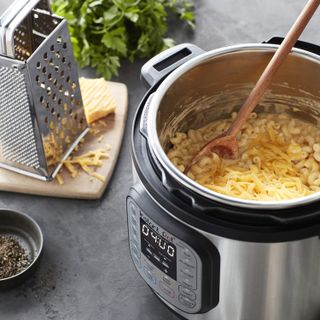 More like what can't you do with an Instant Pot Duo, amiright? I mean, there are straight-up, fool-proof buttons for soups/broth, meat/stew, bean/chili, slow cook, sauté, rice, porridge, steam, multigrain and yogurt. Plus, this version has a couple smart programs that allow you to delay start.
For those as unfamiliar with the Instant Pot as I had forced myself to be, they're often referred to as a 7-in-1, allowing you to say goodbye to your traditional pressure cooker, slow cooker, steamer, sauté pan, rice cooker, yogurt maker and food warmer. Granted, a couple of those may be the same appliance if you're as minimalist as I am, but I will admit that the Instant Pot definitely creates a smaller mess than most meals I make.
So far I've found the Instant Pot most handy for achieving an homecooked meal vibe without spending too much time in the kitchen. I look forward to playing around with the multigrain setting and seeing how it compares with our breadmaker, another enormous appliance we mostly use for homemade pizza dough.
Is it worth the money?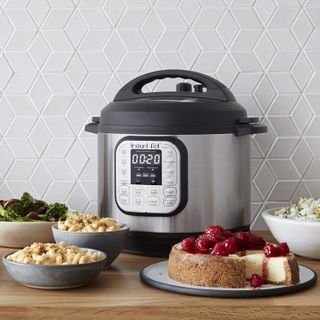 In a word: absolutely. Our wedding crockpot bit the dust almost ten years after we said "I do," and I knew it was time to consider a newer option. When I inherited my mother-in-law's Crockpot, I bought myself some time to weigh the pros and cons of an appliance that Karens across America can't shut up about but, in the end, I can't deny that it will get more use than any other appliance collecting dust in my cabinets. (We'll reunite one day soon, dear pasta maker. As soon as I can trust an open flour canister and my kids in the same room at the same time.)
I like to justify clothing and shoe purchases by a cost-per-wear method and when I consider how frequently I have already used and will continue to use my Instant Pot Duo, the cost-per-use is more than worth the price.
How does it compare to similar products you have used?
I am fortunate to have a large kitchen, well stocked with new and hand-me-down appliances of all kinds. If you'd asked me, before I tried the Instant Pot, what the most versatile tool I owned was, I immediately would have replied my Dutch oven. And while there is something irreplaceable about its beautiful porcelain and soothing tradition, I can tell that the Instant Pot parallels its prowess.
About this review and our reviewer
Though I'd never claim to be a foodie or have any kind of kitchen expertise, I'm most certainly a well-rounded "preparer of meals," with discerning taste for quality. I think I always knew the Instant Pot was worth its hype and am only a little annoyed it took me this long to give in. Though, moving from a condo in Chicago to an actual home in northern Florida offered the space I needed to store it.
We purchased our home in Jacksonville, Florida for two reasons: the first was our kitchen. Open, airy, and lined w/ solid cabinets and white tile, the sizeable island and gas range were perfect for preparing the Italian-style meals on which I was raised. The second reason was that it's walking distance from our city's best restaurant. So, I looked at the Instant Pot through a fairly critical scope and, I'm pleased to say that it continues to impress me. Now, if I can figure out how to master seasoned pommes frites in it, then I may just have to go work for their brand.