Not long ago, I didn't even realize non-toxic cookware was a thing — let alone "toxic cookware." I mean it's hard enough trying to eat a healthy and balanced diet, without worrying about the pan I'm going to prep it in. But, it turns out most conventional non-stick frying pans can leech chemicals that you don't want on your plate (or in your body for that matter). PFAs (AKA per and polyfluorinated compounds) might make your fry pans non-stick, stain-resistant, and waterproof — but they're not actually necessary and they may be harmful to yourself and the planet.
So, before you lie awake at night shining blue light in your face in search of "safe" pots and pans, let me introduce you to the non-toxic cookware that you need to invest in — some I've personally tried and tested. Because there's already enough toxicity in the world to allow any more into your (kitchen) space. A handful of these brands are supposedly used by Hailey Bieber, Selena Gomez, and Bella Hadid, so trust me when I say they're functional and fashionable.
Our edit fo the best non-toxic cookware to buy
The prices below were correct at the time of publishing this article.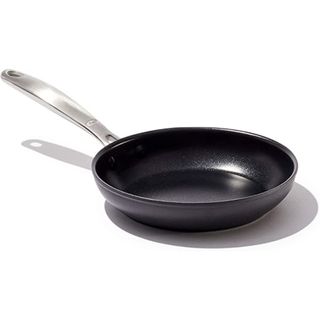 Value for money
1. OXO Good Grips Pro 8" Frying Pan Skillet
Price: $30
Weight: 1.21lbs
Sizes: 8"
Material: Hard Anodized Nonstick Aluminum, Stainless Steel
Dishwasher-safe: Yes
Oven safe? Up to 430°F
IDK about you, but OXO has been one of the brand names that I've grown up with and trust. This particular pan has a three-layer, German-engineered non-stick coating which allows budding chefs like you and me to use less oil when cooking. OK, so it can't withstand blazing-hot temps like some of the others, but as long as you're using this on the stovetop (or not whacking up your stove to excessive heat) — you'll be fine. You can also use it to show off your pan-to-plate skills when transferring a crepe or omelet as it has rolled edges.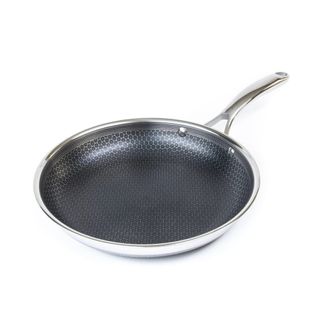 Choose from 3 sizes
2. HexClad Hybrid Stainless Steel Frying Pan
Price: From $139.99
Weight: 2.5 lbs (10")
Sizes: 8", 10", or 12"
Material: Hard anodized aluminum with diamond-infused Thermolon
Dishwasher-safe: Yes
Oven safe? Up to 500°F
I've seen this exact pan being used by Mrs. Hailey Rhode Bieber and Gordon Ramsay. In fact, it was only recently that I geekily paused his new reality TV show Next Level Chef just to certify that this was what the contestants were using. Those hexagonal, almost honeycomb-like structures are "bee-youtiful" and great for heat retention too.
Real Homes rating: 4.5 out of 5 stars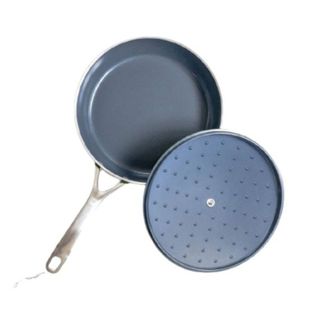 Induction-friendly
Price: $140
Weight: 4lbs
Size (in): 11"
Material: aluminum/silicon lacquer / stainless steel
Dishwasher safe? Yes
Oven safe? Up to 750°F
Bella Hadid may have been seen rocking this Kilne Everything Pan, but I just know I'm going to be making Gigi Hadid's famous Vodka pasta in this thing. Made in Italy, this multi-award-winning accessory replaces up to nine pieces of cookware. Choose from verdant sage, peppercorn black or off-white meringue.
Real Homes rating: 4.5 out of 5 stars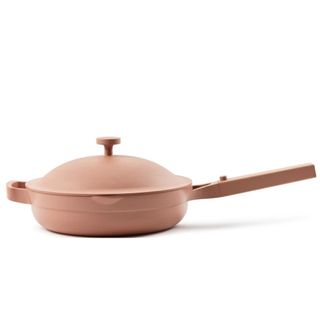 Ceramic
4. Our Place Always Pan 2.0
Price: $115 (usual price $150)
Weight: 3 lbs (plus 1 lb lid)
Size (in): 10.5"
Material: Aluminum and ceramic
Dishwasher safe? Yes
Oven safe? No
Selena Gomez prefers this woman and immigrant-owned pan in the kitchen. It's compatible with all cooktops, including induction, and is a great 10-in-1 item that can compete against any cookware set if you're short on storage space. The Always Pan 2.0 really is a one-pan wonder that can now go into the oven (the OG wasn't oven-safe unfortunately). Add the Perfect Pot to your basket and you've got yourself an iconic power couple that will work in harmony to replace a 16-piece set. Oprah also calls it "the kitchen magician."
Real Homes rating: 4 out of 5 stars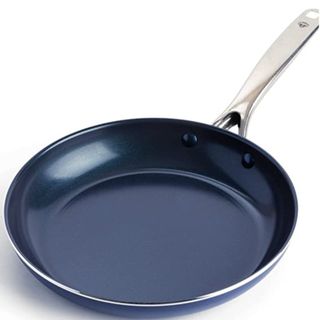 Under $30
5. Blue Diamond Cookware Diamond Infused Frying Pan
Price: $29.99
Weight: 1.68lbs
Size (in): 10"
Material: Aluminum
Dishwasher safe? Yes
Oven safe? Up to 600°F
I can already hear my mom singing that Bond soundtrack Diamonds are forever in my head right now. And it's true — diamonds are timeless, whether they're on my finger, or used as a coating for my on cookware. While I haven't cooked with this pan first-hand, it has over 36,000 4.4-star reviews, is super affordable, and you can use metal utensils on it without worrying about any scratches. And yes, you can use it on an induction hob.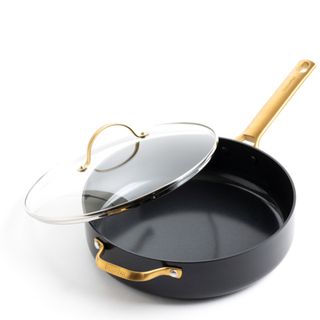 Stainless steel
6. GreenPan Reserve 4.5QT Sauté Pan
Price: $136.63
Weight: 6.09 lbs
Size (in): 11
Material: Hard anodized aluminum with diamond-infused Thermolon
Dishwasher safe? Yes
Oven safe? Up to 600°F (pan) / up to 425°F (glass lid)
Sauté all day with this stylish stainless steel and ceramic pan. While I haven't tried this exact item, I've got a GreenPan in our non-stick guide and can vouch for the diamond-infused Thermolon coating made without PFAS, PFOA, lead, or cadmium. The brass-and-black details are absolutely A-list IMO. I rated the GreenPan Barcelona Pro 4 out of 5 stars, but this too is marketed as healthy with the same sprayed-on, non-toxic layer. It also comes with a durable glass lid, so your food can get its steam session on. It's even crafted with recycled materials and solar power.
FAQs
Is ceramic non-toxic?
Yes. Ceramic is made from clay, so it won't leech any polyfluoroalkyl substances.
What is the least toxic type of cookware?
If you're looking for the least harmful pot and pan materials to cook with, look to stainless steel, ceramic, glass, and cast-iron skillets.
Where to buy non-toxic cookware
You don't have to go to a specialist outlet to source non-toxic cookware. Many of the below retailers hold a variety of pots, pans, and saucepans for you to shop from at reasonable price points.
How we test non-toxic cookware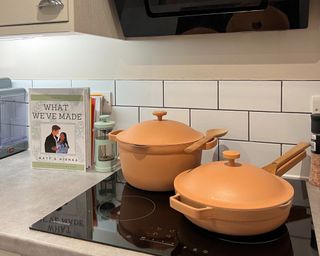 With her upcoming spring wedding on the horizon, Christina is doing everything she can to look and feel her best on the big day. This includes opting for a lot of nutritious home-cooked meals. She reviewed the GreenPan Barcelona Pro which has the same non-stick surface material as the Reserve pan. Though she's already got a diamond on her finger, she was impressed to find out that the coating is made with this precious stone, too! Recently, she's managed to get her hands on both the Always Pan 2.0 and the Kilne Everything Pan — so there's no excuse to be tempted by takeout.
According to our head of reviews Millie, the HexClad Hybrid fry pan is expensive, but it's changing the frying pan game for good. "Not to name-drop, but Gordon Ramsay himself taught me how to make the most of this pan, and as part of his demo he scraped a metal spoon against it to prove how durable the non-stick is. Scary, but it's true that you don't need to stick to silicone with this pan. What I will say is that the pan needs a good scrub every few uses, because otherwise, those etched lines between the nonstick hexagons will discolor. It's worth it though because this pan has become my ultimate go-to." Why not make it yours?
Nishaa is our staff writer and she raves about her Always Pan. She uses it daily to cook for her and her husband, and it's often sitting on her hob looking pretty. The spoon rest allows her to keep her countertops clean, and although food cooks slower than it did with her original cookware, it cooks much more evenly throughout. She's also a self-confessed lazy girl, so the nonstick coating and easy cleanup is ideal. As an immigrant- and woman-owned brand, Nishaa personally identified with the founder and her story. While she came to the United States from Pakistan, her parents immigrated before she was born, and she's recently settled down in England.