It's rare for a frying pan to amass a cult following, so we were excited to see if the Always Pan lives up to the hype in this Always Pan review. From the US-based brand Our Place, the Always Pan is available in a wide range of colours and comes with smart extras like a spatula rest and vented lid. You can even use the included steamer basket to cook anything from cavolo nero to dumplings.
In this Always Pan review we tried it out in the matte black 'Char' finish, which is great for neutral kitchens. Despite the thoughtful and sustainable packaging, our initial hangups were pretty major. It's not oven-safe, and can't go in the dishwasher, which makes is a lot less convenient to use than some of the best non-stick frying pans we've tried. We get it though, because the Always Pan is made to last, and even a seriously high quality frying pan will degrade when washed day after day in the dishwasher. It will damage the non-stick and fittings, and good quality non-stick should be easy enough to wash by hand in the first place.
Our Place's Always Pan was co-created by Shiza Shahid, ex-CEO of the Malala Fund, to celebrate multi-cultural cooking. It claims to do the job of eight kitchen tools in one, which is a bold claim, so we put it to the test. Should you buy the Always Pan? Here's what we thought in our Always Pan review…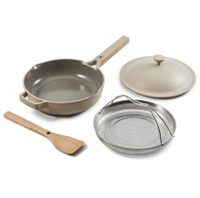 Always Pan: was £125, now £85 at Our Place
The Always Pan doesn't go on sale often, which makes this impressive £40 even peachier. Pick it up in Sage, Spice, Steam, or another gorgeous colour.
What is the always pan?
The Always Pan is a ceramic non-stick pan, completely free of PFOAs and PTFEs. It's clear from unboxing alone that every element has been thoughtfully designed, from the completely sustainable packaging to the way the pan slots together.
Our Place sent me the pan in 'Char', which has a matte black finish. It's a great colour for neutral kitchens, but lively aesthetics can also enjoy a fiery red or pop of lavender. Since I unboxed it, this pan hasn't seen the inside of my cupboards. That's because it's always on the hob for something, and because it's not dishwasher-safe I find that it circulates between my drying rack and stove at least once a day.
The pan comes with a snugly-fitting lid, a nesting steaming basket and colander, and a beechwood spatula. This spatula slots into an in-built spoon rest on the stay cool handle, which means you can leave it right where you need it when cooking, without having to rest it on countertops.
What is it like to use?
The non-stick really is excellent. Your fried eggs will be slipping around the pan with virtually no oil (all I used was a spritz of cooking spray) and while my bacon left marks on the interior, it wiped away incredibly easily when I used the eco-friendly scrubbing pad that came included.
Steaming is also straightforward. The Always Pan essentially introduced me to steaming in a frying pan. Beforehand I was using one of those bulky steaming attachments that sit atop a pan of boiling water, but this just rests inside the pan with plenty of clearance to sit the lid on top. I'm excited to try making gyozas in this pan, and while they're not included, you can buy a spruce steamer if you want to steam dumplings or bao buns.
Cons
I love a frying pan that I can put in the oven, because it means I can sear on some delicious flavour and then cook my meal in the same pan. That cuts back on the washing up, which is a big thumbs-up from me. The Always Pan can't go in the oven, which is a bit of a shame.
It's also not dishwasher-safe, which I thought would bother me more than it did. Many of my frying pans really do need a cycle in the dishwasher after some heavy use, but the Always Pan is incredibly easy to clean, and you can do this very gently. It also means the pan will last longer, which is a plus when you see how much it costs...
Should I buy the Always Pan?
It's £125, which is more than I've ever spent on a pan, and of course there are other frying pans on the market that will do a similar job for a lot less money. In its favour is the beautiful colour selection, evident multi-functionality (although replacing eight kitchen tools is a bit of a stretch) and the fact that you can pair it with a complete range of matching plates, cups and bowls.
Would I buy this pan though? Honestly, if I didn't get to try it hands-on in advance of this launch, I know for a fact that it would be on my Christmas wish list. While it's hard to reconcile with the steep price, the Always Pan really is a joy to use. Sure, I do write about kitchen products for a living, but the waitlists on the Our Place site show that I'm not the only one who's been eyeing up this pan for some time. I plan on getting regular use out of it in the months to come, and of course, I'll keep this Always Pan review updated with my thoughts.