In a recent episode of Fixer Upper: Welcome Home, Chip and Jo took on a local emergency shelter for young girls. Joanna Gaines used a range of thoughtful touches to make the space, where many come in a moment of crisis, to feel like a home. One of them was a large-scale floral living room wallpaper idea, which is bang on trend seeing that 'floral wallpaper' has seen a huge surge in Google search recently.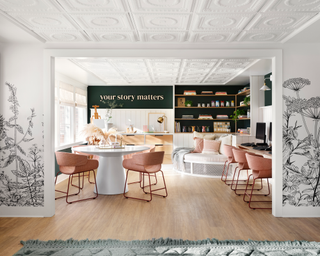 The floral pattern comes up from the bottom of the wall and only covers the bottom two thirds of the wall's surface. The black and white pattern is made up of wildflowers in a subtle nod to the resilience of the girls coming into the shelter. 'One night when I couldn't sleep, I was looking for wallpaper, and this wallpaper is something I came across,' Joanna says.
'What struck me about this was just that these are wildflowers, and what I love about wildflowers is how resilient they are and how they can grow anywhere. To me, it was that design statement but also just that, "hey, these girls are strong."' Jo used it on three of the four walls in the living room, leaving the wall with large, outward-facing windows in plain white paint.
Joanna was ahead of the curve, as we're seeing a renewed love for floral wallpaper at the moment. Last month, Google searches for 'floral wallpaper' went up by 462.5% in the UK, according to I Want Wallpaper. 'A space with a good visual connection to nature can be calming, and help improve our mood,' says Alex Whitecroft, Head of Design at I Want Wallpaper.
Alex also expresses a similar idea to Joanna on the symbolism of plants: 'Each plant has its own meaning. Surrounding yourself with those that represent things you want or value can create a positive environment. Ferns represent new life and new beginnings, as well as family and hope for future generations - perfect for new home-owners.'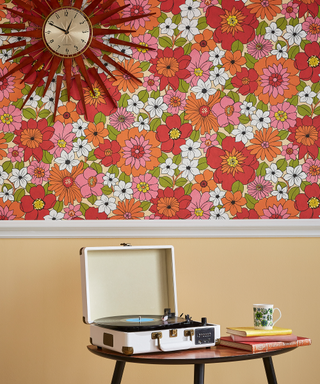 Wallpaper company Graham & Brown's bold, 60s-style 'flower power' wallpaper sold out in two weeks, showing the appeal of nostalgic features in our homes during uncertain times.
Whether or not you're sold on the plant symbolism, a bold floral print in a small downstairs toilet or perhaps on a bedroom ceiling is a striking move. If you're not sure where to begin, our guide on how to wallpaper like a pro will come in handy. The specific wallpaper Joanna used is from a seller called KOKOARTSHOP, on Etsy.