Let's get straight to the point here: spring cleaning season is basically here, and a lot of us don't have the time to dedicate an entire weekend to cleaning our house. And who wants to spend their time doing that anyway? I'm always searching for game-changing cleaning hacks to help make chores feel, well... like less of a chore, and this (not so) little gadget is one that has popped up on my FYP so many times now that I just had to do a little digging myself. Gone are the days of relying on an upholstery cleaner spray to deep clean your soft furnishings, that's all I'll say.
This cleaning gadget is perfect for renters and homeowners, whether you purchased all of your furniture yourself or your landlord owns it all. The Bissell Little Green upholstery cleaner can help deep clean pretty much any soft surface in your home. Yep, that old dusty rug you're attached to can finally look new again. And the sofa that you spend 90% of your waking hours lounging on. Your patio cushions can also get a refresh.
With over 39,000 five-star reviews, buyers are "in awe" of how it makes old fabric look brand new. It's currently on sale for less than $110. If the price sounds steep for a cleaning tool, I get it. But I was both impressed and disgusted at how much dirt it managed to collect around my space. Scroll for the slimy deets.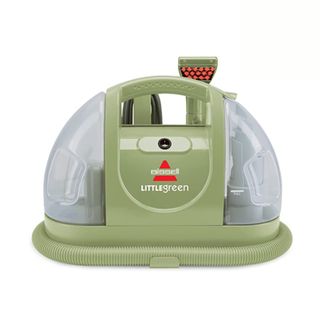 $109.59
Bissell Little Green Portable Cleaner
The multi-purpose cleaner is usually priced at $123.59, but it currently has $14 off. Don't miss this cheaper price as it may change soon.
What can you use it to clean?
You can use this gadget to scrub down a bunch of stuff around your home. Nearly anything with a soft surface can handle its powerful clean. That includes:
Rugs
Carpets
Couches ⁠
Armchairs
Bar stools
Dining chairs
Pillows
Chaise lounges
Mattresses (and toppers!)
Car interiors
Patio furniture cushions
Bed frames
Curtains
4 reasons to buy this Bissell upholstery cleaner
1. It's nice and compact
Unlike most carpet cleaners, which are bulky (and definitely not small space friendly), this one is super lightweight. It comes in at just over 9.5 pounds, meaning you can carry it easily around your apartment and clean everywhere that needs a good scrub. It has a 7.25-inch width that won't take up tons of room in your cleaning cabinet either.
2. It's powerful and requires zero effort from you
Considering its size, it has seriously strong suction and spray, which you just can't match by scrubbing your couches manually. Lots of happy customers have praised this, with one being "shooketh and bewildered to witness how much power/suction this little guy has." Talk about being blown away. Another agreed: "Suction is perfect, almost completely dry when I am finished." So, once you've cleaned, you can go back to watching your fave shows ASAP.
3. It's PERFECT for pet owners
If you have pets that are getting their grubby paws everywhere, or even puppies that are still *ahem* training, it's super efficient for cleaning up after them. "No stain, no smell, nothing," wrote a reviewer. "Would absolutely recommend especially for pet owners." It can handle much more than dirt, too. Many reviewers have been thrilled with how well it vacuums hard-to-see pet hairs.
4. Let's be real: It looks cute
I'm low-key loving the sage green shade it comes in. So much cuter than a boring black or gray.