ICYMI, my fave Charlie's Angel Drew Barrymore released her Beautiful kitchenware collection back in 2021. And out of the 32 small kitchen appliances that you can buy RN, there are five non-negotiable picks that are currently less than $70. In other words, you need to get them in your basket today, or you might end up being stuck with your boring appliances bringing down your kitchen decor for the rest of 2023. Dooooon't say I didn't warn ya.
This beautiful line (no pun intended) combines elegant design, contemporary colors (hello, lavender), and modern silhouettes with innovative touch-activated technology for kitchenware that stands out on any countertop. As well as being aesthetically pleasing, this high-performing ⁠range ⁠— which BTW is exclusively available at Walmart ⁠— was created alongside Made by Gather founder, CEO, and wellness-obsessed home cook Shae Hong. And as America's fastest-growing kitchenware brand, you can bet your bottom dollar that the tech and specs are up to scratch with Hong having his say.
I've used my special agent skills to find the best bargains in the sale. Yes, I've tested plenty of appliances in my time as an editor, and while I haven't *yet* gotten my hands on any of these pieces, the reviews are stellar and TikTok fans are totally sold. You'll notice below that I've included a "from" price for some items, and don't forget that the color you choose will dictate how much of a discount you get. It goes without saying that I've avoided anything with less than four stars because ain't nobody got time for that.
5 Beautiful by Drew Barrymore kitchenware buys that are less than $100
Priced low to high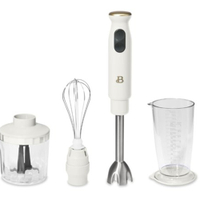 1. Beautiful Immersion Blender | Was $34.55, Now $29.96 (save $4.59) at Walmart
Blend, chop, and whisk with none of the noise associated with larger appliances. This two-speed blender can be used to turn a chunky stew into a smooth soup, and is great for pureeing fruit, too! The detachable, easy twist and lock shaft ensures cleaning is a breeze. It comes with a 500 ml chopper and a 700 ml measuring cup, BTW.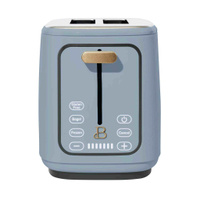 2. Beautiful Two-Slice Touchscreen Toaster | Was $39.96, Now from $35.96 (save $4) at Walmart
This beautiful two-slice toaster with a touch-activated display gives you the chance to toast the way you want — full customization! With seven settings (including a gluten-free option) and a browning control with convenient bagel, frozen, and reheat presets, it's impossible to pass up. FYI, cornflower blue is discounted RN, but all colorways are under $40.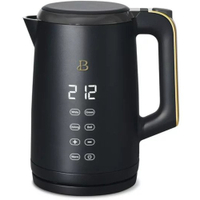 3. Beautiful 1.7 L One-Touch Electric Kettle | Was $39.96, Now from $38.34 (save $1.62) at Walmart
Want proper tea that's not made in a microwave? If so, turn to this one-touch 1.7-liter programmable temperature electric kettle that boils seven cups of water in under seven minutes! It even has specialized settings to make oolong, white, and green tea so you don't scorch your delicate leaves.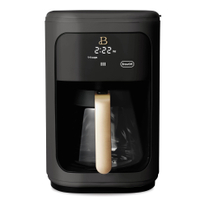 4. Beautiful 14-Cup Programmable Touchscreen Coffee Maker | Was $59, Now $42.86 (save $16.14) at Walmart
Serve up flavorful coffee for your whole day courtesy of this 1,200-watt, 14-cup programmable drip coffee maker that features a built-in warming plate to keep your java hot. It comes with a replaceable charcoal filter to ensure your water is free of impurities for a fresh-tasting brew, and just wait until you see the gold filter basket!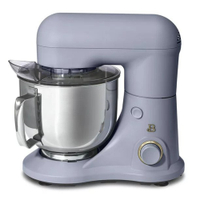 5. Beautiful 5.3QT capacity tilt-head stand mixer| Was $129 Now from $58 (save $71) at Walmart
Saving the biggest discount until last, this stand mixer proves you can have your cake and eat it too. With 12 optimal speed settings, you can whip up everything from cream to cake batter and everything in between. FYI, it also comes with a coated metal flat beater, dough hook, stainless steel wire balloon whisk, and splash shield, so you don't have to fork out separately on accessories.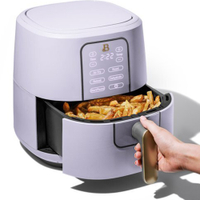 6. Beautiful 6-Quart Touchscreen Air Fryer | Was $89, Now from $68 (save $21) at Walmart
This powerful 1,700-watt small air fryer comes in stainless steel to provide faster heat-up and cool-down times and make frying your foods easier (and healthier) than ever. It can hold around two pounds of fries or even a small roast chicken. It's available in some cute colors including lavender, as well as more neutral hues.
Drew Barrymore's Beautiful kitchenware on TikTok