If you're in need of a sidekick in the kitchen, look no further than the best stand mixer. Not only are they beautiful to look at, but stand mixers pack a lot of muscle for kneading, whisking, and beating cake batter into smooth, fluffy consistencies that are perfect for baking.
The best stand mixers come with a selection of attachments to fold in flour, cream together butter and sugar, and beat up whipping cream to fill profiteroles. Some even come with optional extras to rival some of the best pasta makers on the market, or function as an ice cream maker.
Our top five stand mixers guide features machines from Smeg, KitchenAid, and Cuisinart. We have tried them all in-house, so you will find reviews based on our hands-on experience below, as well as everything you need to know about the power, bowl size and color range available.
The best stand mixers of 2023
Why you can trust Real Homes Our expert reviewers spend hours testing and comparing products and services so you can choose the best for you. Find out more about how we test.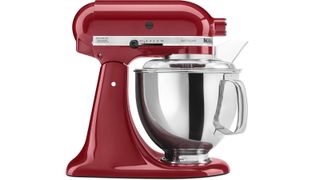 We reviewed this KitchenAid Artisan Stand Mixer in the UK, where it's significantly more expensive than stateside. That's because every KitchenAid Artisan is made in the USA so buyers here get great build quality for slightly less.
The central hub can be used to power food processors, spiralizers, meat grinders, cheese shredders... just about every attachment you could think of! We've tried out the pasta maker and loved how easy it is to control using the regular stand mixer controls. It also makes storage a lot easier, because these attachments come a little smaller than a standalone appliance.
There are well over 40 colours to choose from with the KitchenAid Artisan Stand Mixer. That includes matt and shiny finishes, as well as pastels, brights and muted metals. You can even switch out the bowl for something that fits into the design of your kitchen.
We thought this stand mixer made great cake, which really is the most you can ask of a mixer. Compared to some of the other best stand mixers out there though, its capacity is a little on the small side.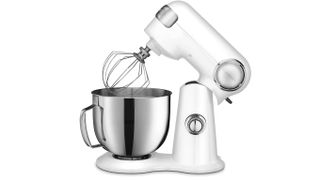 The KitchenAid vs Cuisinart stand mixer debate is a real one, but we think the Cuisinart Precision Stand Mixer is a worthy option of any kitchen. It comes with six colors to choose from, which is a lot less than KitchenAid, but is by no means bad, and it also has a larger capacity and more powerful motor to boot.
When we tested the Cuisinart Precision it impressed us with its ability to whip up eggs, cream and frosting. We did find that on smaller batches it left a lot of the mixture at the side of the bowl, which is wider and larger than the KitchenAid.
In the place of a classic lever control is a handy and tactile dial, which can be used to go from speeds 0-through-12 for just about any recipe. Keep in mind that this does mean you have to have the mixer facing a certain way to use it.
If you want value, the Cuisinart Precision Stand Mixer is a winner. It comes with a whisk, mixing paddle, dough hook and splash guard, as well as an anchor for an ice cream maker, pasta roller and so much more. A great option.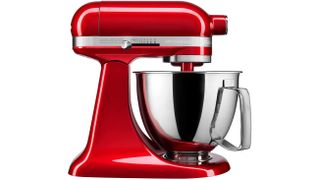 The KitchenAid Artisan Mini 3.5 Quart Tilt-Head Stand Mixer really is like a baby KitchenAid Artisan. There was some fawning when we lined it up next to our other stand mixers in testing, because while it's functional, this stand mixer is also pretty adorable to look at.
It comes in a wide selection of colors, and is about $100 cheaper than the regular KitchenAid Artisan. It won't work with KitchenAid's range of extra mixing bowls because it has a smaller capacity at 3.5 quarts. However, we do really like the size of this bowl for smaller batches or single layered cakes. If you're not a pro baker but want a sweet stand mixer to take the heavy work out of your mixing, it's a brilliant choice. However, it will struggle with large batches.
At 250 watts the motor might sound lacking, but keep in mind that it's powering a smaller mixer overall. We didn't notice any setbacks with the smaller motor, and we appreciated that there are still ten speeds to choose from.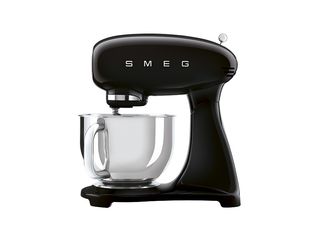 Looking like something out of a 50's magazine, this Smeg Retro Stand Mixer is a top choice for nostalgic design and modern power. It has a 600 watt engine which is pretty impressive for a machine of its size, and the same 5 quart bowl you'll find on a KitchenAid option.
The best stand mixers feel sturdy and capable, and that's one of the things we love about this option. It was able to power through cake batter, cookie dough and bread dough when we reviewed it, so it's got more than just the looks going for it.
Pair this mixer with plenty of home appliances, including juicers and slow cookers, for a put-together kitchen aesthetic, complete with a huge range of pastel colors to choose from.
Our full Smeg stand mixer review has more details.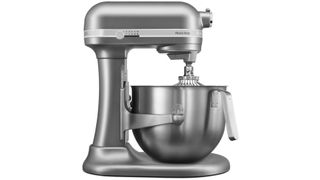 The KitchenAid Pro Line Stand Mixer is an amped-up version of KitchenAid's classic Artisan. It comes in fewer colors but we love the powerful design for kneading and taking on large bakes.
Most stand mixers are tilt-heads, but with the KitchenAid Pro Line Stand Mixer you'll get a bowl-lift mixer. This means you twist the lever to bring the bowl up to the mixing attachment, which will create less weakness on the mixing arm and prevent rattling while your mixer works.
At 7 quarts, the KitchenAid Pro Line Stand Mixer has a large bowl that's more than capable of making multi-layered cakes large bread batches. We were particularly impressed by the kneading power with the KitchenAid Pro Line Stand Mixer, and our bread came out perfectly combined and well kneaded, without any movement on the kitchen counter.
Many KitchenAids come with plastic elements in their attachments, but the KitchenAid Pro Line Stand Mixer comes with steel beaters, whisks and dough hooks. These are very long-lasting and can go in the dishwasher.
---
How we chose the best stand mixers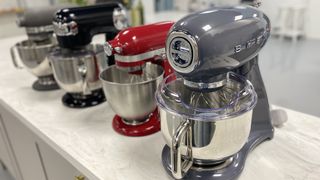 We have tested every stand mixer in this guide hands-on, so you can trust that our ranking is based on honest, impartial reviewing. When we test stand mixers we make the same recipe in every machine, and make sure to test every attachment that comes with the stand mixer so we can point out its strengths and weaknesses.
Using the flat beater, we cream together sugar and butter and combine our sponge cake ingredients. This allows us to see how good the stand mixer is at combining a number of ingredients, and whether the butter and sugar gets stuck to the sides of the bowl.
For the cake filling, we whisk heavy cream to see how long it will take to make whipped cream. In a lot of our stand mixer reviews we also use the whisk to see how long it takes to bring egg whites to stiff peaks.
Finally, we used the dough hook to make a load of white bread. By kneading for a full ten minutes we see how well the machine can last over prolonged use, and check for any wobbling or instability on our kitchen counters.
Cleaning is also a big thing, because the less time you have to spend cleaning down your kitchen, the better. We give major brownie points when a stand mixer's bowl and attachments can go in the dishwasher, but we also hand-wash to see if there are any spots that are tricky to reach by hand.
For more information about our process, see this page on how Real Homes reviews.
Tips for buying a stand mixer
How much does a stand mixer cost?
The best stand mixer could cost as much as $500, if you want something that ticks every box. If not though, it is easy to find a perfectly good stand mixer for under $100. Our top options can cost as little as $200 for a seriously high-quality option, so you don't have to spend a lot unless you want something especially stylish or with plenty of attachment options.
What comes with a stand mixer?
When buying a stand mixer it's fairly standard to receive a dough hook, flat beater and whisk with your mixer. These can be used to cover most home baking activities, but other extras include a scraper attachment which can be used to take any excess away from the side of the bowl.
Other useful extras include a shield that not only protects you from flour and icing sugar when mixing, but can be used to funnel in ingredients.
What to look for in a stand mixer
Believe it or not, a stand mixer is not a one-size-fits-all situation. Before you whip up something delicious in the kitchen, you'll need to decide what you want to get out of your stand mixers: A large bowl, fast speed, an intuitive design, or all of the above? To help, we're breaking down some of the most common differentiations between each stand mixer.
Capacity: Perhaps one of the biggest decisions—if not, the biggest decision—you will make is the size of the mixing bowl (also known as capacity). Ultimately, it all boils down to personal preference. What are you making? How often will you use your stand mixer? Who are you baking for? For most home bakers, a standard 4.5 or 5.5-quart bowl offers plenty of room for a batch of chocolate chip cookies or loaf of bread. However, anyone who is baking multiple batches at once or has a large family might find it useful to increase their bowl size.
Speed: Have the need for speed? Of course you do; that's why you're buying a stand mixer! If you want to get the best bang for your buck, it's important to opt for a stand mixer with multiple settings. Most stand mixers have anywhere from three to 12 settings—and the more options, the better. While slower settings are great for beating eggs whites and mixing heavy batters, a faster speed will come in handy for whipped cream and delicious meringues. But no what type of speed variation your stand mixer has, it's important to buy one that has a slowly start. That way, the mixer will slowly ramp up to its full speed so it won't make a mess—flinging ingredients around your kitchen in the process.
Wattage: Buying a stand mixer with a high wattage sounds like a great idea, right? After all, who wouldn't want a stand mixer that can blend ingredients faster than you can say, "all-purpose flower?" Well, it's a little more complicated than that. A high wattage typically equals a more powerful motor; however, buying the most powerful stand mixer isn't always the best choice. The wattage listed refers to how much power is used, not produced. If you want a stand mixer that will deliver, but won't cost you a small fortune on your next energy bill, opt for a model with 300-watts or more.
Head type: Before you add a stand mixer to your e-cart, you might want to think about how it opens and closes. Since sliding your ingredients through the small space between your mixing bowl and beater sounds like a total nuisance, most stand mixers have one of two openings: A tilt head or a bowl-lift. With a tilt head model, the top of the stand mixer—you know, the part with the beater and speed settings—lifts upward so you can easily place your ingredients inside. With a bowl-lift stand mixer, the mixing bowl is suspended by two clamps on either side. If you want to add something to your mix, simply remove the bowl from the two clamp, sprinkle in your ingredients, and pop it back in place.
So, which one's better? Well it all depends on your personal preference. Though some people love the convenience of a tilt head stand mixer, not all kitchens have enough open space for the top to fully tip back (if you tend to cook on a countertop underneath a row of cabinets, for example). Plus, some avid bakers claim tilt head stand mixers vibrate when they're working through thick dough. Bowl-lift stand mixers are sturdier and generally have less swing space, but are often taller and require more vertical room. It's also worth noting that removing the bowl every single time you need more sugar can be a little irritating.
Each head type has its pros and cons, so it just depends on what works best with your space and cooking habits.