Wondering whether smart bulbs are worth the hype? Or, perhaps what a smart bulb actually is? Whether you're new to the world of smart home tech and are asking yourself whether smart bulbs are worth investing in or are considering expanding an existing set-up and think smart lighting could be the direction for you, keep reading for a jargon-free rundown.
You can find out more by browsing our guide to the best smart lightbulbs. We have plenty of advice and inspiration over in our guide to the best smart lighting to light your home, too.
What is a smart bulb?
Pssst! It's National Smart Home Month
It's National Smart Home Month and here on Real Homes we're doing everything we can to cut through the jargon and leave our readers feeling excited and informed when it comes to all things smart home tech.
Put simply, a smart bulb – or smart lightbulb – is a lightbulb that can connect to your smart phone via Wi-Fi. This allows you to control your lighting from any location, set schedules and even customise your lighting system by changing the colour, brightness and intensity of the light. More on their uses, later...
Find the latest smart home news, advice and inspiration over on The Hub
How can I use smart bulbs?
Wondering where (and when) a smart bulb could come in handy? We've shared our favourite ideas below:
1. Use smart bulbs to enhance your home security
The beauty of smart bulbs is that you can schedule them to turn on, and off, at a time that's convenient to you. So, if you're heading away this winter – either for a bit of sun, or to visit relatives over the festive period – consider investing in smart bulbs that can be scheduled to give the impression that someone's at home, even when they're not.
2. Create a home cinema experience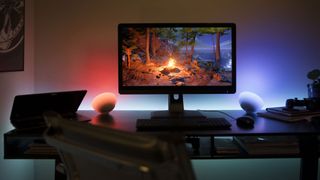 If you're in the process of building a wider smart home set-up, you may also consider connecting your lighting to your television for the ultimate home cinema experience. Once synced, your smart lighting will automatically change colour to suit what's seen on screen, making dramatic scenes even more intense. The same can be applied to gaming, too.
Read our guide to how to build a home cinema room for more advice.
3. Illuminate shelves to brighten a dark kitchen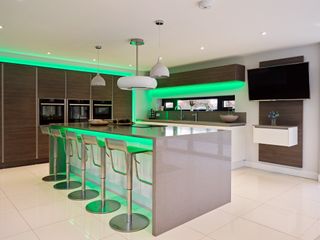 Working with a small, dark kitchen? Smart strip lights could be the solution you've been looking for. Simply stick them on the underside of your kitchen cabinets, or shelves, to instantly illuminate the space.
4. Make your wardrobe feel a little more luxe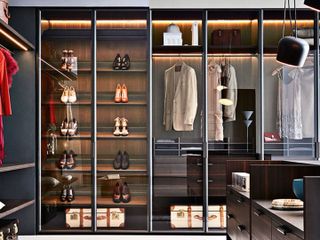 We'd also recommend applying the same principles to your wardrobe to make it feel a little more luxe. Opting for strip lights which run along the underside of your shelves will make your wardrobe feel a little more like the walk in space you've often dreamt of.
5. Turn off the lights in kids' rooms without disturbing them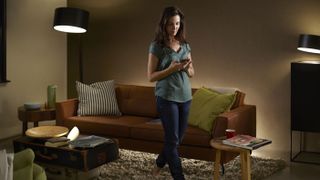 Little one need the light on, in order to fall asleep? Installing a smart bulb will enable you to turn it off without disturbing them, once they're out for the count. Genius.
What is the best smart bulb?
Now that you know what a smart bulb is, you may be wondering which models are worth spending your hard earned money on. Having tried and tested a fair few smart bulbs, we can confidently recommend the following:
The best smart lightbulbs: Philips Hue (read our review)
The best smart lightbulbs for Hive users: Hive Active Light Starter Kit
The best smart lightbulbs for multi-coloured lighting: TP-LINK LB130
The best smart lightbulb for customisation: LIFX A19
The best portable smart lightbulb: Philips Hue Go (we've reviewed this one, too)
The best smart lightstrip: Philips Hue Lightstrip Plus (and this one)