Most people have one way of controlling the lighting in their home: on or off. You may have a dimmer switch, but that's limited control when compared to the opportunities of having smart lighting.
The Philips Hue family is now an expansive range of products including spotlights, standalone lights, accessories and more that can all be controlled through your phone, a smart speaker or, you guessed it, a dimmer switch.
The Philips Hue Starter Kit is the easiest way you can get the smart lighting system set up in your home. Read on to find out more. Want more about smart lighting? Check out our pick of the best smart lightbulbs, plus we've looked into the best smart lighting gadgets to light your home, too.
Meanwhile, TechRadar's James Peckham is set to tackle perhaps this most important piece.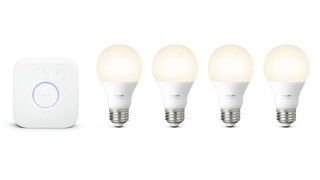 Philips Hue Starter Kit features
There are multiple versions of the Philips Hue Starter Kit you can buy, but this isn't as complicated as it may first look. There are three types of bulb – white, white ambience (that allows you to make the white light warmer or cooler) or colour.
The colour is the most expensive type and offers you over 16 million colours to choose from, and it's the kit we've tested. You'll also have to decide the type of bulbs you need as Philips offers GU10 (those are spotlights) as well as B22 and E27.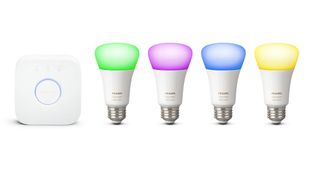 Every kit will come with two to four bulbs of whatever type you've chosen as well as what the company calls a Bridge. Some come with an additional dimmer switch, but we'll explain more about that in a moment.
The Philips Hue range sells different kits at different times. At the time of writing, pricing starts at around £59.99 for a kit with two white bulbs and the Bridge, while we've also seen full colour kits with three bulbs costing as much as £169.99.
You'll find the Bridge to be the most important part of the Philips Hue set up, and you should think of this as your hub for all the extra Hue products that you may add to your collection around the home.
The Bridge is connected to your Wi-Fi (you can also use an ethernet cable) and acts as the brains to control all of the lightbulbs in your home. You may have three bulbs in the box here, but you can have up to 100 different lights connected to a single Bridge.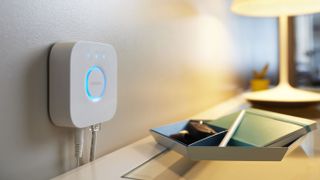 There's also the dimmer switch as well, which is an optional part of the set, but we find it particularly useful as it's easy to press the buttons to turn your lights on or off when you're not near to your phone or you don't want the hassle of chatting with your smart speaker.
The dimmer is easy to attach to a wall so even your guests can control your lighting without any hassle. So far these just sound to be like normal light bulbs, right? Let's dive into the smart features on offer.
Philips Hue and voice control
Voice control is one of the most exciting elements of having smart lighting. If you own a speaker with Amazon Alexa, Google Assistant (both of which we've reviewed) or Apple's Siri, you'll be able to connect up your lighting and control it by chatting to your speaker.
For example, you can ask your smart speaker to set your lighting to a blue shade and the lights will come on in a default blue shade. You can then ask for it to be warmer or cooler to change the look of the lighting but it'll remain blue.
Testing it with an Amazon Echo and Alexa, we found the speaker to be the quickest and easiest way to control the lighting in our home. There are also the tools to switch your lights on or fiddle with the features within the smartphone app if you're not in the same room as your speaker.
Within the app, you can choose from up to 16 million colours and even set up some favourites so you can in the future just ask your smart speaker for specific colours. One of the highlights is the pre-set moods in the app that offer optimum lighting for reading or relaxing before you settle down to sleep.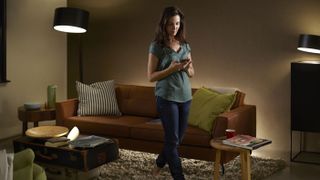 Other smart features
You can also set up in the app when your smart lights turn on and turn off, which means your lights can already be on when you get home from work on a cold winter's night. It can also give you peace of mind that it looks like someone is home even when you're away on holiday or a work trip.
If you like the idea of the added home security but don't want your lights on a timer, you can manually turn them on through the Philips Hue app no matter where you are in the world. The three lights in the Starter Kit aren't going to light up your whole home, but it's better than nothing.
If you opt for the full colour kit, a fun tool is called Sync that allows you to connect your lighting to the music, TV shows, movies or games you're currently listening to, watching or playing. It works through your PC or Mac, and sadly that's currently it.
It's a genuinely great feature that takes whatever you're watching and mimics the lighting to fit the images on screen, but it's only currently on your computer and it won't work on games consoles or TVs. We hope Philips plans to include this on other tech as soon as possible as it's an innovative idea that's fun to play around with.
Is the Philips Hue worth the money?
Hue is the one of the most accomplished platforms, and the Starter Kit is the best way to get started on filling your home full of smart products from the brand.
The extra functionality of being able to fiddle with the brightness, temperature and when the lights come on is a big help, and we particularly like how you can integrate it with all of the major smart speakers.
The colour bulbs Philips Hue offers are the highlight, but if you don't need that you'll likely be happy with either the white or ambience kit that are both a little cheaper than the full-blown top-end Starter Kit.
It may be expensive to kit out your entire home with Philips Hue, but the Starter Kit gets you up and running as it'll allow you to cover at least one room in your home with all the necessary tech.
Want more expert home tech advice?