Container gardening is ideal if you have a small garden, balcony or even a window ledge. You can still put your green fingers to work, like everyone else seems to be doing right now. Baking bread, knitting clothes and gardening – how wholesome we all have become in these strange times. So if you too want to feel like you are living in Hardy novel, you don't need acres of land to feel the benefits of gardening. We have put together five container garden ideas that will squeeze into the smallest of spaces.
Feeling inspired to do more gardening? Just head over to our garden hub page for plenty more ideas and advice and for more tips on how to plant a container garden head to our feature.
1. Create a vertical display on a wall or fence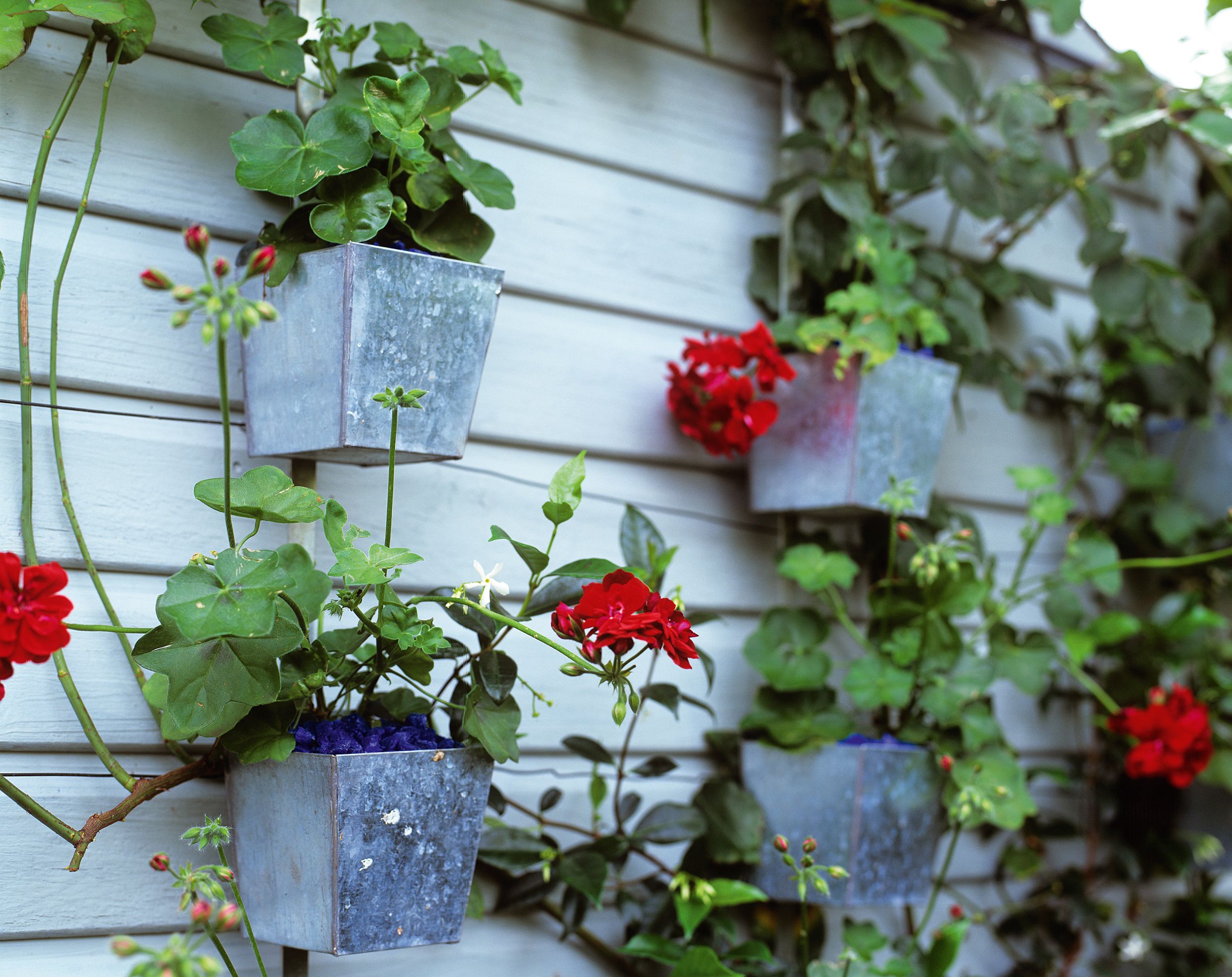 Such a simple idea: just fix pots to a wall with brackets or by drilling through them, then plant pretty blooms in them. You can do this in the smallest of spaces and can even recycle food tins to use (drill a hole in the bottom so they will drain). Or, display pots on a shelving unit – one designed for outdoors will last better than one designed for indoors, but well protected with exterior wood paint, and even an indoor one will withstand much of the wetter weather.
2. Invest in window boxes – for outdoors or in
Window boxes are a great option if you don't have a garden but still want to start a project. You can still order your window boxes online and the plants to go in them and now is actually the perfect time to get them planted up. For more advice on window boxes, just head over to our guide.
3. Create a tight display with pots
Recreate this eclectic, seemingly effortless container garden by grouping together plants in pots of different textures – stone, terracotta, tin. Layering up different materials will add depth and interest to your arrangement.
Top tip: Want new terracotta pots to quickly get that aged, mossy, 'I've been in this garden for centuries' look? Lightly brush over your pots with some plain yoghurt and like nature do its thing. Sounds gross but works a treat.
You can still order plat pots online at Crocus, Harrod Horticultural and Garden Trading.
4. Reuse tins to create a container garden
You know that collection of 'cute' tins you have been collecting – the retro-looking chopped tomato tin? The cute olive tin that just looked too authentic not to save? Oh and that shortbread tin you got a few Christmases ago but had to keep because it had a nice label and made you look like you bought fancy biscuits? Well put them to use and use them as planters.
Drill some holes in the bottom, fill with a layer of gravel and some potting soil and use them to plant seeds, herbs, or very stylish succulents. And if you don't have vintage tins to spare, check out Etsy, they have loads.
5. Create a rustic look with a wheelbarrow planter
Has your wheelbarrow seen better days? Don't get rid of it just yet, it might make for a lovely rustic container garden. Again, just drill some holes in the base, cover it with small stones and then add compost. We really like the idea of using a wheelbarrow garden as a mini wildflower garden to attract insects or to plant a small salad garden that would be perfect for the summer.
6. Turn your watering cans into planters
The classic watering can as a planter trick. Upcycle your old watering can by drilling some holes in the base for draining and then filling it up with potting soil. You could use it to create a herb garden and pop it on a window ledge or backstep so you have easy access for cooking.
Although we do love how simple lavender gives this modern patio a rustic twist. Love the look of this patio? Head over to our perfect patio ideas for plenty more inspiration. You can order lavender online at Crocus.