You probably don't realise you need the best garden hose until you come to do some watering and your current hose pipe is riddled with holes. You quickly see the cheap one you bought last year hasn't survived the winter (or general wear and tear), and berate yourself for not having spent a bit more or researched the options.
It seems like a purely practical buy, but getting a new hose pipe can turn garden chores into a treat – almost. From easy auto-reel options that require less faff when you come to water the lawn, to expandable hoses that barely take up any space, there is actually a lot more choice than you think. So whatever your hose pipe wants, you will be pleased to know we have found plenty to make everything from washing the car, to watering the veg patch – dare we say – enjoyable.
Find the right one to keep your garden well watered, clean and tidy this summer below. The shortest is a neat 15 metres and the longest a generous 60, so you are sure to see something that suits your space. With anti-kink, frost protection, UV-proofing, handy wall mounts and much more, you just need to decide what fits your home and budget.
Lawn need trimming as well as watering? Find the best lawn mowers in our buyer's guide.
The best garden hoses
Why you can trust Real Homes Our expert reviewers spend hours testing and comparing products and services so you can choose the best for you. Find out more about how we test.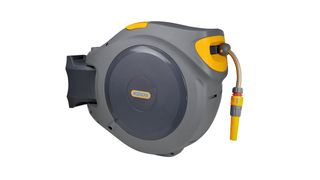 The Hozelock Auto Reel provides 30 metres worth of hosepipe with an auto-rewind function which is designed to make it easy to use in any sized garden. Here's why it's our top-rated product:
Wall mounted design
It is wall-mounted which only makes it simpler to manoeuvre this hose to the location you need it as it can pivot at a 180 degree angle when you need it to.
Easy to connect to taps
It is said to be easy to connect to your taps and the wall bracket can be removed in the winter so you can store it away. You can expect this garden hose to stand the test of time.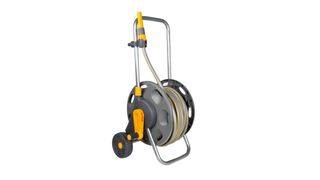 If you think a wall-mounted hose is a little OTT for your garden, this is slightly more modest choice. The Hozelock Hose Cart comes in a close second for anyone wanting an easy-to-use hose that will serve them well. Here's everything you need to know:
30 metre hose
It's slightly shorter, at 30 metres, but comes fully assembled with a reel on wheels that can be easily manoeuvred around any outdoor space. You can add reach by using a longer hose to connect to the mains from the cart and the cart has '60m' in the name as it can hold a 60 metre hose – this one is supplied with 30 metres but you can choose shorter and longer options.
Protects hose from kinks and angles
It has been designed to protect the hosepipe from kinks and tangles, and despite it not having auto-rewind, you can expect this garden hose to wind up neatly so it can be stored in a shed or garage with ease.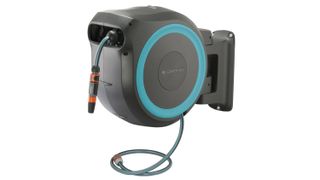 If budget allows, we highly recommend this Gardena wall mounted hose box. With auto-reel and frost protection it is ergonomic and durable – an investment buy for sure.
Wall mounted and auto-reel
If unkinking your hose and putting it away are two things that slow your watering down, this is definitely for you. It has a self-locking auto-reel function that stops at various increments, then retracts after use. It is wall mounted on a 180 degree swivel arm that means better reach and while the whole unit is fairly heavy, you will barely notice as it is always supported. It stows away so neatly after use, too.
Made to last
If you wondered why the price tag is higher than similar models, you should look at the five year guarantee and durable design. It has frost protection and is UV-proof material so suitable for use year round – this hose won't be springing holes after a couple of years.
Good range
This two jet hose should be big enough for medium sized gardens, but you can get a version on a stake that you can place wherever you like for extra scope. If 25 metres isn't enough, there is an XL 35 metre version, and for smaller gardens you can choose a 15 or 20 metre version – though note these have a slightly different wall mounting.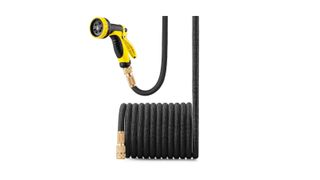 The GroHoze is one of the best garden hoses for big gardens that don't want to clutter up their outdoor space. Here's everything you need to know about it:
Comes with impressively long hose
This hose is designed to expand up to three times its original length, so although it's only 15 metres, you'll get nearly up to 50 metres of hosepipe if you require it.
Easy to manoeuvre
The material is flexible yet durable so you can expect it to be easy to manoeuvre and maintain, plus you get a 10 pattern spray gun so this garden hose can be used for watering the plants, the lawn, cleaning the car or washing down patio or decking.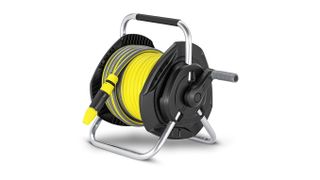 If you're looking for a decent quality hose that won't cost a small fortune, then you can expect good things from the Karcher HR4.525 Hose Reel and PrinoFlex Hose. Here's everything you need to know:
Compact and portable design
It isn't the longest, but it is both compact and portable, with the option to mount it on the wall if you prefer.
Comes with a variety of hose connectors
It comes with three different hose connectors and a spray gun, so depending on the size of your garden you can adapt this hosepipe to suit your needs.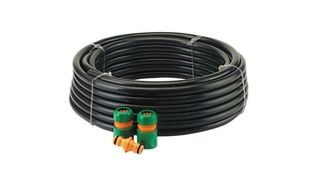 This Draper 15m Soaker Hose is designed to be permanently set around your garden border in order to water your flower beds or lawn without the need to do it manually. Here's everything you need to know:
Keep your garden hydrated at all times
It works by placing the hose on our under your garden soil and it then allows water to seep through to the surrounding areas.
Great for those short on time
Users have found this to be one of the best garden hoses for both water and time efficiency.
What is the best garden hose?
Hozelock is currently one of the most popular brands on the market, offering a variety of choices such as wall-mounted hoses, different nozzles for tackling different jobs and anti-kink pipes for ease of use. Of course, one of the main things to consider is the length you need. Most garden hoses come in at around 30 or 40 metres, with some being extra-long for much bigger land and some smaller ones if you're limited on space. Other features you may wish to look out for are microbial protection and a retractable hose with auto-rewind to save you tripping over it all the time.
We've picked out a range of different garden hoses to suit your needs and budget. A decent hose is said to last between 5–10 years, so if you're a keen gardener with a large outdoor space, it's worth spending the extra cash for a hosepipe that won't split after the first year. This is something Gardena have been particularly keen to push with their durable hoses. They cost more, but won't cost the planet like poor quality hoses that need replacing each season.
Should I use the hose to water garden plants?
The answer is: not really, unless you're using a soaker hose attachment. There are several potential problems with watering all your plants with a hose. The first is incorrect watering – that is, dousing the plants with water that then trickles down, which encourage plant roots to come up closer to the surface where they're more likely to dry out. You should always water plants at the root, letting the water fully absorb. The second problem is the potential for overwatering, if you hose all your plants constantly at the same time as the lawn. Only water your plants when the top soil has dried out and leave the hose for watering the lawn.