I'm dreaming of a white Christmas, which is apt as The White Company Black Friday sale is offering deals across its entire, oh-so-stylish site. It's just in time for making any Christmas shopping list a touch more luxe and a bit easier on the wallet, too.
The brand's White Weekend event runs from the 25th of November through to the 30th, so if you're on the hunt for beautiful, mood-boosting bedding deals, "fill the air with magic" scented candles, or even homewares that will have you giving heart eyes for years to come, then this is the sale for you. And we've not even mentioned the cashmere socks (yet!)...
To get your discount, all that's needed is to use the code MAGICAL20 for 20% off in the UK or MAGIC25 for 25% off if you're in the US when you get to the checkout. We've rounded up our favorite pieces (hard work, we know) to provide you with some inspo. Happy shopping, folks.
The White Company Black Friday sale
Click straight through the following links to browse the Black Friday deals yourself.
Our 14 favorite The White Company gift ideas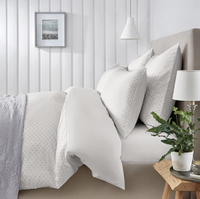 1. Avignon Print Duvet Cover |
Was from £60, Now from £48 |
Was from $109, Now from $81.75
Let's start with bedding, because The White Company is the place to go to treat yourself to new bedding. There are loads of gorgeous sets in the sale. One of our faves is this really subtly printed set with lovely pom-pom edging.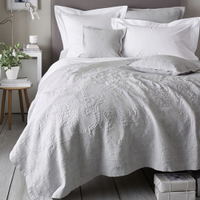 2. Vintage Etienne Bedspread |
Was £110, Now £88
Was $169, Now $126.75
Add some extra layers to your bed with this gorgeous bedspread. This would definitely bring some elegant, French country house vibes into your home — it's soft, feminine, and just so lovely.
Find out how to style your lovely new bedding in our bedroom ideas gallery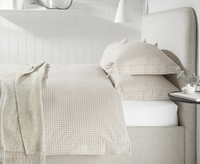 3. Banbury Duvet Cover | Was from £65, Now from £19.50
Gingham is having a bit of a moment, and this set is going straight into our basket. It's dainty, it's neutral, and it's got a traditional farmhouse vibe that we love. The brushed cotton material makes it an absolute dream to sleep in as well.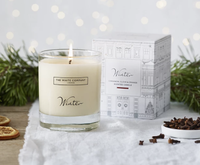 4. Winter Signature Candle |
Was £20, Now £16
Was $26, Now $19.50
Meet everyone's fave Christmas candle (we have already burnt through ours)! Stock up on enough to see you through this year and next year, too. We love that this candle isn't sweet, it's just fruity and spicy.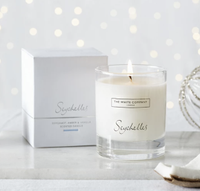 5. Seychelles Signature Candle |
Was £20, Now £16
Was $26, Now $19.50
And here is everyone's favorite non-Christmassy candle from The White Company. Sure you might not be seeing any winter sun this side of Christmas, but you can create the smell of the warm Indian Ocean breeze in your home.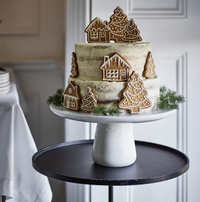 6. Marble Cake Stand | Was £60, Now £48
Because all that lockdown baking you have been doing deserves a grand stand like this marble pedestal...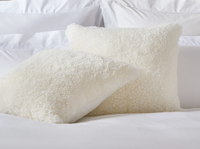 7. Curly Sheepskin Cushion |
Was £70, Now £56
Was $98, Now $73.50
Add some cozy vibes to your bed or sofa with these lovely cushions. They are made from high-quality natural sheepskin that hasn't been treated or dyed, meaning it retains that lovely rustic, natural color and super-soft feel.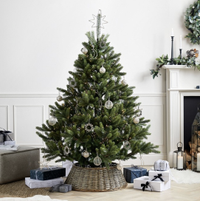 8. Symons Nordmann Fir Christmas Tree | Was £395, Now £316
The White Company Christmas trees are some of the best around. They just look so real; they even have a "tree trunk." You get a lovely wicker Christmas tree skirt included with this one.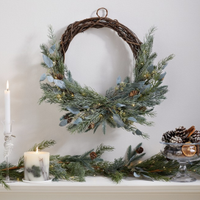 9. Pre-Lit Frosted Pinecone Wreath | Was £50, Now £40
A gorgeous Christmas wreath that you can bring out year after year, this asymmetric style is modern and just has a rustic, traditional feel. It comes pre-lit too, so no faffing around trying to hide the battery pack.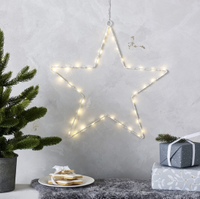 10. Pre-Lit Hanging Star | Was £25, Now £20
Hang this in a window or over a mantle to add some instant twinkly magic. Ooor you could even wrap some foliage around it too to create an alternative wreath.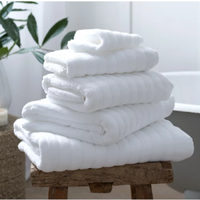 11. Rib Hydrocotton Towels |
Was £25, Now £20
Was $9, Now $6.75
An all-time best seller and for good reason, these towels are truly loveable and huggable, and they have a strong fan base. Tried and tested by our team, The White Company does things right, and this is definitely one of its classics.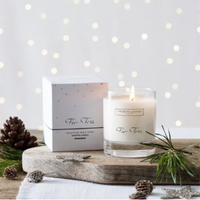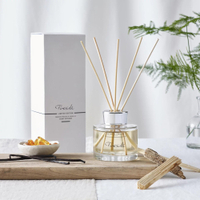 13. Fireside Diffuser |
Was £30, Now £24
Was $44, Now $33
A classic Christmas gift here to cheer anyone up, giving them that nostalgic festive scent for their home, even if they don't own a fire. This incredible reed diffuser is very much loved by our expert thanks to its gorgeous scent that will make any home feel ready for the colder weather. It's super strong, so it does an incredible job at scenting a living room.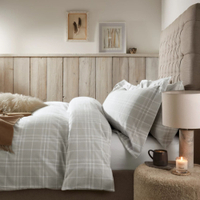 14. Oakham Check Duvet Cover | Was £70, Now £56
One of our faves here, the Oakham Check duvet cover is a festive treat to dive into on those chillier nights and will herald in good tidings all around. Classic pattern with a touch of elegance courtesy of The White Company — it's hard to find a more ideal treat for yourself or a loved one.