Knowing the worst colors to paint a small kitchen can be a bit tricky. Why? Simply because you want to ensure the color of your choice makes your small kitchen a pleasant space to cook, hang out in, and overall feel spacious.
Living in a studio or one-bedroom apartment already feels tight as it is. Not to mention, it could be quite expensive to paint a small kitchen in your rental. Therefore, you also want to make sure you choose a color that is stylish yet on trend.
If you're running out of small kitchen ideas see some top advice that might help you get decorating. I spoke to three interior designers, who provided me with their input on the worst paint colors to use for painting your small kitchens.
The worst colors to paint a small kitchen
Granted, if you are living in a studio or one-bedroom apartment, your kitchen will definitely be on the smaller side. These three interior designers suggest colors that should be avoided when it comes to painting your small kitchen.
1. Bright neon colors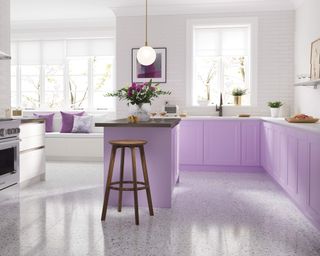 "While color preferences can be highly subjective, there are certain colors that are generally considered less suitable for kitchen interiors due to their potential negative impact on the home and functionality," said Melissa Ledezma.
She explained that intense neon colors such as neon green, neon pink, or neon yellow can be overwhelming and really harsh in a kitchen, making it an uncomfortable space for cooking and dining. These neon colors are also overwhelmingly stimulating on the eyes, which in turn also makes it more difficult to eat.
When choosing paint colors for a small kitchen, it's essential to avoid shades that can make the space feel even more cramped, such as intense neons," said Elizabeth Vergara.
2. Browns and black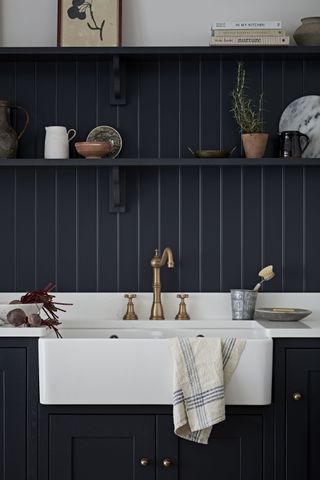 "While the allure of dark kitchens has been on the rise, it's crucial to keep things cozy, not cramped," stated Ledezma. "When you go overboard with dark brown or black, it can lead to a feeling of gloom and confinement."
She explains that the key to making a dark kitchen work is finding the right balance. For those who follow Feng Shui, Ledezma mentioned kitchens are typically seen as a hub of activity and warmth, generally associated with the Fire element.
"If you flood your kitchen with too much black, it's like adding water to the mix — potential turbulence in the energy flow that could throw off the kitchen's harmony," she said.
At the end of the day, it's all relative to one's tastes. Vergara suggests getting samples and testing the colors in your kitchen before making a decision.
"Stray away from impractical colors, if you must opt for dark colors, the kitchen will tend to look much smaller," said Vanessa De Leon.
3. Dark grays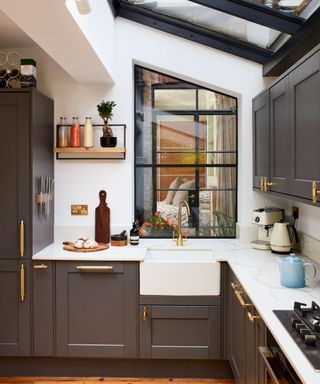 Similarly, heavy tones like muddy grays should be avoided as they might make the area feel enclosed or uninviting," stated Vergara.
Ledezma also stated if too much of a dark gray color is used in a small kitchen, a dull and uninspiring atmosphere is created.
4. Bright red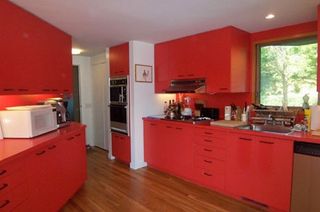 Red is an energizing color, but it can be too stimulating for a kitchen. Overusing bright red can be overwhelming and might increase stress levels. Red is best used as a statement color for maximalism.
"When it comes to red for your small kitchen, think kitchen towels or even countertop accessories like a teapot," said Ledezma.
Meet the experts
Vanessa De Leon is a New York-based interior designer, product designer, blogger, brand ambassador and lifestyle expert. Vanessa's innovative sensibility combined with a keen eye for detail helps her clients inspirations and ideas come to life.
Melissa Ledezma is a multi-talented creative force, blending her passion for interior design and architecture to leave an indelible mark on the design world. With a Bachelor's degree in Interior Design and a masters degree in Architecture, she has a strong foundation in the aesthetics and structural aspects of design.
Elizabeth is the founder and lead designer of the Latina/female-owned luxury design & build firm based in NYC called Vergara Homes. Over the past 13+ years, Elizabeth has been helping homeowners design and renovate their upscale homes as a Design Build Specialist.
Where to buy paint samples for small kitchens
Want to see what paint colors will look like in your own kitchen before you buy? Here are our favorite stores that you can grab samples from:
FAQs
What will make my kitchen look bad?
If you're worried about your small kitchen not looking quite right, we found some expert-approved design rules that will ensure a great result. See how to layout your kitchen and which decorative elements to add.
What if my small kitchen looks too dark?
You can lighten up a small kitchen by painting with a lighter neutral color. You can also add some small kitchen lighting like lamps and pendant lights to brighten up the space.
---
Keep in mind that personal taste varies, and these colors may work in specific design contexts when balanced with other elements. There are even some outdated rules to ignore when decorating your small kitchen. When it comes to painting a small kitchen, Ledezma stated it's important to consider your own preferences, the overall design style, and the amount of natural light in your kitchen when choosing colors.
"Go to your local paint store, grab some color swatches, and bring them home," suggested De Leon. "Once you've selected the color, go back to the shop and ask for a sample size of the color selected."