You're going to need to know these small kitchen design rules if you're redecorating your space. Really, the most important thing is how you feel, what you like, and whether your personality is reflected. There are, however, some tips and tricks that can help you make the most of your space.
Call them small kitchen design rules if you like, but think of them as ideas, pointers, and jumping-off points to spark your creativity. From using vertical stripes to draw the eye upwards to investing in a curved counter to make moving around the space oh so easier, I hope you like these ideas plucked from some of the best in the business.
You may think you're running out of small kitchen ideas, but I've found some great solutions you may not have thought of. With advice from influencers and home experts alike, these are the new set of rules to take note of when designing and decorating your small kitchen.
Small kitchen design rules you need to know
I've spoken to design experts to find the best small kitchen design rules they use to make spaces look bigger and function better. But don't stress, there are certainly outdated rules to ignore when decorating a small kitchen, too. Just find what you like and stick with it!
1. Ditch the door, use a curtain instead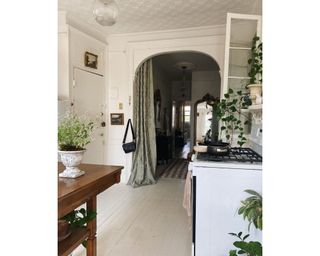 I love how influencer Hummusbirrd has created a better flow in her home by removing the door that connects her living space and kitchen by using a curtain, like this patchwork curtain from Urban Outfitters, instead. This move creates a soft feel and opens her apartment up, making the most of the space.
If you have an open-plan living area and want to create a divide, or perhaps have two adjoining rooms like this that would complement each other better without a door, why not try putting up a curtain of your own?
2. Use vertical stripes to draw the eye up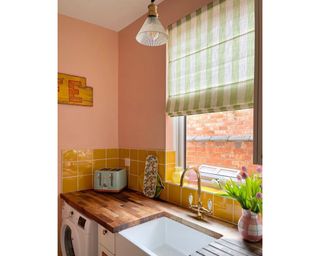 Jess Clark is an interiors influencer who has over 150,000 followers over on her Instagram account, @charminglifebyjess. From her beautiful home, Jess shares many tips and tricks on how to optimize your space, especially when it comes to small kitchen design rules.
"I used vertical stripes to draw the eye upwards and elongate my kitchen via these cute green blinds," says Clark.
To recreate the look, try these cordless striped blinds available on Amazon. You could use this idea in more ways than one, perhaps painting your cupboards with stripes or experimenting with striped tiles.
3. Add a skylight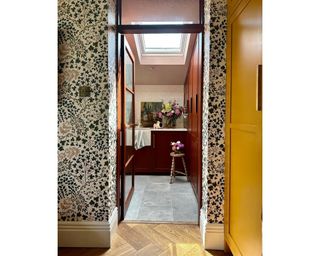 Candy Murray, Soho Home's Interior Style Manager, advises bringing in natural light wherever you can in a small kitchen. "We all know that natural light is the best tonic for any small, dark, or pokey space," says Murray.
"If you can make structural changes I would really recommend trying a skylight — it's transformational. You can angle the ceiling upwards, create more height, and flood the space with light. It's a real game changer."
If you can't make any changes, one of our rental-friendly lighting ideas might be a better option like adding a lamp or string lights to mimic natural sunlight.
4. Turn your countertop into a breakfast bar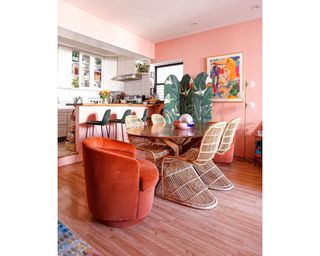 Saving space is the biggest concern when planning out or decorating a small kitchen. The best way to do that? Embracing the multi-purpose vibes, babe.
That's right, get your creative thinking cap on, and imagine in what ways you can make extra use of the facilities. I absolutely love this example from influencer Megan, who has turned her countertop into a breakfast bar by adding some high chairs or stools, like these industrial counter stools from Target, accessories, and giving it a pretty pink makeover. Obsessed.
5. Make use of free-standing storage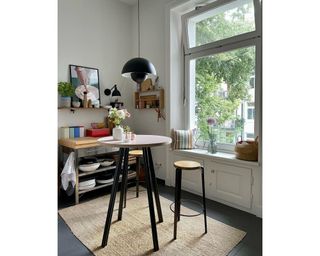 Older rental apartments which, through no fault of our own, probably weren't planned out that well when first built might suffer from a lack of kitchen storage.
If your kitchen's set-up is less than ideal, just remember you're a boss b*tch and take matters into your own hands. Yup, that's right — thrift up some shelves, an old bookcase or dresser and create a free-standing piece of storage, like this one from influencer Frauke.
You can add something simple like this Brightroom wire shelving unit from Target to add a TON of storage space. Now all you need is some storage baskets to fill it up.
6. Opt for curved counter tops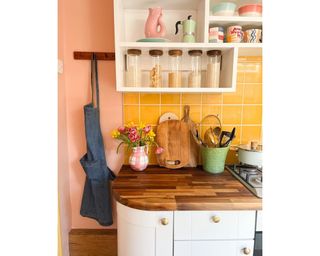 This next tip is a stroke of genius from influencer Jess, who says the shape of your kitchen countertops can really change the feel of your space.
"When designing my kitchen I deliberately asked for curved countertop edges so as not to catch on them while walking past and improve the flow of my kitchen. When you're stuck for space, small changes like this really make a difference," she explains.
7. Use grouting to bring color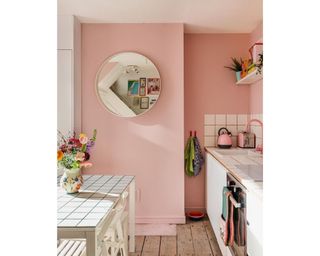 The idea that you should only use white in a small space is very outdated, but I have to admit, I love what influencer Lindsey Isla has done in her space with colorful tile grouting.
By keeping her work surfaces bright white, the overall look is clean and open, while the colorful grout packs a punch of personality. For me, this is the epitome of slay.
8. Try color drenching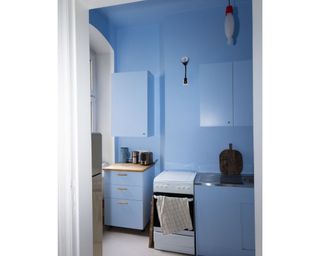 Matilda Martin, home decor brand Lick's Trend Specialist, says that one of the coolest and most space-making decor trends at the moment is color drenching — and it works a treat in small kitchens.
"Color drenching lends itself particularly well to small kitchens and involves taking one color and covering your whole space in it. In the case of a small kitchen, this means painting everything from your cabinets and woodwork to your walls and ceiling in the same color," says Martin.
"By opting for the same color (or various tints and shades of it) all over, you can make your kitchen feel more expansive because space blends into one. Plus, it looks amazing and makes a real design statement!"
Meet the experts
Jess Clark is an interiors influencer with over 150,000 followers on Instagram.
Candy Murray is Interior Style Manager at Soho House interior design brand, Soho Home.
Matilda Martin is home decor brand Lick's Trend Specialist.
FAQs
Where should I put everything in my small kitchen?
When designing a small kitchen, it's important to consider all the elements you may have to move around. Think about everything from storing pots and pans to where to put your trash can. One of the easiest ways to do this is to sketch everything out on a piece of paper and play around until you're happy with the arrangement.
How can I make my small kitchen more functional?
Before you start decorating, you may want to consider decluttering to make the most of your small space. The more excess stuff you have lying around, the more chaotic it's going to look overall. Just make sure you're not making any of these small kitchen organization mistakes in the process.
---
Just because your kitchen's small, doesn't mean it can't make a big impact! I hope these fun, colorful ideas inspire you to take your kitchen by storm, no matter its size. Before you get started, it may be helpful to make a list of all the small kitchen must-haves you're going to need to give it a true makeover.