Want to know what color small living room furniture should be? Picking the best shades for your furniture will completely change how your living area looks and feels. Getting it right the first time will save you money in the long run.
If you're just moving into your place, there are lots of furniture pieces to buy for your small living room. The key ones include couches, TV stands, and coffee tables, but you might also need side tables, console tables, and accent chairs depending on your space. They come in so many different colors though, so it can be tricky to know where to start.
Looking through small living room ideas, and want to pick the perfect furniture colors for your place? I've spoken to design experts to find out what ones you should go for, plus picked out buys so you can get the look in your own place.
Everything you need to know about small living room furniture colors
If you're choosing furniture for a small living room, color is an important factor to consider. Here are expert tips on what you should be considering.
What color small living room furniture should be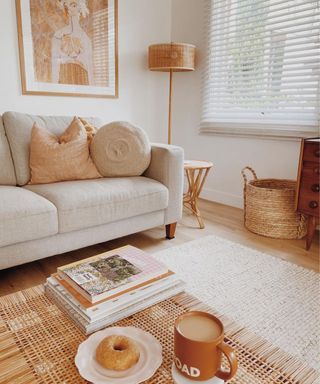 There isn't one answer to this question — instead, there are a few factors to consider. "This includes the overall aesthetic of the room, natural light sources, and personal preferences," explains Ricky Allen, interior designer and founder of Ever Wallpaper.
Ricky Allen is the Interior Designer and Director of Ever Wallpaper. It sells high-quality wallpapers and murals, using non-toxic, odorless, and environmentally friendly materials.

He says that the color of your furniture should complement the overall aesthetic of your living room. "If you have a modern and minimalist style, neutral colors like white, gray, or beige would work well, he says. "For a more eclectic and vibrant look, consider bold colors like navy blue or emerald green." Once you choose a color scheme for your home, it's important to stick to it.
If you're looking for popular colors, there are a few that you can consider. "If you want to bring modern vibes to your living, then go with gray tones. They pair well with different accent colors and can take your living room to the next level," says Daniella Menachemson, interior designer and CEO of StyleNations.
Daniella Menachemson is a interior designer, supplier and manufacturer of custom furniture at StyleNations. She specializes in designing, sourcing and manufacturing furniture for hospitality venues.
For a more natural look, Menachemson says to go for earthy tones. "Browns add a very cozy and earthy ambiance to the room, as does olive green," she says. She also suggests light blue, as it's a calming and refreshing color that is perfect for small spaces.
While bright colors can make a space look bright and beautiful, neutral colors can make a space look even brighter. "Bold colors can overwhelm small spaces, so neutral or minimalist colors like light gray are recommended," says Mohammad Ahmed, interior designer and founder of The Home Guidance.
Mohammad Ahmed is an interior designer and home expert. He did his bachelors degree in interior design at the University of Minnesota in 2013 and since then has worked as an interior designer in various companies, designing functional and beautiful spaces for clients.
You might also want to consider colors that are easy to clean and maintain. "Neutrals like gray, black, or brown are versatile and timeless," Ahmed adds. Darker neutrals will show fewer marks, unlike beiges and whites which will show dirt easily.
Other factors to consider when picking colors for small living room furniture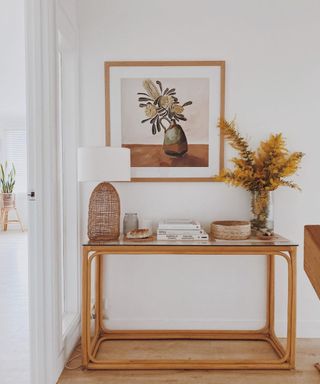 When choosing small living room furniture, there are other parts of the living room to consider when choosing their colors. "With neutral white walls, you have more freedom, while bold or patterned walls call for solid color furniture in a complementary shade," explains Allen.
It's also a good idea to consider the amount of natural light in your living room when choosing the color of your furniture. "If your room receives ample natural light, darker colors can help balance the brightness and create a cozy atmosphere," he says. "On the other hand, if you have a small living room with limited natural light, lighter colors will help make the space feel more open and airy."
Ultimately, deciding what color to choose for your small living room furniture should be your personal preference. "Think about the colors you are drawn to and consider how they will fit in with the rest of your home decor," Allen finishes by saying. You're the one that will be enjoying your space the most, so it has to make you happy most of all.
6 furniture buys for small living rooms
Want to follow our experts' advice? These six furniture pieces will help you do just that.
The prices below were correct at the time of publishing this article.
FAQs
What is the most popular color of living room furniture?
Gray is the most popular color for living room furniture, because of how versatile it is. From modern homes to Scandi homes, it pairs well with so many different styles.
---
Now you know what color your living room furniture should be, you might be wondering about what color your walls should be. These are the best paint colors for small living rooms, according to design experts.