You might be wondering what shape coffee table is best for a small living room, and you're right to question this. Every bit of space is valuable, so you want to make sure your furniture is the right size and the right structure.
Your coffee table is in the center of the room with your couch and TV, so it's where the eye will be naturally drawn when entering the room. It's also probably the area where you're going to spend the most time relaxing. These are both key reasons why it's a good idea to make sure yours is the right shape.
Think a coffee table is a good small living room idea? I've spoken to experts to find out what shape coffee table you should put in yours. These are all small-space and renter-friendly, so you can easily add them to your own place.
What shape coffee table should I choose for my small living room?
When you think of a coffee table, your first thought might go to a rectangular-shaped one. "A typical rectangular coffee table may not be the answer in a small space, as it can limit the maneuvering room around the table in tight spaces," explains Dave Adams, VP at BDI Furniture. "This is where an oval or more rounded/organically shaped coffee table may make a difference." He adds that with smoother edges, you won't have the risk of hitting corners when walking around it.
Dave Adams is vice president at BDI, a premier designer and manufacturer of innovative home furnishings. Adams understands what consumers need today from their entertainment spaces.
As well as this, they usually fit better, too. "They optimize space by fitting neatly into corners or against walls, promoting smooth movement flow, and offering flexibility in furniture arrangement," agrees Chris Kinlaw, luxury furniture designer and founder of furniture company MIXMA. "The shape accommodates more seating for small gatherings, as well as preventing clutter from accumulating on the edges." Pretty and practical? That's a win-win.
Chris Kinlaw is a furniture designer, interior designer and architect who founded the luxury furniture company MIXMA. It specializes in the custom production of furniture, architectural elements, and design objects.
What features to look for when choosing a coffee table for a small living room
As well as looking at shape, there are other factors to keep in mind when searching for a coffee table for a small living room. "When space is at a premium, incorporating a coffee table that also has smart storage features is a real plus," Adams tells me. "And for the ultimate in usability, a coffee table with a lift-top that can raise up and become a work surface or eating surface will allow you to make the most of your smaller space with efficient design."
Style up your small living area with these 3 coffee tables
Want to find a cute coffee table? I've found three picks that match the experts' advice, and that would work well in any room. They're all perfect for styling in your small space.
The prices below were correct at the time of publishing this article.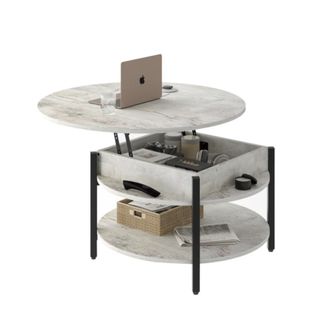 Modern
1. 17 Stories Lift Top Round Coffee Table
Size (in.): H19 x W35.43
Made from: Wood, iron
Price: $159.99
For those who love quiet luxury but are on a budget, this coffee table is a super chic choice. It has space on top and underneath so you can easily grab items, as well as hidden storage room. It comes in gray, black, and brown, but the gray has to be my fave.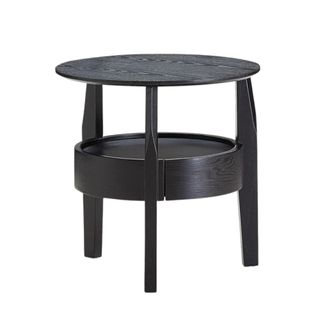 Sleek
2. Aalto Solid Wood Storage Coffee Table
Size (in.): H21 x W19
Made from: Wood
Price: $159.99
Even though this coffee table is small, the amount of storage space it has is mighty. As well as having two tiers, it also has a small storage drawer that you can pull out. I think this would be perfect for tidying up TV remotes and other miscellaneous items… or for hiding snacks in.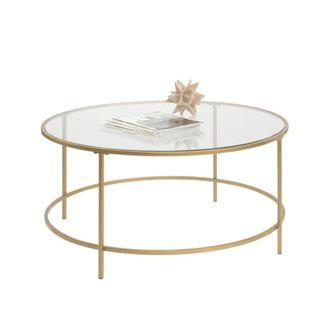 Metallic
3. Better Homes & Gardens Gold Nola Coffee Table
Size (in.): H16.5 x W35.98
Made from: Metal, glass
Price: $99
I can't believe that this table is only under $100. It looks so much more expensive, with its glass top and gold finish. It's such a showstopper and would look even more amazing dressed with decor like coffee table books. That being said, it's still incredibly versatile.
---
Now you have the right shaped coffee table, you might be wondering how else you can switch up your small living area for the better. Where you put your sofa is also really important, and will change how your room looks and feels with the right placement.