Looking for terraced house design ideas for your Victorian home? The Victorian terrace is a landmark of British architecture and while their original layout isn't designed for modern living, they do allow for a lot of flexibility when it comes to a contemporary redesign and making it your own.
From glass box extensions to remodelled kitchens, open-plan renovations and modernised interiors and exteriors, our pick of amazing Victorian terrace transformations are an inspiring example of what can be achieved. Read our guide to extending a Victorian home if you're looking to take on an extension. Our guide to renovating a Victorian home has bags of practical advice for your project, too.
1. Going broken plan with glazed interior walls
This property in London (top) was sympathetically brought into the 21st Century with design from Mae House Design and build by Mac Building Solutions. A broken-plan arrangement has been used, with Crittall-style glazing, to create zones, and this works well to make a practical space filled with light. Meanwhile, parquet flooring and wood panelling, hark back to the home's past for the perfect mix of old and new.
Read our guide to creating an open plan layout in your home.
2. A side return extension to create an open-plan space
Hannah Wright and Jonathan Emmins found their perfect home on the very same weekend that they found out Hannah was pregnant. Not only did they have to add their own mark, but they also had to create a space that would evolve into a family home.
The bottom floor went from being enclosed, to becoming a vast 700 square foot living space with the help of an extension. Then a rear patio area was used to integrate the home with the garden.
Find out about planning and designing your side return extension.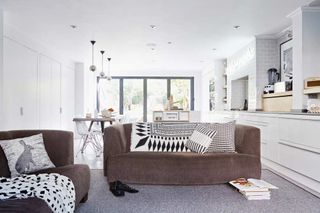 3. Redesigning a Victorian terrace with an architect
Julia and Carl Moss decided that they wanted to swap their busy lifestyle in Shoreditch for a quieter life in Stoke Newington. They lived in their new home for a year, testing out the uses of different rooms and moving furniture around, before jumping into the renovation.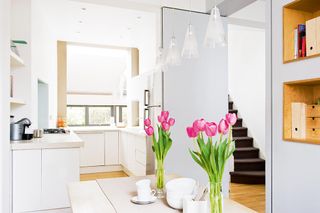 When they brought in their architect, they were shown that they didn't need to convert the loft to create extra space. The existing space simply needed to be redesigned so that they could make the most out of it.
Find out how to work with an architect to get the best from your space.
4. Adding a side return for a large kitchen diner
Fi Duke and Paul Briggs bought their three bedroom Victorian house in Chelmsford with the vision that it could one day be extended into the loft and out to the side. As their two children grew older, they didn't need to move into a new home – the space was already there to be used.
The couple worked through the most pressing renovation tasks first; replacing the roof, adding more energy efficient windows; and starting from scratch with the plumbing.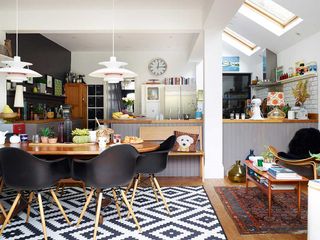 A year into the project the couple used a local architect and extended out into their Victorian side return to create a large open-plan kitchen-diner and entertaining space.
Find out how to plan and design the perfect kitchen extension with our guide.
5. Extending to create a link between indoors and out
Corina Papadopoulou and husband, Franco Ofili found that they, and their two children, were outgrowing their home in Kensal Rise. They found a property with more room in the same area, where Carona's children's boutique is based.
The house had already been stripped of its original features, so the couple ripped out the dated fittings and started with a blank canvas. They wanted the home to flow, so the kitchen-diner leads into the garden almost seamlessly.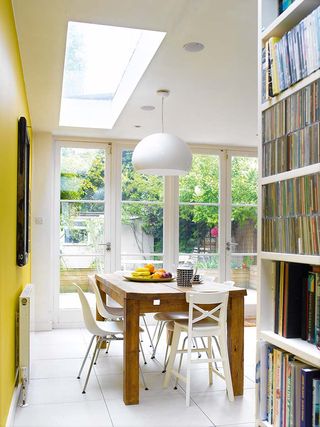 Claridge Architects came on board to draw up the 10m² plans for their new extension and, with a lot of experience working with Victorian terraced houses, were quick to realise Corina and Franco's vision.
Find out how to link indoor and outdoor spaces successfully in our guide.
6. Extending upwards and out to maximise potential
Matt Newman and Michelle Cox found the perfect house in London, at a reasonable price for a young couple. Four years later with a child on the way, they didn't want to give up on the house in their dream location. Instead of moving, they chose to improve, creating a family home in the perfect place.
Martin Swatton was their chosen architect, helping them create more floor space by knocking through to the side return passage and extending three metres into the garden. This created a kitchen-diner for the family with glazed bi-fold doors leading into the garden.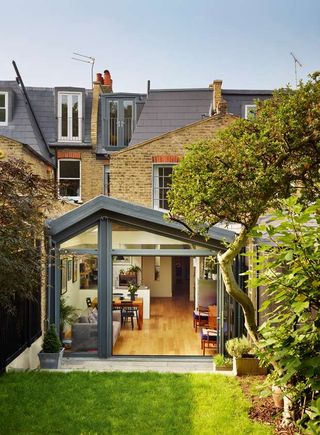 A vaulted ceiling and full-height glazing enhance the sense of space in the extension. Large skylights maximise the natural light in the room, and their use of bare brick and timber flooring stop the room from feeling cold or clinical.
The couple also extended into the loft – find out more on loft conversions with our helpful guide.
7. Building a glazed kitchen extension
Kelly and Darren's home had a lot of potential to be the perfect family home. It had been extended by the previous owners, so the footprint was already a good size. However, the layout was not quite what the couple wanted.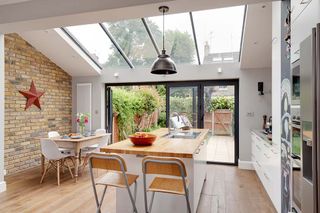 After living in the property for five years and completing work on the bathroom and garden, it was time for the couple to tackle their kitchen redesign. With help from local designer Liz Biagini, they have transformed the existing extension to create a bright and airy kitchen-diner.
Find out how to add a glazed extension to your home with our practical guide.
8. Creating a bright, open plan kitchen diner
Lara and Andrew Dearman were frustrated with the long, dated uPVC conservatory side return on their home. It was cramped and could only really function as a storage area.
They called in Martin Swatton to help them reorganise their layout and create an open-plan kitchen-diner. The glazed doors at the back of the home and the glazed roof running alongside the kitchen flood the room with light. Pared back Scandinavian style has helped create the impression of a huge amount of space.
Find out how to design the perfect open plan kitchen diner in our guide.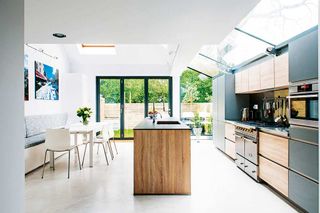 9. Creating an open plan downstairs layout
More from Period Living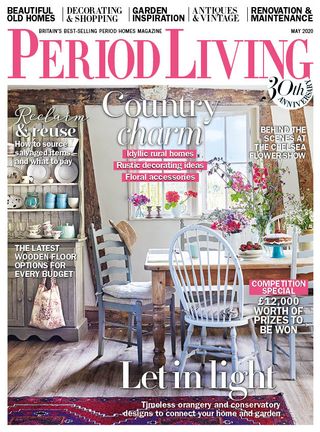 Period Living is the UK's best-selling period homes magazine. Get inspiration, ideas and advice straight to your door every month with a subscription.
As soon as Maly and Nick moved into their home, they started exploring how to bring in more light and improve the downstairs space. The disjointed layout often led to them to being in separate rooms, so they planned to knock through a wall and modernise the kitchen.
Architect Ben Holland came on board and helped them with the redesign. He said, 'You can either make it a lovely house, or a house with wow-factor'. They realised that their original idea of simply knocking down the wall between the spaces wasn't taking the redesign far enough. So, after talking it through with Ben, they decided to open up the layout and put in an island unit to bring the space together.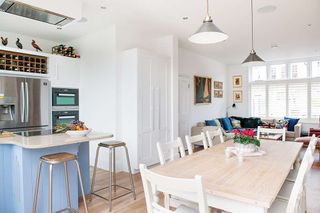 Although the new layout hasn't added to the footprint of the house, the extra light makes it feel more spacious and sociable inside. Wood-effect vinyl flooring leads out to the new patio, and the builders designed and made the shelving.
Get inspiration for your kitchen with our kitchen island design ideas.
10. Creating a view with frameless glazed doors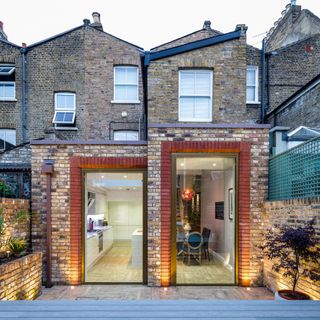 Create a view of the garden beyond the extension with frameless glazed doors. From outside, it will give the extension a contemporary edge; from inside it will provide uninterrupted garden views.
11. Creating an industrial vibe with metal doors
There is something very appealing about the sharp contrast between the brickwork of a Victorian terrace and the graphic black of Crittall-style metal windows and doors. It also lends a terraced exterior a more contemporary, slightly industrial look. This Victorian property has been fitted with metal doors and windows by Mustard Architects.
Find out more about buying metal framed doors and windows for your extension in our guide.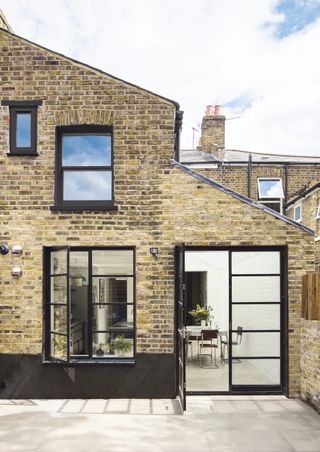 Lead image: Mae House Design
More about extending: