Looking for teenage boys bedroom ideas? Tough gig! You may think you've drawn the short straw when styling your male teen's bedroom. But don't stress as if you're not reaching an agreement, it won't be for much longer with the latest designs that are sure to impress the toughest judges of cool.
Bear in mind their bedroom tastes will (thankfully) definitely have developed and matured somewhat since they were toddlers. But with that said, finding the right teenage bedroom decor is all about taking a collaborative approach.
Teenage boys bedroom ideas that aren't so blue
1. Modern lighting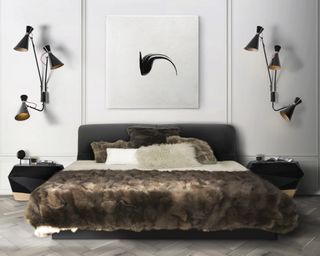 When ticking off the checklist for a great teenage boy's chamber, one thing you'll need to get right is the lighting. And you'll need plenty of it.
From getting ready to meet their pals, to playing their consoles for hours on end, you'll need lots of watts to keep your older boy entertained. Though placed on the wall, these bedroom lighting ideas with adjustable angles are perfect for positioning.
2. Add a hanging wardrobe for easy access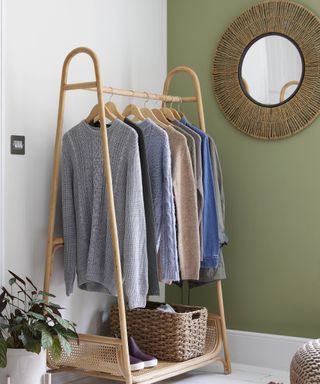 Teenage boys. They're in. They're out. They shake their clothes all about, next to the laundry basket and on the floor. But, for an bedroom storage design that's almost foolproof, a clothes rail can make searching for a sweater a breeze.
Make the most out of this fixture by stowing baskets underneath the rail too for a socks and shoe storage idea.
A bit of bamboo in your teenage boy's bedroom is probably as organic as it's going to get. Bar the sweaty socks and whatever is growing on the cups and plates that have gone missing for weeks!
3. Inject comic book character with a superhero scheme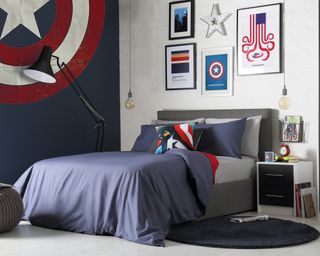 For a design that'll give you super mom status, turn to comic book strips for a stylish interior style. Begin with a free-painted wall decor idea (or, if art is your Krypnonite - go with a stencil).
To finish, assemble with a powerful team of plump cushions and framed prints. This'll make for a powerful look that packs a punch.
4. Add a quirky window treatment to block out light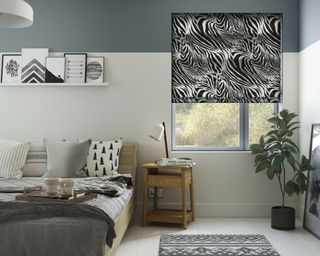 Despite having a reputation of staying up all night, teenage boys need their sleep. According to health professionals, teens should be getting a minimum of 8 to 10 hours' good sleep. And that's just on a school night.
One way to ensure this is the case is to invest in a bedroom window idea. This will encourage good sleep hygiene while also looking stylish in their scheme.
The challenge with teenage boys bedroom ideas can be finding a window treatment that's age-appropriate. He'll want to ditch the toy trucks and dinosaurs for something decent.
And animal print isn't just for fashionable females. Used sparingly, zesty zebra can add interest to your wild child's decor. As styled here, pop a houseplant in the corner and add an Aztec rug for an exotic environment.
5. Go vintage with a chesterfield-style headboard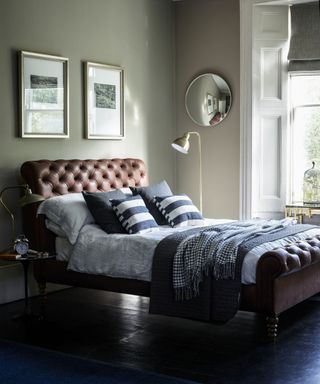 If your boy is bit of a peaky blinder, he'll be all for this gentlemanly, grown-up design. Laced with brown leather and good looks, this brown chesterfield bed would suit a vintage bedroom idea.
A pop of brass or aged metallic makes this scheme look classic and expensive. As seen in this space, a mirror idea, floor lamp and a couple of frames fit seamlessly into place.
So if your boy is beyond his years invest in a statement bed that'll see him through to manhood. This look would equally suit a bachelor or same-sex couple on the look out for a masculine scheme.
6. Be bold with a statement blue bed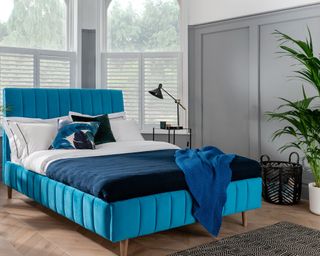 Just because your boy sleeps on it, it doesn't mean his bed can't be eye-catching. And this bed frame is the ultimate cure for boring bedroom blues, thanks to an eye-popping punch of color and heavyweight design.
Showcasing a tall-yet-slim headboard with fluted stitching, this blue bedroom idea makes a big statement while remaining simple in its execution. Tone things down with a muted fabric or ramp it up with something bold and contemporary like orange or yellow!
7. Create a space to chill out with cool navy and yellow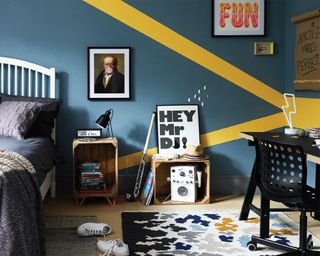 Whether they're listening to music on YouTube, tuning into their fave series on Netflix or really (yes really) revising – a reading corner is a cool addition to a teenage boy's room.
And while yellow might seem like a color more suited for younger kids – trust us when we say it'll bring brightness into your son's room.
Pair with a nearby shelves and boxes to ensure books and electronics aren't too far out of reach. A task light or low-hanging light will ensure your boy can focus his attention without straining his eyes. Add a couple of cushions and hey presto, you'll have a cozy bedroom idea without the cringe factor.
8. Add smart storage to a small teen bedroom design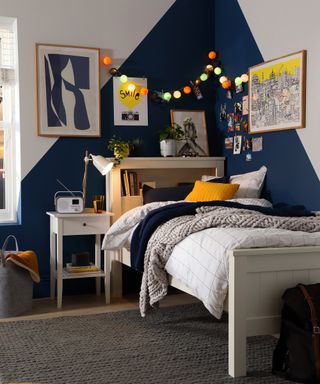 Teenage boys accumulate lots of 'stuff'. From books to stationery, sports equipment and headphones, it's unfortunate when most of these things are found on the floor or worse still, lost.
Whether your son gets an allowance or has a weekend job to afford these luxuries, you'll want him to handle his possessions with care. This is especially the case when items that take his interest are expensive.
Shelves are a great way to keep high-value items to hand. Better still, look for built-in solutions for a small bedroom idea.
And don't turn your nose up at a bunk bed. In most cases, these can be separated and repurposed as two single beds. Just don't blame us if your son has a significant growth spurt overnight.
9. Create a serene and green bedroom scheme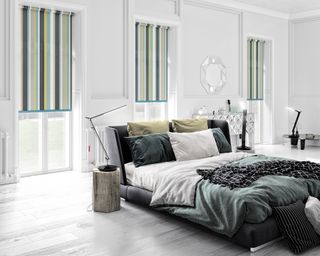 At this age, you can't make them eat their greens, but you can influence their interiors with a calming green bedroom design.
Known for its relaxing properties, green is a color that we're seeing everywhere in the interiors world. Despite what you might think there are shades that span beyond 'dinosaur green' or Action Man Khaki for your older kid.
Freshen up a stale teenage boys bedroom idea with herbaceous sage and mint tones subtly integrated into their bedding and window treatments. These striped roller blinds offer an attractive design while also being a low budget and maintenance way to blackout glare from street lamps and sunlight.
10. Add pattern for a flattering teen bedroom scheme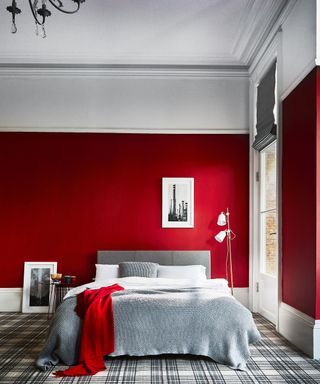 Primary bedroom paint colors in a teenage boys bedroom idea may seem a bit pre-school, but bear with us. By adding red to a grey scheme, you can create an interior design with impact.
This fiery, pillar box red hue adds a sense of cozy country homeliness. But, the real star of the show is this plaid woven floor pattern.
Classic and contemporary, this carpet, made from polypropylene is not only durable but has super stain resistance – perfect for the high-traffic demands of a teen boy bedroom. From muddy soccer kits to stubborn food and drink spillages, this should be top of the list when deciding how to decorate a bedroom for a male teen.
To style, add greyscale framed prints of famous landmarks to blend rustic country charm with a modern bedroom design.
How do you style a teenage boy's room?
'For many teenagers, a normal day is packed full of activities that can leave them feeling exhausted come bedtime (whatever time that might prove to be!).', says Alex Bage, Business Leader for Children's, IKEA UK and Ireland.
'Our SÅNGLÄRKA duvet cover brings calming deep blue hues to the bedroom, helping to create an environment that's easy to wind down in, ready for a restful sleep.'
'Additionally, teenagers' bedrooms are often multi-functional spaces, which means that they need to be adaptable for work, socializing and rest.
'A desk is a great way to save space, especially if it features under desk storage to ensure that work is out of sight and out of mind, creating a chilled atmosphere for sleep and relaxation.'