Any small space dweller can tell you firsthand that storage and organization are a challenge, especially if you're renting. One uniquely difficult area to keep organized is a bathroom. Most apartment bathrooms don't have much room to begin with, and if you're into beauty or skincare, the already limited space can be quickly overloaded with products and gadgets.
While many renters feel like they have to cram all of their belongings in a small space, there are a handful of items you should never store in your bathroom cabinets. We talked to Shantae Duckworth, a professional organizer and founder of Shantaeize Your Space, to find out what you should leave outside of the bathroom, and where to store those items instead.
1. Hair tools
Open up any bathroom cabinet or drawer and you'll likely come across a handful of hot tools. For safety reasons, Duckworth says hair dryers, curling irons, and flat irons should not be stored by themselves without proper protection. "If water gets onto the cords it can cause a fire," she notes.
Rather than tossing them into your cabinet, she suggests using storage bins with closed lids to protect the tools. Once your hair tools have a home, they can be placed in a drawer or cabinet that's separate from your sink. If you use hot tools every day, Duckworth suggests getting a hot tool rack that can be mounted to the wall. "It creates reachable access and keeps the tools away from water."
2. Make up
If you have a love for makeup then a variety of mascaras, lipsticks, and concealers can quickly take over your space. While you likely reach for your go-to makeup products on a daily basis, Duckworth discourages people from placing these items in a bathroom cabinet. "If the cabinet is underneath your sink, the moisture from the sink pipes can cause unforeseen damage," she explains.
Instead, use a travel or cosmetics bag to easily transport your everyday makeup from your bedroom to the bathroom. "Another idea is to set acrylic storage containers on your bathroom countertop for easy access," Duckworth adds. This is also a smart strategy for general makeup organization, to see what you use regularly and what you can discard.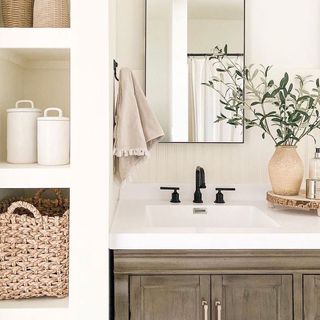 3. Towels
Contrary to popular belief, bath and hand towels do not belong under the bathroom sink. "Moisture can create bacteria that can then grow and spread to the items under the sink," Duckworth says. While it might look great to open your bathroom cabinet doors and see all the towels neatly folded, it's just not the most sanitary option. "I would recommend getting over the toilet shelving so that you can place bins on the shelf to hold your towels," Duckworth says. The shelf would be eye-catching and the towels will still be just as accessible as they would be in a cabinet. Plus, this organization strategy will free up some more cabinet space — double win!
4. Toilet paper
It's not surprising that most people store their toilet paper in their bathroom cabinets, but Duckworth says it should be stashed elsewhere. "Any excess moisture from your plumbing could impact the use of these items. The damage can cause mildew, which can then spread," she explains. Instead, store your paper items in a dry storage area or on a toilet paper roll holder to keep by your toilet. Both methods will keep your bathroom clean and help you maximize your space.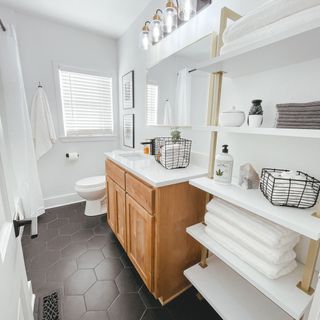 5. Cleaning supplies
"Harsh chemicals should never be placed under the sink," Duckworth warns renters. One reason that might be top of mind for you is whether or not you have children or pets — you certainly don't want either of them getting into cleaning supplies or chemicals left in your bathroom cabinets. Duckworth points out that because many cabinets are low, this makes them easily accessible. "I would recommend child locks if you have no other storage solutions, or I'd move these items into another closet with high shelves to keep them out of reach," she adds.
6. Supplements and medications
There are two types of people in this world: those who store their supplements in their bathroom and those who store them in their pantry. If you're in the latter group, you're doing it right. Supplements shouldn't be placed in a bathroom because they can be compromised by the fluctuating temperature and humidity levels that result from showering. Place them in an acrylic bin or on a rotating storage tray and set it in your pantry or a kitchen cabinet instead.
The essentials that "should" be there instead
One of the most common mistakes that Duckworth sees renters make is shoving too many items underneath a bathroom sink. Not only does this habit make things look cluttered, but it's also not a functional solution in the long run.
"It's true that under the sink storage is tricky and small, so you have to be creative to make it impactful and meaningful," says Duckworth. "This means you should really only keep items under the bathroom sink that you are going to consistently use. Anything else needs to be stored elsewhere."
If you're not sure where "elsewhere" is, then maybe it's a sign that you need to pare down on what you own, especially if you're keeping a small bathroom space organized. A healthy sweep through your belongings is always a good idea. Donate anything you no longer need or use, and get rid of any expired products (like that fancy moisturizer you just had to have.)
All of these simple strategies will not only ensure a safer and tidier bathroom, but they will also score you some more storage space if they're properly implemented.