Smart small bathroom ideas are almost indispensable to modern-day living. We could all do with some advice, because unless you're lucky enough to have a gorgeous and enormous bathroom, for the majority of us, it's more likely to be, by far, the smallest room in the house. Not to worry though, as we have your smaller bathroom space covered, and there are loads of tricks in the book that can help make a small bathroom fully functional and aesthetically pleasing too.
Whether you're working with an awkward space that requires clever storage space, or if you need decor inspiration, it's all here. Now you can say hello to colour blocking and open shelving – all really on-trend – and much more that's sure to make your small bathroom space seem larger and more liveable too.
For even more inspiration, check out our stylish bathroom ideas hub page where you'll find ideas for all types of bathroom, should you one day be that (bigger bathroom) person.
1. Strip back on what you need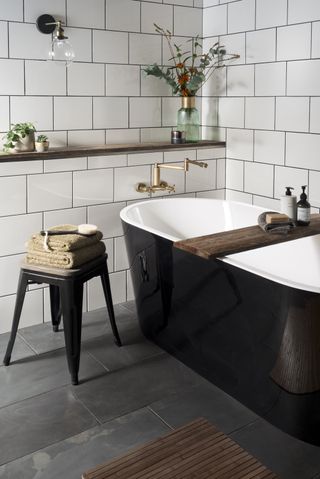 Our first, and probably the most important of all our small bathroom ideas is about paring back. Really think about what you need in your space. Stick to the bare essentials so you have as few built in or bulky items in there as possible – if they're taking up that precious floor space, they'll make the room look smaller. All you really need in a bathroom is a toilet, a sink and a bath or shower. Storage is vital, too, but think about how this could be built around your basin or choose wall mounted cabinets that won't take up any of that floor space we mentioned.
For loads more practical tips on how to design a small bathroom from scratch head over to our guide.
2. Embrace an awkward space with a clever layout
With some thought – and our clever small bathroom ideas – it's more than possible to pack (almost) everything you want into your bathroom, all that it requires is a clever approach when it comes to the layout.
By pushing the bath to the lower end of this loft bathroom, there's room for a separate, full height, shower enclosure. Had the bath been positioned where the shower is now, there would only have been room for a little bathroom storage beneath lowest point of the sloped roof. This is a much better use of space
If you feel like you need or want extra insight when it comes to layout, then you can take a look at our page for small bathroom design ideas which is sure to point you in the right direction.
And if you're looking for more clever loft and attic storage ideas that make the most of awkward, sloping roves? Browse our practical (and inspiring) guide.
3. Opt for wall-hung fittings to enhance space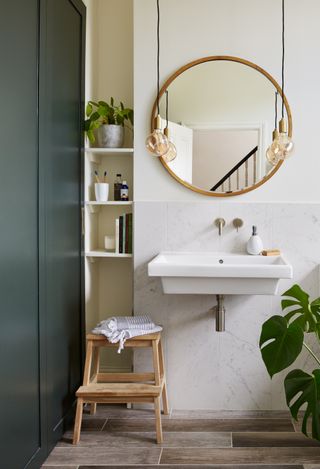 Wall-hung sanitaryware is one of those clever small bathroom ideas that creates the illusion of a larger bathroom, precisely because you can see the floor beneath the fittings. Further exaggerate the effect by picking minimalist, back-to-the-wall fittings, and choose flooring in a light colour.
If you need any more tips on choosing the best bathroom flooring, check out our handy guide.
4. Pick a frameless shower
Give the illusion of more space by cutting out a bulky shower tray and inclosure and go for a frameless glass shower. This will reduce the visual clutter in a small space and allow light to easily flow around the room. Frameless, walk-in showers also give a really lovely, luxurious feel, as well as being a really practical small bathroom idea.
You can see here how to the tile continuity both on the floor and the walls really stretches the space and doesn't break up the room. Placing a huge mirror above the sink massively helps too.
5. Consider an unfitted look
While fitted bathroom units are a great option if your priority is maximising storage, they can make a small bathroom feel boxy. An unfitted look not only has the power to make a small bathroom feel spacious, but also creates a more relaxed feel.
Like the idea of making a statement with an unfitted vanity? Browse our pick of the best vanity units.
6. Pick slimline bathroom fittings
Just as if you were working with a living room, small bathroom ideas need to address scale of furnishings, too. So, if space is at a premium, consider scaling down sanitaryware and opting for slimline solutions. Whether that be a slimmer model of toilet, towel rail or bathroom storage, gaining a few extra inches and reducing the 'packed in' feel will make all the difference in a small bathroom.
Find out what you need to know about choosing a bathroom sink.
7. Maximise vertical space with a ladder shelf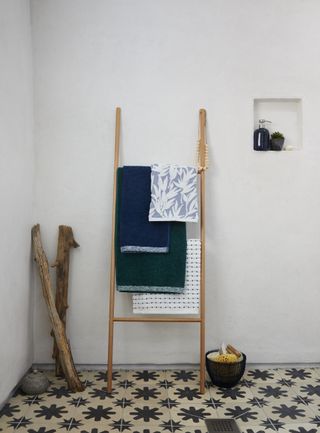 Small bathroom ideas should include storage solutions; they are an important element to think about when designing a small bathroom, after all. We love the addition of a ladder shelf to a small space which, in addition to being slimline and maximising vertical space when propped up against a wall, creates an attractive design feature with the addition of fresh towels.
8. Expand space with floor tiles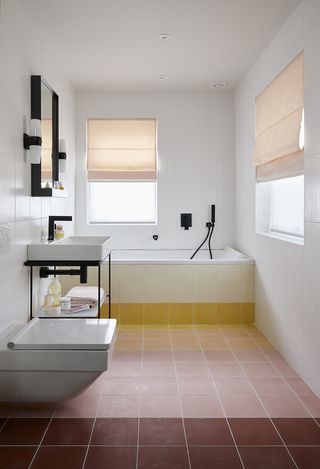 How cool is this bathroom? And it's actually a pretty small space too, it's just been made to look bigger with the clever choice of floor tiles. The fading colours draw the eye to the end of the room, giving the illusion that the room is longer than it is and running the tiles up the side of the bath only adds to lengthening the room. We love the sunset colours used here but if you are more into a monochrome bathroom this would work really well fading black into white.
9. Choose furniture that makes the most of dead space
Maximising space is an essential step when casting about for small bathroom ideas. Take time to think about utilising clever small bathroom storage solutions, particularly those designed to fit what might otherwise be dead space – such as an awkward corner.
10. Consider an all-white scheme to boost natural light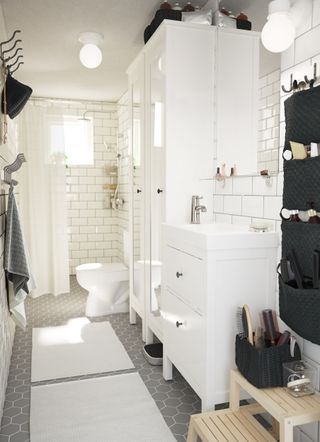 If a small bathroom is not designed effectively, a lack of natural light can quickly make it seem dark and dingy. For an easy and effective solution, consider an all-white scheme, complete with either fitted or unfitted sanitaryware that (almost) blends in with the the rest of the space.
This bathroom uses metro tiles as the basis for its all white scheme. If you like the look, find more inspiration with our design ideas for beautiful ways to use metro tiles. Find more tile design ideas for making a small bathroom feel bigger in our guide, too.
That said, the same space-enhancing effect can be achieve with a white paint, in which case you might want to take a look at our pick of the best paint for bathrooms.
11. Opt for open shelving to avoid a 'boxy' feel
Open shelving is another effective small bathroom idea worth considering if you're worried about fitted units making a small bathroom feel boxy.
With a relaxed, unfitted feel, it not only offers ample storage, but makes for a stylish design feature if styled with house plants, folded fresh towels or other attractive bathroom essentials. Opting for recessed shelves, as seen below, also helps make the most of an awkward shaped bathroom, with shelves blending into a scheme if painted in the same shade as the rest of the bathroom.
If you like the look of this on-trend, atmospheric scheme, you'll find plenty more inspiration with our black bathroom design ideas. Then, browse more of our bathroom paint ideas.
12. Pick a roll top bath with compact proportions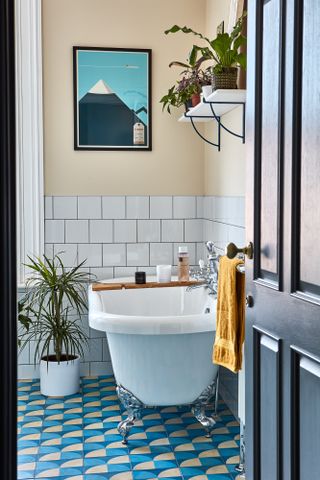 Desperate for a stylish roll top bath? And why not – they look good, and, because they're not boxy like standard fitted baths, they enhance a small space.
If you've always dreamt of a bath for your small bathroom, browse our traditional freestanding bath design ideas, which includes some small-bathroom-friendly models.
13. Stretch space with clever decor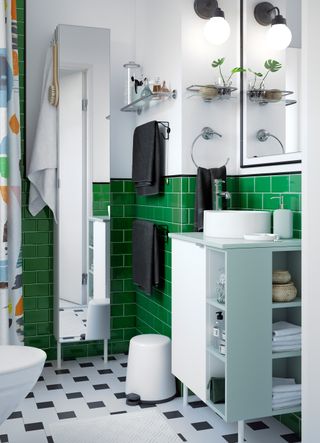 This small bathroom scheme performs several subtly clever tricks: the bathroom floor tiles, laid diagonally, create the visual trick of making the floor area seem longer and wider; the bathroom colour scheme – with a dark colour below and a light one above – makes the ceilings seem taller; the double mirrors reflect light and make the room seem larger; and there's bags of small bathroom storage ideas to hide away clutter.
For more handy design tips, browse our bathroom design tricks for small spaces.
14. Choose the right sized tiles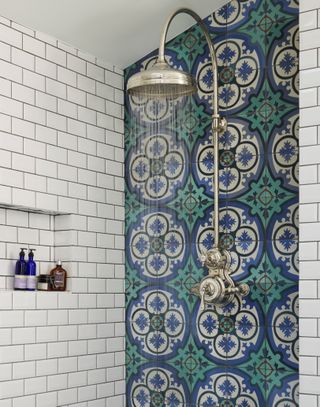 Getting the right tile size for a small bathroom, whether for walls or floors, will have a big impact on making your small space feel bigger and brighter. A small bathroom can actually benefit from a large tile. With fewer grout lines the walls and floor are less cluttered and the room visually expanded.
Using smaller tiles, such as mosaics, will give you lots of grout lines, which can give the bathroom walls a grid-like appearance that can promote the feeling of being boxed in – making your bathroom feel smaller still.
This doesn't mean you have to rule out small tiles out, however. If you've fallen for some beautiful mosaics, you can mix it up a bit by using different sized tiles in different zones of your bathroom, with smaller tiles being limited to the showering area, a larger format tile used in the majority of the room, and mosaic tiles in alcoves or recesses (spaces you don't expect to feel generously-sized).
Looking for more tips? Use our guide to choosing the right size tiles for a small bathroom to enhance your space.
15. Exaggerate space with a mirror
Here's an easy small bathroom idea: hanging a large mirror in a small bathroom will help it feel larger – especially if you've chosen a dramatic dark colour scheme. Picking a round mirror will create a softer feel than a square or rectangular one, and choosing one that's frameless will allow it to look less bulky. All handy tricks in a small bathroom.
Find our pick of the best bathroom mirrors in our stylish buyer's guide.
16. Install good bathroom lighting
It's very likely you'll be using your bathroom for at least half the time when it's dark. So, ensuring the lighting is good – and not just relying on a single overhead bulb – will make it feel bigger when it's dark outside and you can't rely on space-enhancing daylight. Small bathroom ideas need to work in the evening, too, right?
Find more bathroom lighting advice and inspiration in our specialist guide.
17. Swap window dressings for window film
If your bathroom isn't directly overlooked you might get away with swapping other bathroom window treatments for window film, which look less bulky and allows in maximum light all of the time.
See our window film design gallery for more ideas – and explore more bathroom window treatments.
18. Add pattern to a small bathroom with wallpaper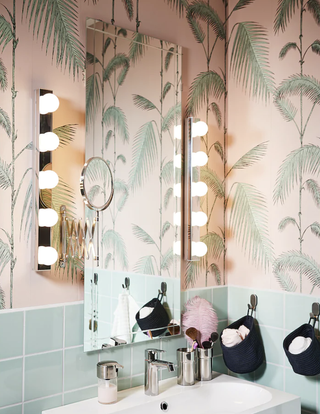 Enhance your small bathroom visually with a colourful wallpaper. A particularly good option for awkwardly shaped bathrooms as the pattern will act as a distraction. You can go bold with your choice too, don't let the fact you are working with a small space let you be deterred, a wallpaper that has a lot going on can actually visual expand the room.
Like everybody else, we love Cole & Son's Jungle wallpaper.
More inspiration for small (but mighty) bathrooms