Spent all that money on your garden redesign, or employed a designer to create the perfect space for you and your family? More reasons to want your garden to look its best. Tending an outdoor space can be a year around job, and the important tasks can often be forgotten if you don't have a schedule to run by. Having a timetable will make those big, daunting jobs that you put off weekend after weekend seem smaller and more manageable.
Use our month-by-month garden calendar to decide which jobs you should tackle when, and turn your garden into a place that you can really enjoy all year round.
January
January may seem like the dead of winter, but there is a lot to be done in your garden during this month. Your plants will need protection and maintenance during this time of year. Brush snow from evergreens and conifers to stop the branches from bowing, breaking or splaying out under the sheer weight.
After plenty of rain, mulch beds and borders with leaf mould, manure, compost or shredded bark – a layer of around five to 10cm is ideal. If wet weather conditions have made ornamental grasses and other perennials fall flat, start cutting these back to give them a fresh start. Check protective fleece and straw is covering still-tender plants such as tree ferns. Feed new plantings in late January with slow-release fertiliser such as Blood, Fish and Bone, and water, but leave the application of faster-acting organic fertilisers such as Growmore until the beginning of March.
Wildlife also will benefit from your help at the beginning of the year. Start putting food and water in your garden for hungry and thirsty birds. To stop ponds and bird baths freezing over, leave a tennis ball to bob on top of the water.
January is also an appropriate time for tidying your garden and maintaining and repairing your garden furniture and decking. Recycle cut trees by shredding them for mulch or compost. Repair and stain or paint fences, pergolas and wooden furniture if weather conditions permit. Scrub slippery garden decking and paving with hot soapy water; Algon Organic Path and Patio Cleaner is useful for dirtier surfaces. Ventilate greenhouses and conservatories on hot sunny days, and wash the glass of the greenhouse to let in more light.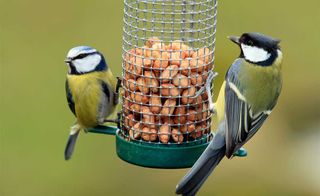 February
A lot can be achieved in your garden during February, particularly on days when the ground isn't frozen or waterlogged. Plant bare-root trees and shrubs, and 'in-the-green' snowdrops (snowdrops with leaves). This is also a good month for planting Jerusalem artichokes, shallots, raspberries and blackberry canes, if weather conditions permit.
February is also the time to hard-prune your hedges, if you didn't do it in the autumn. Deciduous garden hedges can all be cut back fairly hard now. Make sure the frosts haven't lifted newly planted trees and shrubs – re-firm around them lightly using your hands or heels if necessary.
In terms of plant maintenance, now is the time to cut back deciduous grasses, ideally down to 15-20cm before new shoots emerge. Deadhead winter bedding plants for bushier displays later in the year, and start preparing seed beds for spring vegetable sowings.
March
March is the time when your gardening routine will begin to speed up – this is the time for mulching, sowing, and repotting. Don't forget to deadhead early spring bulbs – but don't chop back the leaves for at least six weeks after flowering. This is also your last chance to plant bare-root trees, shrubs and roses until November. Hard-prune bush roses back to 30cm., cutting back to an outward-facing bud.
Remove weeds, then mulch beds and borders with shredded bark or compost to help stop them returning. Protect young perennials, such as hostas, with organic slug pellets.
Pay more attention to the lawn, too. Start mowing your lawn each week if the grass isn't wet. If you can, set your mower's blade height as high as possible for the first four to five weeks.
But the most important task in March is probably sowing. Seed heads of perennials and place 'grow-through' supports in position. Plant summer-flowering lily bulbs in a hole three to four times their height. Sow hardy annuals to fill gaps in immature beds and borders. Replace the compost in container plants and top-dress with slow-release fertiliser. Plant herbs in windowsill trays. Plant early potatoes, onion sets and asparagus, and when the weather is warmer sow onions, parsnips and the first carrots, turnips, beetroots and salad leaves of the season under cloches. Sow celery, courgettes, tomatoes and cucumbers on the windowsill or greenhouse for planting out once all danger of frost has passed.
Find out how to plan a kitchen garden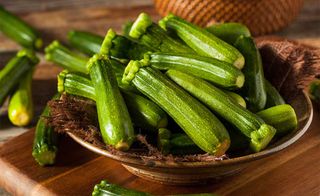 April
April is a transitional month that can often bring unpredictable weather, so what will need doing in the garden is largely dependent on the weather conditions. As a general rule, this is the time for planting up, supporting young plants, and for forward planning ahead of the summer.
Now is the time to watch out for early pests and diseases – hit them hard now to avoid problems later on. Sow tomatoes, runner beans, basil, green pepper, marrow, courgettes and sweetcorn in individual modules undercover for planting after the frost. Use fine Environmesh to protect young carrots from carrot root fly.
April is the best time for creating new container displays. If there's space, pot plug plants into larger pots – cheaper than buying bigger pot plants in a month's time. Plant up summer baskets and grow undercover before positioning in late May. Sow half-hardy bedding plants in seed trays or cell trays undercover.
If you have a water feature in your garden, now is the time to give it its annual round of post-winter maintenance. Clear out ponds: take out planting baskets and fish (keep in buckets of old pond water), bail out the water, remove sludge and refill. Rainwater is best, but let tap water stand for a week before putting fish back in. Plant new pond plants using special pond baskets from garden centres.
April can still bring frosty nights, so protect tender flowers and vegetables from late frosts – keep horticultural fleece on standby. Young, upright-growing plants will need some form of support: stake tall perennials such as delphiniums and sunflowers with 'grow through' supports.
Don't forget the houseplants, either: water and feed more often now they're actively growing.
May
May is the month for active lawn maintenance – and the last chance to to sow or lay new lawns until autumn without using sprinklers. It is also the time to gear up for the summer – and pay special attention to tender vegetables and soft fruit. The end of the month is the best time to plant out tender courgettes and aubergines if you have a kitchen garden, as well as planting our summer bedding plants.
With insects becoming much more active as temperatures rise, be especially vigilant about pests. Pick off scarlet lily beetle from your lilies; their larvae rapidly defoliate plants. Watch for vine weevil in container plantings – irregular-shaped notches to leaf edges are tell-tale signs. The young grubs in the soil eat roots, and fast. Use natural nematodes to control them. at the end of the month.
May is also the time to repot pot-bound container plants in pots 7-10cm bigger than the current ones. Remember to tie in long climber shoots to their supports with soft string.
The lawn will need weekly mowing from now until autumn, and the edges will need trimming.
Don't forget about the plants that have just finished flowering; prune spring-flowering shrubs. Feed spring bulbs with Growmore or blood, fish and bone. Cover soft fruit bushes with netting to prevent birds eating the fruit, and if you are growing strawberries, put straw around or under them.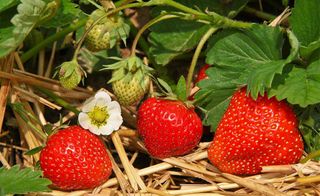 June
June is all about regular, consistent maintenance of your plants; in short, remember to weed, water and feed your plants, and do it often. Pay special attention to container plants, bedding plants and veggies. Liquid-feed tubs and baskets every two weeks if you haven't already mixed in controlled-release fertiliser. Feed tomatoes, peppers and aubergines with a high-potash feed such as Tomorite every two weeks (also useful for feeding pelargoniums).
To maximise on summer blooms, move any summer flowering houseplants into the garden.
June is also the time for harvesting onions – the right time is what the leaves turn yellow.
July
July is a time of vigorous growth and flowering – and for the gardener, this is the time for properly managing all that growth.
Continue vigilant weed control, and up the feeding: seasonal patio displays and baskets will do well with a weekly dose of liquid tomato fertiliser. Dead-head bedding plants to encourage more flowers; cut back delphiniums and geraniums after the first flowers to encourage a second flowering, then feed with Blood, Fish and Bone. Tie in vigorous climbers firmly to their supports.
July often brings the hottest summer weather, so up the water for the plants that need it. Bedding plants, leafy vegetables, seedlings and new plantings are most prone to drying out. Ideally, water your plants early in the morning or in the evening; avoid watering during the hottest part of the day.
Some pests thrive in hot summer conditions, so check susceptible plants – such as roses – for blackspot, mildew and rust, which can be rife right now.
Water features will need care, too: use a rake to thin out any overgrown oxygenating plants and algae from ponds. Top up ponds in hot weather, ideally with water-butt water.
If it's dry, stop mowing the lawn, or, if possible, raise the height of cut. Brown patches in hot spells are inevitable but the lawn will quickly recover, so there's no need to water.
Dry summer weather is good new for your garden outbuildings and fencing: paint wooden sheds, fences, arches and arbours now.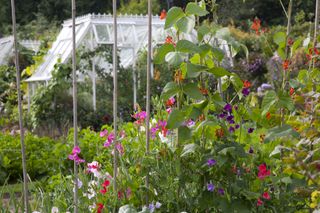 August
August is the first harvest month, and is the time to pick sweetcorn, tomatoes, peas, beans, marrows, pumpkins, artichokes and glasshouse crops such as chillies and aubergines. Push straw or old tiles under ripening squash and pumpkins to stop rotting on the soil surface.
It is also the time to begin tidying up your garden as the early-summer-growing plants begin to finish flowering and collapse. Tie in tall late-summer perennials to stop them flopping over. Lavender and rosemary will have finished flowering by now, so lightly trim them gently shear the new soft growth, but don't cut into the older brown wood. Likewise, trim off foliage from strawberries once they've finished fruiting. In the middle of the month stop outdoor tomatoes by pinching out the uppermost terminal shoot.
Water in dry spells, from a water butt or by re-using lightly used bathwater. Mow the lawn at least once a week. Raise the blades if the weather is hot and dry to stop the sward turning brown.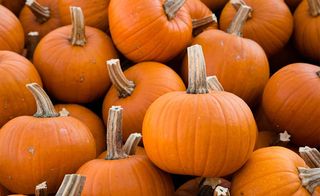 September
September can be a time of relative peace for the ornamental gardener: generally, there is less to do during this month than other months, apart from collecting seeds from summer-flowering plants.
For gardens with water features, now is the time to cover ponds with netting to prevent waterlogging during leaffall in the autumn.
In a kitchen garden, now is the time to enjoy the rewards of your hard work and pick your vegetables and fruit; remember to dig up any remaining potatoes, otherwise they will be destroyed by slugs. Cover any tender salad leaves with bird netting, and pick late-fruiting raspberries and blackberries.
October
October is the time to start tidying up and preparing for winter in earnest, while still enjoying harvest. If you have apple or pear trees, now is the time to pick the fruit. Move any tender plants, including houseplants, into a conservatory or greenhouse – don't forget to check that any heaters you have are working properly.
Container gardeners should remove any drip trays and raise terracotta patio pots with bricks or special pot feet (from garden centres) so they don't sit in water over winter and crack when it freezes. This is also the time to stop all feeding, as your plants are slowing down for the winter.
Now is the time to plant up your spring bulbs, excluding tulips, which should be planted up in November.
Fallen leaves are an important natural resource, so don't simply discard them: Clear up fallen leaves into black bin bags or create a separate pile next to the compost heap to make leaf mould ready for next October's soil conditioning.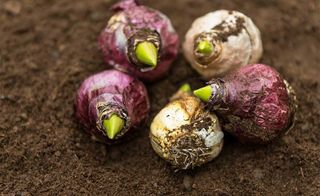 November
Autumn generally is the time for planting up bare-root trees and shrubs, so continue doing so throughout November. Trees over one metre will need staking for support, especially in exposed locations.
November is a rainy and windy month, and frosts are not uncommon. Protect roses from windrock by pruning them, and protect any container plants in non-frost-proof pots by wrapping bubblewrap around them.
Your furniture will need protecting at this time of year, too – cover any wooden pieces, or move them into the conservatory.
November is the last chance to create new lawns from turf; choose a dry day when the soil's not frozen or waterlogged. It's also the time to dig over your veggie patch; leave soil in large clumps and let the weather break it down into a crumbly finish.
To enjoy some colour during the winter, plant up tubs and baskets with evergreen perennials, ornamental grasses, winter pansies and polyanthus.
December
As the year draws to its close, and the days are at their shortest, limit gardening work to protecting tender plants and aiding wildlife in your garden. Keep bird feeders topped up and make water available.
Although it makes sense to water plants sparingly at this time of year, do make sure that container plants don't dry out completely.
Protect tender palms and tree ferns. Stuff a few handfuls of straw into the crown, tie up the leaves or fronds, and then wrap the whole plant in horticultural fleece, tying it off securely at the bottom. Don't use plastic sheeting or bubble wrap – on warm days your plants will sweat and rot.
Indoors, keep houseplants happy by moving them away from radiators and into a sunny, cool spot.
Last but not least, take some time to curl up in a warm spot and plan next year's garden!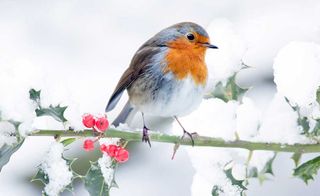 Read more: