With patio and outdoor season upon us, I decided to tackle our outdoor living space to use while the weather is beautiful (and not too hot yet) here in sunny Arizona!
We were starting with a very blank slate. The previous homeowners barn red-painted concrete patio wasn't what I had in mind for our beautiful outdoor space. I did quite a bit of research on how to best get rid of this paint and what to replace it with, and settled on using exterior floor paint and concrete stencils to create a tile-like pattern.
Originally, I thought that I could simply paint over the old color, but I soon discovered that is not the best option for long-term wear. I didn't want to risk the new paint peeling and the original paint underneath being exposed. So, knowing that I would need to remove the old color and paint it a more suitable color of our own, I headed to the hardware store for supplies.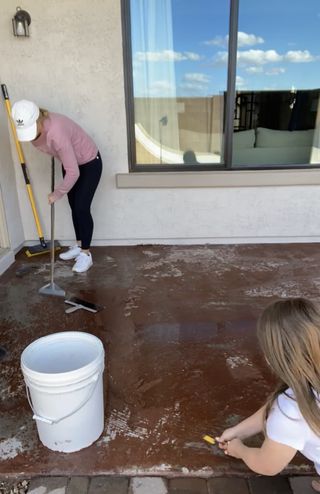 To begin, I applied a coat of Rustoleum paint stripper specifically made for concrete and let it sit overnight. I purchased a floor scraper to use to scrape the old paint up but this paint did not want to budge!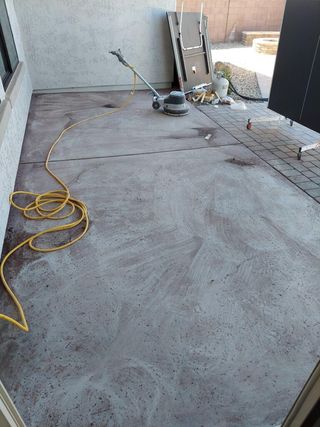 After about an hour of using the floor scraper along with an assortment of steel brushes and scrapers and only removing a small 12" x 12" patch I realized I was going to need more help. I decided that it would be money well spent to rent a floor polisher with a diamond brush attachment from our local hardware rental center to make the job easier.
Within one hour the entire floor was scraped clean and ready to prepare for the next step, concrete etching. A concrete etching solution is applied to clean and prepare the concrete to receive paint and have it adhere well to the surface.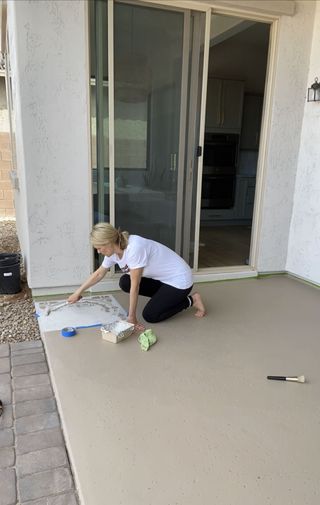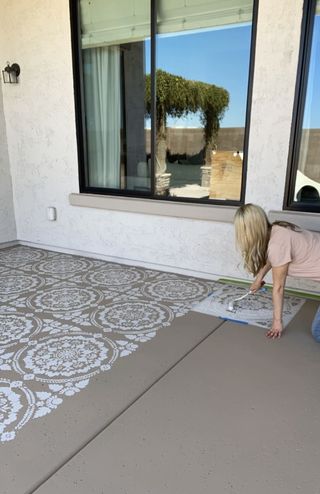 After following the instructions on the etching solution and giving the concrete a good rinse, I allowed it to dry overnight. The next day we were ready for paint, finally! I used Behr Premium Porch and Patio Floor Paint in the color "pure earth."
Now comes the fun part … the stenciling! I used a large mandala stencil from Royal Design Studio and over the next two days stenciled our patio to gorgeous perfection!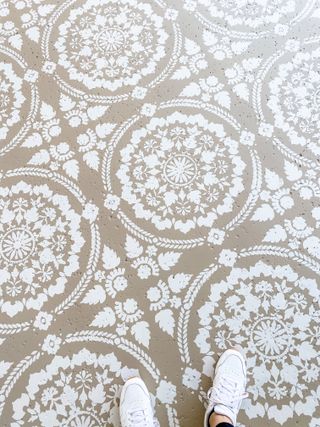 You might think that I was done there but I didn't want to take the chance on having this beautiful new patio worn out by weather and use so I applied a concrete sealer over the paint to seal in all my hard work. After about a day, this patio was ready to enjoy.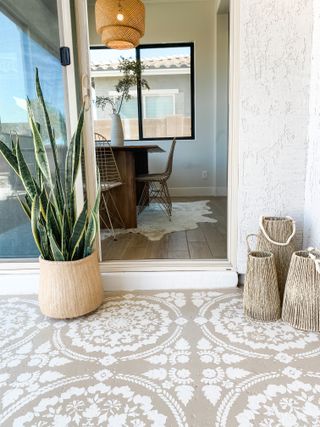 I am SO pleased with the results! It looks like a completely different space and I happily forgot about all of the back-breaking labor spent trying to remove the old coat of paint. This stenciled concrete design along with the beautiful weather is really motivating me to spend more time using our brand new patio space!