It may only be the space where kids take off muddy boots, where you drop mail or your keys but, – depending on how your house is laid out – even the tiniest of mudroom space is deserving of proper decorative attention. When the best small mudroom ideas will have this spot looking totally gorgeous and organized, not just for your eyes but for any guests too, getting the look on point will become a top household priority.
For some, the mudroom may be the first thing you see when you open your door. It needs to be versatile and functional and be able to hold wet coats, dog leads, muddy footwear, hats, gloves and scarves. Not forgetting you'll need some kind of seating area too...
Small mudroom ideas
Small rooms are harder to design but, it's so important to get it right, especially if yours opens out directly from your entryway. Even if it's a little hidden and no matter how awkward or narrow a mudroom you have, there are lots of design tricks using storage, paint colors and more to help enhance your space both literally and figuratively. Transform yours into a functional area and see how it will serve all of your outdoor wear needs that little bit better in all seasons.
1. Use space-enhancing wallpaper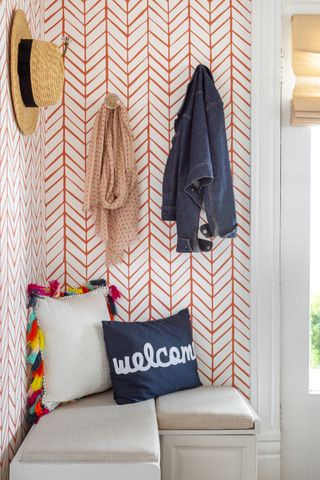 There's absolutely no reason why you can't have wallpaper in your small mudroom, in fact, it will give it a colorful lift if it's in a dark space. Use a design that has vertical stripes to give the illusion of height and you can accessorize it with colors from the scheme.
A hallway wallpaper design with only one or two colors will be more effective in a small space that one that's 'busy', so keep it simple.
2. Consider your pets' needs too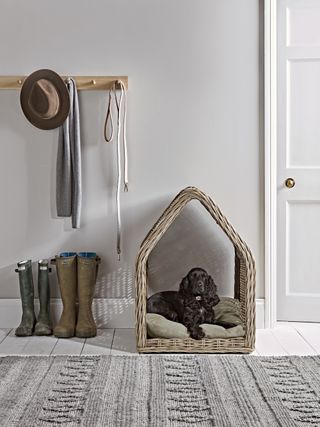 A great small mudroom idea is to keep your dog's bed in the space, it keeps it out of the way of other rooms and all other pet accessories can be stored with it – dog leads, food containers and any coats they have too.
Put up a peg rail as subtle mudroom storage that can hold the dog leads and your hats and scarves.
3. Create a link to the laundry room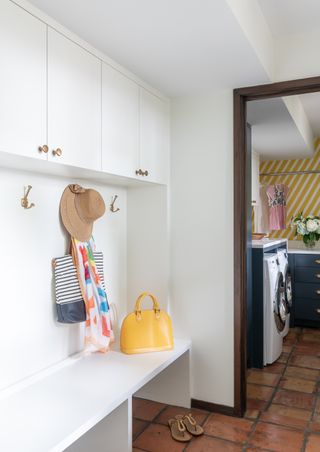 Mudroom laundry rooms make the perfect workaround a smaller space, catering better to household needs while a connected space will make both individual areas feel large. Try creating a link by running the same flooring or wall color throughout.
'When I'm designing a 'dumping zone' for a family and the clients have limited space I try to focus on the necessities of keeping a family organized…. Those are shoes, backpacks and miscellaneous clutter that you don't want to be seen,' explains Kim Armstrong, owner and principal designer at Kim Armstrong Interior Design.
'So, when I have limited space like in this particular mudroom I designed, I have shoe space below the bench, hooks for the backpacks, and closed storage above. It's pretty simple, but It's a design I re-use often, because it works.'
4. Shiplap a corner for interest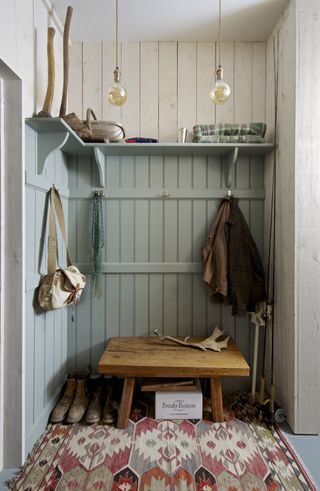 How charming is this small mudroom? It has everything you need – shelving, hooks for coats, leads and bags, a stool and space for shoes and boots. And, if you DIY shiplap in your tiny space all the way up to the ceiling it will add much-needed height.
Painting the top half in a lighter shade creates the illusion of space whilst the duck egg blue links to the painted floor. The rug adds a decorative element and makes the corner feel cozy.
5. Fit purpose built cubes for your wellies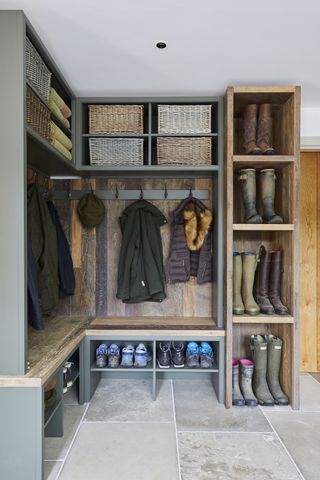 'Bespoke storage solutions allow for endless design possibilities,' explains Alex Main, director at The Main Company.
'An ideal choice for compact spaces or those with a more unusual layout, bespoke boot room cabinets can be designed to suit the home. Low-level bench seating and floor-to-ceiling cupboards maximise the vertical space available and create ample storage space for shoes, coats and other essentials.'
6. Make the most of a spare wall if space is tight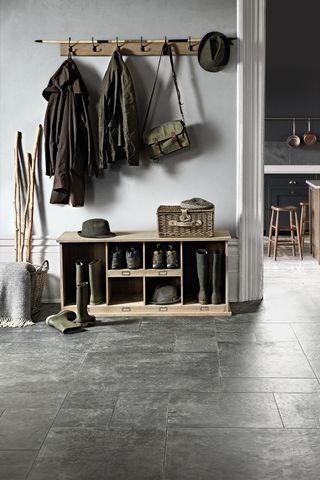 A small mudroom area can be created anywhere really, all you need is somewhere to fix a peg rail and a seating area that has compartments like shoe storage and the like. You can use baskets for extra storage that can hold gloves, hats and blankets.
This neat idea takes up a very small amount of space, yet is cute, compact and does the job perfectly.
7. Make a small design stand out using reclaimed wood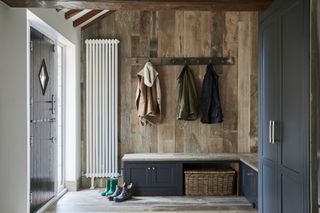 'For a touch of luxury, opt for reclaimed cladding or high-quality hardware, this will make the space feel more personal whilst adding effortless style appeal,' advises Alex Main, director at The Main Company.
It also adds texture and a visual warmth to this corner which makes it feel cozy too. The entryway bench style seating adds to this relaxed yet functional mudroom.
8. Choose made to measure storage for the best fit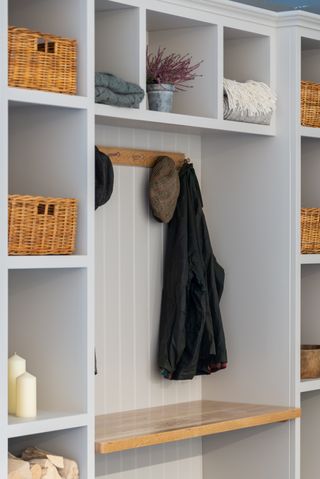 'To maximise space in areas often overlooked such as small mudrooms, consider made-to-measure units. Asides from creating a place to hang coats and shoes, it provides ample amounts of storage to house those everyday items like umbrellas, hats and other accessories,' says Al Bruce, founder of Olive & Barr.
The addition of a bench breaks up the cupboard space and creates an area to perch while removing shoes and wellies. A wooden bench is easy to keep clean from mucky paws but for added comfort consider adding a padded cushion. A well organized area can be a real game changer when rushing to get out of the door. Make sure everything is in order with handy wicker baskets and easy to access hooks. Not only will everything have its place, but it will also always look tidy and presentable for guests' arrival.'
9. Keep it fresh with an all white scheme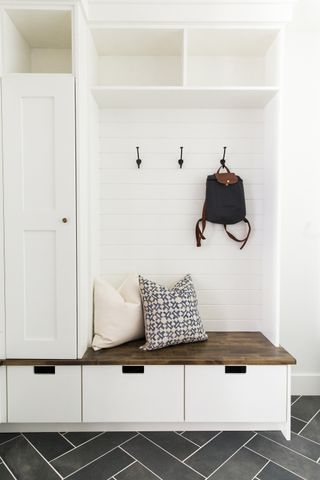 Painting any room white will help to create the illusion of space, and if your mudroom is small you'll need plenty of storage options too, as Kirsten Krason, co-owner and principal designer of House of Jade Interiors explains:
'If you have the space for a bench it's a great opportunity to add in some designer pillows which will make your mudroom look thoughtful and colorful. Drawers in a mudroom are a great way to hide away odds and ends so that no one can see them but everything is still accessible. If you don't have a designated mudroom consider any space in your garage as mudroom storage. You can add a little bench with cubbies for baskets to use as you come and go from your home.'
10. Go for all out patterned floors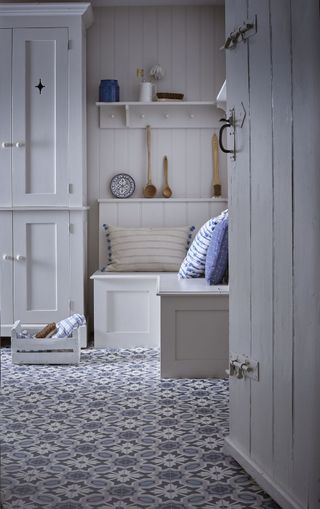 The white paint in this space really does lift this corner that doesn't get as much natural light as you'd hope for.
However, the blue tiled floor offers a stylish statement and you can see how easy it is to accessorize further with blue and white pillows on the bench seating. The advantage of tiles is that you can give them a quick mop and all the muddy footprints will disappear in no time.
11. Invest in modular units that you can add to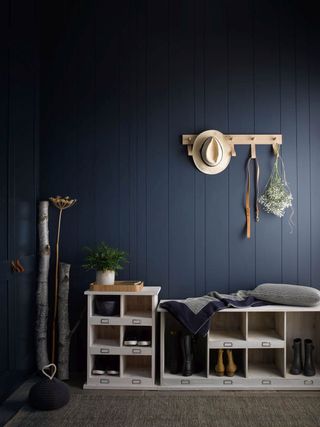 When space is tight you need to be clever with how you design your small mudroom.
If you don't have the budget to go down the bespoke route then invest in storage units that can work together and be stacked so you can go up as well as widthwise. The same goes with peg rails, use as much wall space as you can so that all hanging pieces are up and out of the way.
12. Create depth with dark on light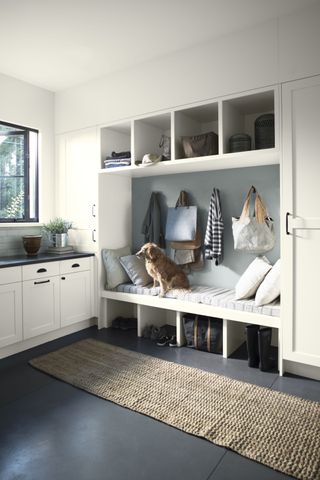 A dark floor will add depth to any scheme – and let's face it, is a great color choice for a small mudroom!
To carry on the dark theme use a dark grey or black countertop and door handles. You can vary this throughout, the mid-grey backdrop here that holds the bags and tops adds a softness to the scheme – preventing it from becoming too stark.
What do you put in a small mudroom?
When your mudroom is small, you need to only use it for those essentials that you use/wear often. Try not to let it get cluttered with lots of coats and shoes that you don't often use on a daily basis. A seating option is always a good idea – even if there is only enough room for one person to sit on it at a time. We'd also definitely look into pieces with built-in storage to conceal those coats and shoes that you don't always need readily to hand. Not forgetting the simple addition of hooks and rails – simple and essential – so do try to get at least one row up.
How can I make a small mudroom functional?
You can keep it functional by being careful with how you use the space. If you can't go wide, then go high. Install storage cubes that go from floor to ceiling and use baskets as extra storage. Again, keep it clutter free and tidy so it visually takes up less space.
Another great tip is to Invest in floor mats or rugs to protect the floor and choose designs that are washable for ease.