If you're wondering how to decorate a small space on a budget, you're in the right place. For those whose wallet sizes match their square footage, it can be tricky to know what pieces to buy and where to invest your hard-earned dollar.
At Real Homes, we specialize in small spaces, covering everything from apartments to tiny rentals. I live in a rented home myself, so I know what it's like trying to make sure every homeware purchase (well, most of them) will add usefulness and style to my place. If you're moving into your first place, it's especially important to make sure that you're spending your money wisely.
Been looking at small space decorating ideas, and want to bring them to life without breaking the bank? I've spoken to experts to find out how to decorate a small space on a budget, with tips and tricks, as well as beautiful buys in case you want to get the look.
How do I decorate a small space on a budget? Designers weigh in
From small space storage ideas to pretty decor picks, here's how to decorate a small space on a budget. With expert tips and shoppable picks, I've got you covered.
The prices below were correct at the time of publishing this article.
1. Utilize multi-functional furniture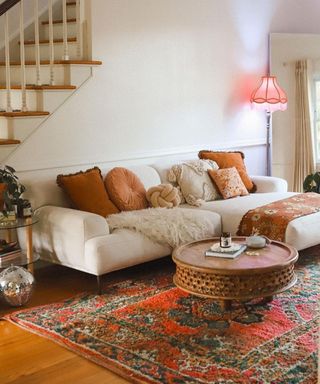 Making sure that your furniture works as hard for you as possible is an important factor when choosing pieces. "Looking for pieces that can serve multiple purposes, such as a storage ottoman or a sofa bed, will help save space and money," says Ricky Allen, interior designer and director of Ever Wallpaper. Lift-top coffee tables and console tables with drawers are also smart choices.
Ricky Allen is the Interior Designer and Director of Ever Wallpaper. It sells high-quality wallpapers and murals, using non-toxic, odorless, and environmentally friendly materials.

2. Keep the design minimalistic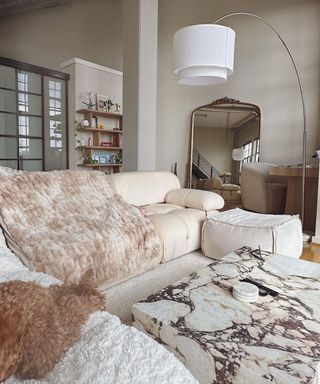 They always say that less is more, and that certainly goes for decorating small spaces on a budget, too. "Keep the overall design clean and clutter-free to create an illusion of a larger space," says Asad Shamim, CEO of Furniture in Fashion. "Instead of filling every nook and cranny with furniture and decor, just choose a few key pieces that are both functional and visually appealing." Doing this will not only make your home look polished and put together, but will also save you money in the long run.
Asad Shamim has over 20 years of diverse experience in interior designing and home decor. Currently, he is the CEO of Furniture in Fashion.
3. Choose an impactful area rug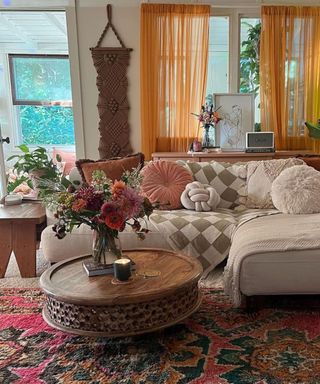 Rugs are a great way to add color and style to a smaller home, with a minimal amount of effort. "Whether you're decorating a kitchen, bedroom, bathroom, or living space, an area rug is a great way to add character, texture, and color without taking up space," says Jolynn Hansen, interior designer and founder of Lofty Designs.
For kitchens, she suggests using a small runner rug in front of the sink, while in a living room or bedroom, she would center the rug in the space. If you're looking for a budget-friendly area rug, Amazon rugs are stylish and savvy.
Jolynn Hansen is an interior designer and professional organizer based in Las Vegas. Founder and CEO of Lofty Designs, she serves the luxury residential market both locally and across the United States, and specializes in creating spaces that are both beautiful and functional.
4. Get thrifty with second-hand or DIY pieces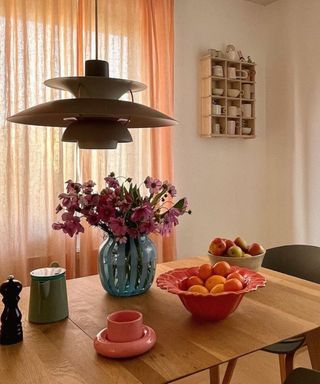 Sure — buying furniture from the store might be easy. If you're on a budget though, it's a good idea to shop secondhand furniture stores like Goodwill, as they might just have what you need at a lower price. "Don't be afraid to browse thrift stores or online marketplaces for budget-friendly decor pieces," says Allen. "You can also get creative and upcycle old items with a fresh coat of paint or some new fabric."
5. Use mirrors strategically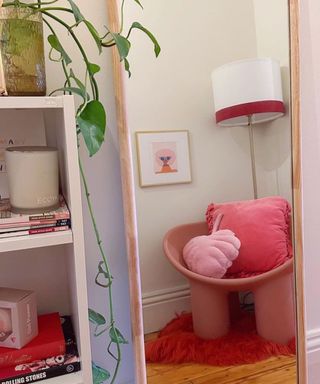 Mirrors are a must-have for decorating with smaller spaces, and they don't need to cost a lot, either. "Place mirrors strategically to reflect natural light and create the illusion of depth," says Shamim. For example, hang or lean a full-length mirror on a wall opposing a mirror to make a space appear larger. "You could also use mirrored furniture or hanging mirrors on walls to maximize their effect," he adds.
6. Pick smaller decorative items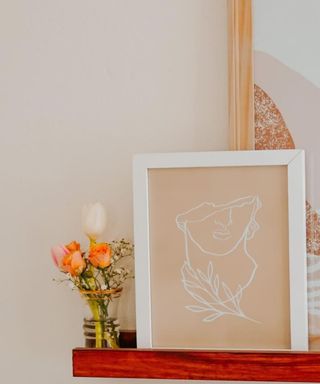 In a smaller space, being thoughtful with the decor will not only make your space look more curated but will also save you serious dollars. "Pick decorative items that won't take up a huge footprint, but still add some life to the space," explains Hansen. "Candles, framed artwork, and even throw blankets are great, simple additions that can make your small space feel luxe and cozy." Be sure to choose a color scheme and style that ties them together for a cohesive finish.
FAQs
How to decorate a small room with a low budget?
Keep the design minimalistic and choose pieces that work hard, like multifunctional furniture and useful decor like candles. Also, don't be afraid to look in second-hand stores or to make pieces yourself.
What's the first furniture piece I should buy with a small budget?
If you're decorating your first place and are being selective about what you're buying, make sure you get a bed first, as you need somewhere to rest at night.
---
Decorating a small space on a budget doesn't need to be stressful — just by being selective with buys and with style, you can make your home look cohesive and chic. If you're looking for even more expert advice, these interior designer-approved small space decorating tips are very useful.