It's time to give your home some flower home decor love, whether it's big blousy blooms on your dining table or a trio of posies sitting on a nightstand, flowers add so much to an interior space.
As home decor ideas go, flowers give a home that special finishing touch, the splash of color, a textural display and if they're real – beautiful scent. The best flowers to choose are those that are seasonal, and we are extremely lucky to have a huge array to choose from during the year – from peonies to poppies, large-headed garden-style roses to frilly ranunculus and good old daffodils, hyacinths and stocks – if you have space, you can grow your own fresh flowers.
If you can't bear the faff of real blooms another flower decor is to consider faux or dried. There are great selections of both these days though they're not necessarily any cheaper than real.
Whatever style you like, it's also about where to place them and how to get the proportions right. We've gathered together a selection of flower decor ideas that will tick your interior design boxes.
1. Create a welcoming entrance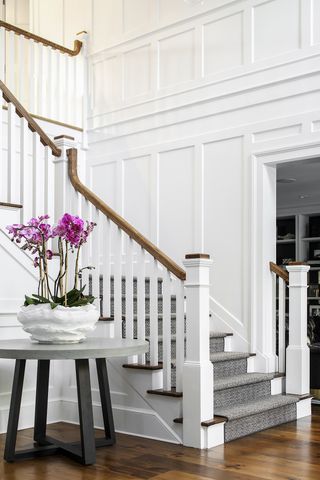 There's nothing more striking than a large bowl full of orchids – sophisticated and stylish, they're decorative enough to sit alone on a good-sized table. That's flower decor at its best.
With such a key area it's worthing inviting in a vessel that's equally as elegant as the orchids themselves. Having problems keeping orchids alive? We have top tips on how to care for orchids and how to water orchids.
2. Pick a shapely vase for blousy blooms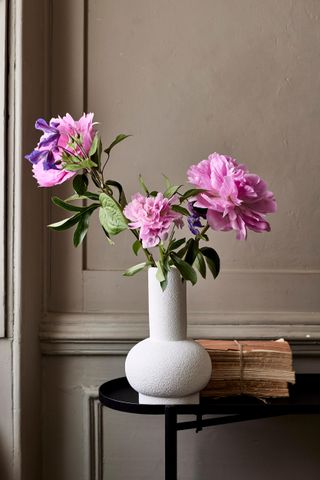 The container you use for your flowers is just as important as the stems you're going to place in it. The texture and shape of this vase is contemporary with its concrete style finish and as such doesn't need to be filled to the brim with flowers – three big headed roses or peonies will be eye catching enough. For a similar vase try West Elm's Totem vase in white.
3. Give them pride of place in your kitchen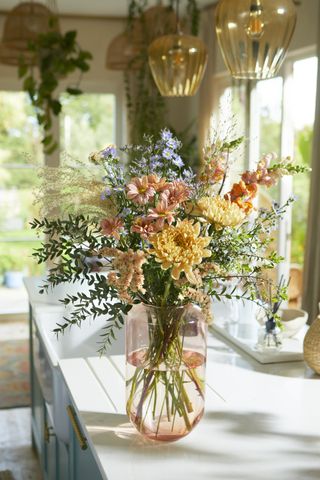 What's great about this vase of flowers from Bloom & Wild is that the vase ties in perfectly with the pendant lights above the sink. Colored glass is having a resurgence and it's easy to see why, it creates a light and airy feel whilst being stylish.
Choose flowers that have similar colors for a cohesive look, there's nothing better than an arrangement that's considered.
4. Double up on a dining table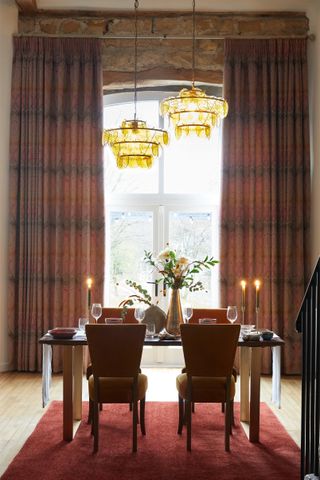 Create a focal point by placing a pair of vases on a dining table idea. Vary the heights and use the same blooms in each. A mixture of foliage and flowers will give a more textural look and you can pick stems that match your scheme – coral-colored flowers with napkins of the same tone for example. Metallics vessels work well as you can tie them in with candlesticks with a similar finish, for similar try these from Wayfair.
5. Brights blooms for a bright color scheme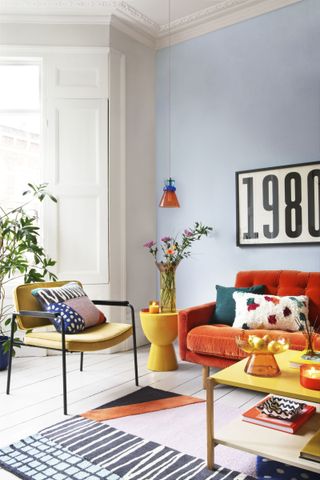 Make your flower choices work within your space, in the case of this colorful living room idea, the chosen stems are integral to the scheme and take pride of place on the primary yellow side table.
Also, considering height, the tall vase placed in front of the sky-blue wall really shows the flowers off perfectly.
6. Less is more when it comes to arrangements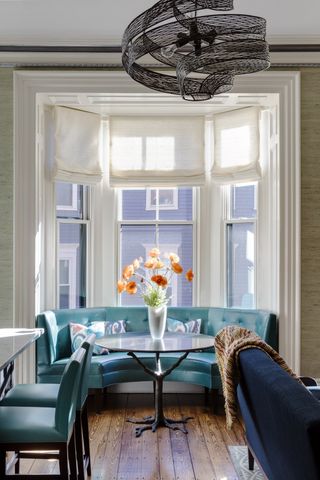 'The most important considerations are scale and proportion and the solution is the arrangement of flowers,' says Kathie Chrisicos of Chrisicos Interiors, former president of IIDA and a leading Boston-based designer.
If the flowers are small and delicate but you love them, you must achieve an arrangement that doesn't get lost in a large setting and vice versa – I advocate less is more for the best impact for a floral statement.'
7. Play with proportions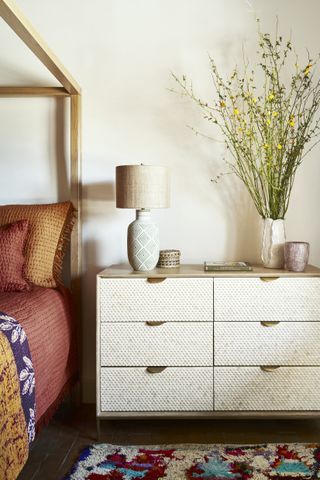 Look how spectacular this vase looks with these oversized stems! A simple focal point on a bedside table that creates impact but in a balanced way.
Top florist tip: put pebbles in the bottom of the vase to weigh it down if you want to go as high as this – make sure they're clean so they don't add bacteria to the water.
8. Have a forage in your backyard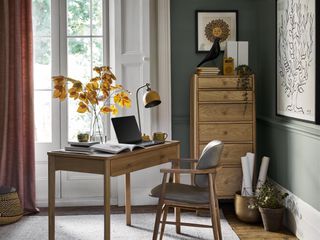 On a budget but still want to have something in your home? Check out what you have outside, a few branches of autumnal leaves will add a richness to your space and who can resist all those beautiful shades of burnt umber and ochre. Make sure you pop them in water though, they will need hydrating as much as flowers.
9. Match your vase to your walls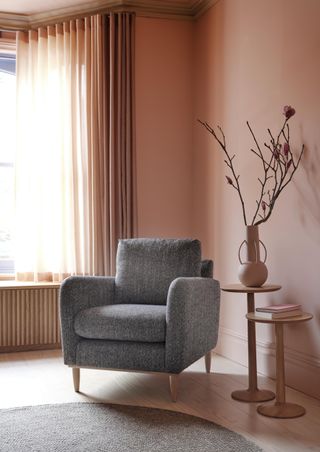 This may sound a little odd, but bear with us and take a look to see how contemporary and uber stylish it looks!
When the rest of the scheme matches including the skirtings and walls, then choosing a vase to match – or painting it yourself is a winning move. Pop in a few sculptural stems like these magnolia branches and you have a refreshed space.
10. Opt for classic white and green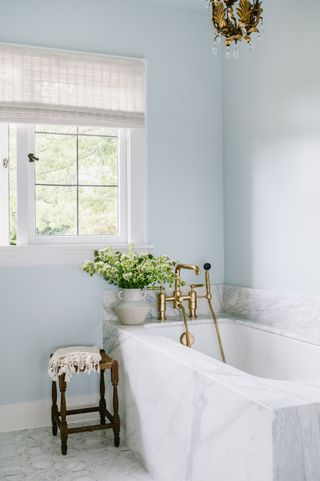 There's something wonderfully sophisticated about a vase full of green and white stems. It also means that they won't clash with the color scheme in your space. A winning bathroom idea would be to place a bountiful arrangement on a windowsill or set them pride of place on the side of the tub.
11. Consider dried for longevity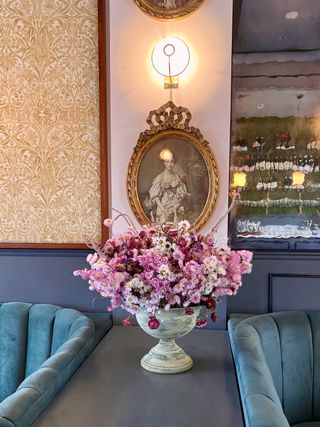 Dried flowers aren't for everyone, and we tend to think they only come in muted tones. This pretty arrangement by Gone to Seed shows how a dried flower arrangement can add color in a spectacular way, it features pink, purple, natural and white varieties and comes in a faded green ornate metal urn.
12. Don't forget to use flowers outside too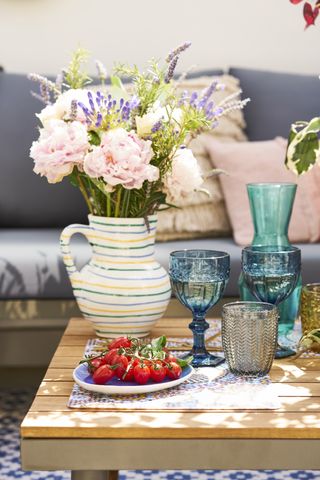 'You simply can't go wrong with perky floral blooms in a lightweight vessel for a quick and easy home refresh,' says Wayfair's resident style advisor, Nadia McCowan Hill. 'Fuss-free faux blooms are the most cost-effective option as they will last all year round and can mix together in varying combinations to keep things feeling fresh. Equally, some local seasonal buds popped in a casual jug are a cheerful choice for easy movement around the home, from the dining table to hallway or bedrooms.'
How do you decorate your house with flowers?
Kathie Chrisicos of Chrisicos Interiors, former president of IIDA and a leading Boston-based designer says:
'The need for flowers is always in relation to what the room lacks, and a floral "pop" is one of my favorite ways to add punctuation to a room setting. I like to work from table settings - whether a side table or a coffee table - or even a vanity surface in a powder room idea.'
'Your hallway is one of the most functional places to display a flower arrangement. It's a great icebreaker, and there's nothing more welcoming than being greeted by colorful flowers in a hallway idea. Choose a vase that has a neutral color and sculptural silhouette to add character. As for the flowers, choose ones that have tall stems, such as hydrangeas, dahlias, and roses.
In a dining room idea – if you have a long table at home, you can decorate it with a row of flowers. If you have a round table, a beautiful centerpiece never fails. When decorating a long table, use vases of varying heights to create contrast. Snow white lilies and roses make for a classic look and add charm to your living space,' says Stacy Lewis, owner and interior designer at Eternity Modern.
'I like to use vases that are sculptural and can stand alone as a decor piece with or without flowers. When using a statement vase or vessel, keep the flowers more simple. If you're displaying a more elaborate or colorful arrangement, use a clear or simple vase to allow the flowers to stand out,' says Emily Ruff, owner and principal designer of Cohesively Curated Interiors.
Which flower is best for home decoration?
'There are 'best' flowers specific to every room and occasion. As a designer, I work to find the perfect flower for a setting, and, often, we do this on a seasonal basis, to stay in tune with the growing schedule of local flowers and plants,' adds Kathie.
Emily agrees:
'There are so many options, it is always best to choose flowers that are in season. Peonies, dahlias, ranunculus, veronica, quince flowering branches, acacia, and snowberry are all favorites.'