Expert advice on how to arrange flowers couldn't come soon enough if you've ever bought a gorgeous bouquet of flowers only to get them home, unwrapped them from their lovely brown paper, plonked them in a vase, taken a step back and wondered where it all went wrong.
Well, thankfully, the days of shoving your shop-bought flowers in a vase and hoping for the best are over, because we've got some top tips to help you arrange flowers like a pro... An effortless home decor idea you can nail easily.
All you need is the right tools – some sharp snips, a couple of vases and a splash of bleach to keep your water bacteria-free, a few inspirational flower home decor ideas (we've got those) and you'll be ready to create your own masterpiece, or two.
1. Choose your flowers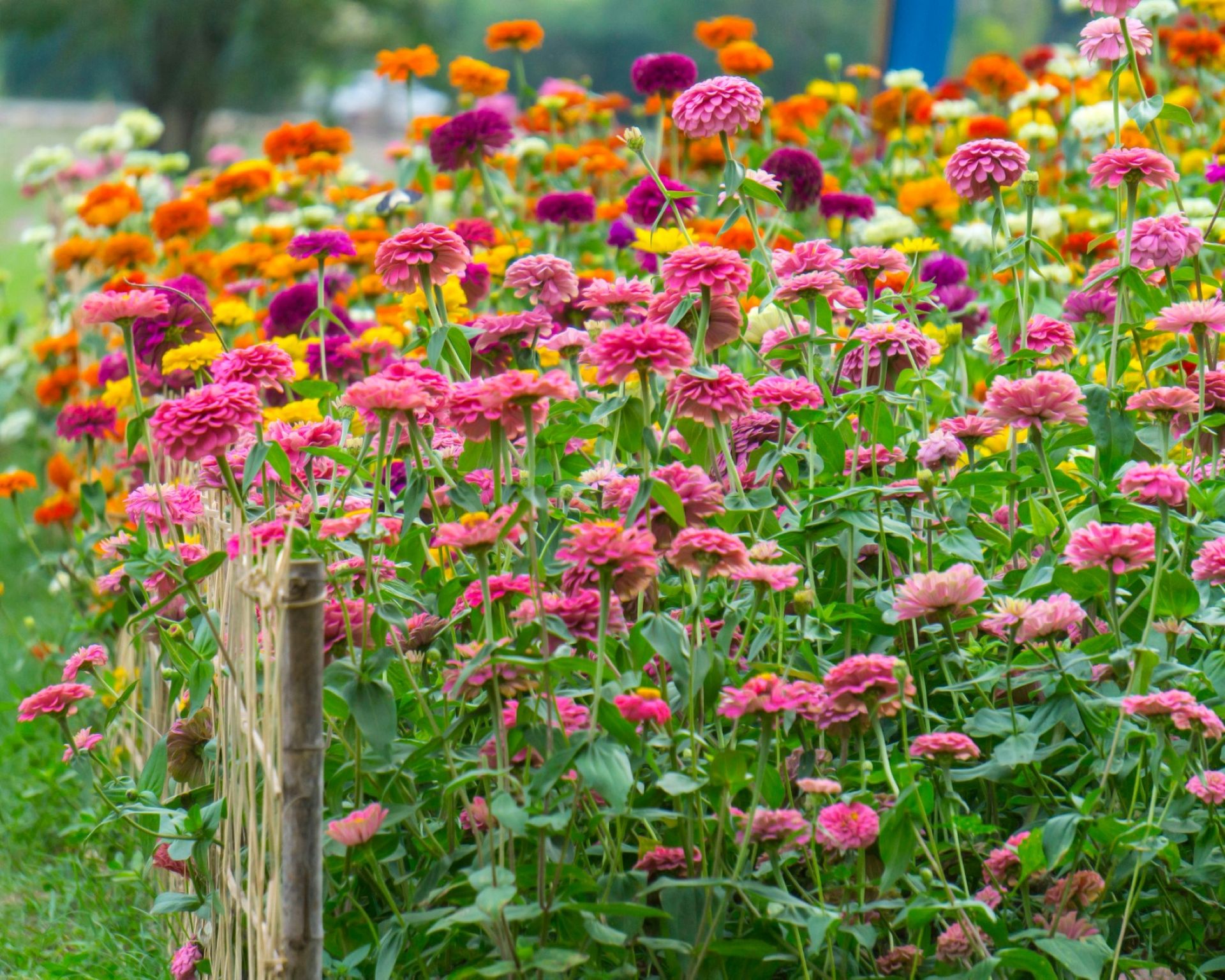 Where possible, use seasonally grown flowers – but what does this mean? Flowers that bloom in a particular season in a certain locality. For example, daffodils and tulips in the spring, peonies early summer, dahlia late summer, early autumn. Then in winter amaryllis, camelia and heather.
In the stores, you'll see other varieties all year round as they buy their stock from overseas rather than local growers. Look out for local flower farmers who sell by the bucket, not only will you be buying pesticide-free blooms, but you'll be helping out an independent.
2. Give them some love and attention before arranging
We asked Harriet Parry, florist at Bloom & Wild, for her top tips on the essentials:
'Condition your flowers – the first thing you want to do with all flowers is take off any greenery that's going to be below the rim of your vase. Otherwise, they'll drop off into the water and start to rot. And that's not good for your flowers!'
'Cut your stems at a 45-degree angle about three-five cm above their bottoms. We do this because the ends of the stems are dry and so have air blocks, which stop water from going up to hydrate your blooms. By cutting at an angle it gives a better surface area so more water can get up!'
If you have roses then take off their 'guard' petals, these outer petals guard the rest, gently pull them off to reveal the fresher ones underneath. Once your flowers are prepped, give them a good drink for a couple of hours.
The next thing you need to decide is what kind of arrangement you'd like to create...
3. An abundant vase for the table
Harriet gives her top tips on how to create this arrangement:
'In any flower arrangement you have focal flowers, which have interesting shapes and colors that draw the eye in, and you also have filler flowers. which have lots of little heads and are flouncier. Start by placing your filler flowers into the vase in a criss-cross fashion, creating a tipi shape.'
'As you start adding your focal flowers, you might want to play with heights! Use your vase as a ruler and cut some stems quite low, keeping others quite high. Pop the taller, sturdier stems in the middle and the shorter ones on the outside. Just have fun, there's no right or wrong. Go with the flow, it's nature, it's fun so don't take anything too seriously.'
'As you arrange, just keep spinning your vase as you'll see it from every angle. Don't let the flowers be cramped. You want to let each flower shine and have movement.'
'Just keep jiggling your flowers around and turning your vase, building your flower arrangement up. Use the shapes of your flowers so some tumble outside the vase to create a big, flouncy look. Fill in any gaps but let every flower have room to shine. Constance Spry, who was a pioneer in the floristry world once said, "always leave room for the butterflies" and I always think about that.'
4. A 'just picked from the garden' jug
One of the most lovely arrangements can be a natural look of a variety of stems that are all different. In this vintage jug we have summer blooms that include a stem of lilac, one stock, various roses, some honeysuckle, and foliage from the backyard.
Keep the stems quite low, you want them to be in proportion to the jug for this kind of farmhouse decor idea.
5. All in a row for a dinner party
Whether you're entertaining inside or out, a row of different vases can look spectacular down the center of a rectangular table. If you're looking for an easy outdoor dining idea, you can use foliage from your yard and mix this in with flowers that you may have grown yourself or bought from a florist.
Always use an odd number of vases – a stylist trick – and remember to keep your arrangements low, you need to be able to see the person sitting opposite you.
6. Tall and sculptural
For a modern living room idea home keep it simple with a contemporary shaped vase and three or five sculptural stems of magnolia.
At other times of the year you could use anything that's got some leaf coverage, blossom, stems with new buds or fern that's dried during autumn and has those beautiful earthy tones of ochre and rust. Whatever you choose needs to be tall so make sure you have enough water in the vase to add weight so it doesn't tip over.
7. Low and pretty
Your vase will dictate the kind of arrangement you create, for example, if you want to make a pretty low bowl display for a simple yet elegant bathroom idea or bedside table then choose a vessel that's short in height like this design.
Then, cut your stems so the heads are all you see above the lip of the vase. A variety of dahlia, stocks, and roses have been used here and the textures work really well together. The color palette is shades of pink from deep magenta to the palest blush which helps add depth to the arrangement.
8. Blooms in a basket
Flowers in baskets make great displays and can also be used for gifting to friends and family. Caroline Bates, creative director of Hayloft Floral advises us on how to arrange flowers in a basket:
'This is a really simple arrangement to make – you can use any basket at all as long as it has a flat base – you then need to find some jam jars that fit nicely into your basket so that the tops sit just below the rim of the basket.'
'Fill these up with water and you can then start by arranging shorter bits of foliage in the jars, including some bits which cover the edges to hide the jars in your arrangement. Then pop in your flowers cutting the stems to different heights for interest.'
'None of the stems need to be very long for this arrangement so it's a great way to use shorter flowers or offcuts. I love to collect grasses and seedbeds from my garden to add in for texture.'
What is the basic rule in flower arrangement?
Sacha Przewieslik-Allen, founder of The Floral Potager says:
'I would say my basic rule is to do what makes you happy! But allow each ingredient to have its own space and shine.'
'In my opinion, the most important rule in flower arrangement is don't be afraid to experiment – the best florists only got to where they are through a lot of practice and making mistakes along the way. While you can follow all the rules, being creative and trying different things will allow you to develop your own style,' advises Bates.
What's the best way to arrange flowers in a vase?
'The best way to arrange flowers in a vase is to consider how they would sit in nature – go into your garden or a park and have a look – the heaviest flowers tend to sit naturally lower as they would fall over if they were higher up and then the lighter airier flowers will dance above them.'
'I always find the way to create a perfect arrangement is to try to mirror what happens in nature,' adds Caroline.
'In a vase arrangement, create a framework with foliage or fillers to support focal flowers, then add these in at varying heights for interest,' says Przewieslik-Allen.