If your home has space, why not consider designing a boot room? While in a large room it's worth adding a sink to create a utility area or multipurpose space, clever thinking could transform an alcove in a hallway or a kitchen corner into a boot room-inspired space.
Subscribe to Period Living magazine
Get the best period home inspiration, ideas and advice straight to your door every month with a subscription to Period Living magazine
Made to measure furniture allows for personalised storage with no restriction on furniture shapes and sizes and the added benefit of a huge range of wood or painted finishes to choose from.
It also allows you to use every available inch of space in a practical way.
For a flexible solution that you can take with you when you move, choose freestanding pieces. Bench seats, coat racks, shoe storage solutions, umbrella stands and assorted baskets will all come together to create a supreme storage solution.
Whichever storage options you choose, ensure they are easy to clean and made of durable materials, remembering that they will be regularly covered in mud and – if you've got children – assaulted by shoes coming roughly in their direction.
Got a dog? Work in a space for storing leads, bags and balls.
Consider flooring, too – wipeable materials will be better looking for longer, while patterned flooring (think tiles or vinyl) will hide dirt more effectively.
1. Include built-in seating to change shoes in comfort
A storage bench with a comfy cushion and wicker pull-out baskets tucked beneath give this boot room a relaxed country feel. The built-in bench and wooden peg coat rack are painted in Lamp Room Gray by Farrow & Ball.
Bespoke boot room, from £8,000, Mowlem & Co.
2. Choose freestanding furniture for a budget solution
Select furniture that suits your space for all the benefits of a bespoke room at a fraction of the price. Clear clutter into the Pax wardrobe in Bergsbo White, H236cm x W100cm x D38cm, £190, add hanging space with the Kubbis rack, £10, and store shoes in the Brusali shoe cabinet, £55, with three compartments; all Ikea.
3. Create a smart, symmetrical arrangement
Pull out all the stops with generously-sized boot room storage that caters for every requirement. The practical bench is backed by tough tongue and groove panelling and is flanked by full-height cupboards, all painted to match.
Bespoke boot room, from £40,000, Artichoke.
4. Include a sink to make life easier
If space allows, a sink is a big plus, turning a boot room into a multi-purpose utility area. Opt for a tall tap with pull-out spray to make it super-practical.
New England boot room, from £25,000, Mark Wilkinson Furniture.
5. Find ways to open the space
This tall elegant cabinet has been divided to give each family member a dedicated space for outdoor gear and shoes. A shelf with pegs provides extra storage for bags and scarves.
Bespoke boot room, from £10,000, Humphrey Munson.
6. Include storage that kids can reach
When planning the position of coat racks, set them at a suitable height to encourage children to hang up coats and put away shoes. Here all options are covered, with a handmade shoe store at two heights, a double row of coat racks and overhead storage.
Bespoke solid oak family boot room from £3,500, Rencraft.
7. Save money with an all-in-one solution
If you don't have the space or funds for a complete boot room, a hall stand includes all the elements needed in a one-off piece of furniture. This industrial version in mango wood with an iron frame includes a bench, shelf and hanging space.
Cooper hall stand, H180cm x W113cm x D46cm, £399, Atkin & Thyme.
8. Make storage extra practical
Tailor-made furniture can be meticulously planned to fulfil every storage need and customised to suit the space, fitting neatly around any windows or doors. This arrangement has full-height cloak cupboards, bench storage and slatted shelves to air and dry muddy boots.
Boot room, from £12,000, Lewis Alderson.
9. Select flooring that makes a statement
A stone floor might be the default option for a country-style room but luxury vinyl tiles in an on-trend pattern are ideal for giving a hall or kitchen with an adjacent boot room a contemporary feel.
Check Flint vinyl floor tiles by Neisha Crosland, £44.80 per sq m, Harvey Maria.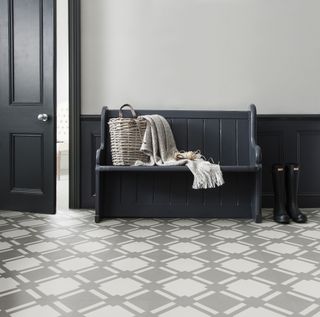 10. Ring the changes with flexible furniture
Modular storage can be arranged to suit the space then added to if your needs change; this furniture can be customised with a choice of colours and knobs.
Boot room storage arrangement, in French Grey, from £740 (with wooden knobs, excluding seat pad); peg rail with shelf, £130, all The Dormy House.
Don't have space for a boot room?