If you're anything like us, we're obsessed with our dogs, and they deserve only the very best dog beds.
Dogs can sleep up to 20 hours a day, so they definitely need a space just for them. Each dog has very unique needs and habits that may make one bed more appealing to him or her than the other. Sometimes, it can feel like a true game of trial and error.
From cozy cuddler beds that help your fur baby feel safe and secure to supportive orthopedic beds that help cushion and restore your pet's muscles and joints after a romp in the backyard, we've tried a variety of the very best, and have considered what kind of dog will most benefit from each bed. The key to a great night's sleep starts with the best mattress, so why shouldn't your pup have a dog bed to match his needs.
We spoke with Dr. Laurie Hess, Petco's Director of Veterinary Medicine about how to choose a dog bed for your pet. She advises that "pet parents should consider their dog's size in relation to the bed, whether the dog tends to spread out or curl up when sleeping, the amount of special support their dog needs for their age and condition, and the degree of durability necessary to match their dog's behavior." Sound advice to think about, as you read through our top picks.
Heck, you may even be inclined to pamper your pet with a fresh bed for every room in the house. That would be one very lucky dog!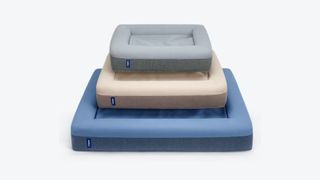 If you love your Casper mattress, well pass on the good zzz's to Fido with their memory foam dog bed, made with the same high-quality, pressure-relieving foams as their signature mattresses.
The two-tone design requires some light assembly, which also serves as a helpful guide to understanding the full features of the bed: like supportive foam bolsters for your pup to lay his head, hidden zippers to prevent prying paws and protect floors, and another zippered compartment that holds the two-layer foam mattress, featuring layers of Visco Elastic Memory Foam and Polyurethane Support Foam. And when it comes time to clean, the entire cover easily zips off to go straight into your washing machine.
The soft, yet durable cover is virtually indestructible; Casper even designed excess material on top to mimic the sensation of pawing at loose earth. The fibers are also heat-bonded to repel shedded hair, too. The bed is available in three sizes, accommodating dogs up to 90 pounds, with plenty of room for him to curl up or splay. And as a fun bonus, the bed also comes with a plush waffle-shaped pillow toy to entertain your pup as you put the bed together, and long after.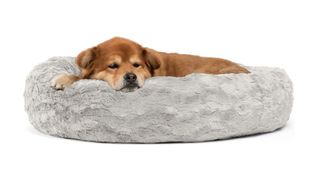 Aptly called the Original Calming Donut, the delightfully soft cuddler bed from Best Friends by Sheri is not just ridiculously luxurious for your pet (and space) but it also works wonders at helping your pet feel safe and protected. It's a must-have for any pup whose favorite sleeping position is curled up.
Inside to create cushion, the bed is filled with AirLoft fibers that are better at maintaining their shape and won't fall flat. The tall 9-inch bolster helps create a sense of security and provides neck support, with plenty of space to burrow, too.
It's available in two finishes: a shag fur and a faux mink, which is designed to be reminiscent of a mother's coat and has self-warming capabilities. The round designs come in 17", 23", 30", 36", and 45" diameters that suit the tiniest pups to dogs up to 150 lbs.
Many may mimic this design, but the Best Friends by Sheri version has a zip-off cover that can simply be tossed into the machine as opposed to having to put the entire bed in the machine. Note, the smallest 17" and 23" sizes are washed whole.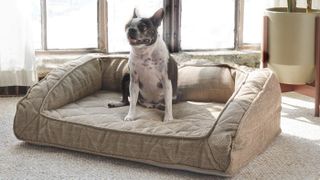 The Runyon Orthopedic Dog Bed checks a lot of the boxes in what we need in a bed for our pets.
First off, a comfy and supportive orthopedic design. The orthopedic support consists of 2" Gel Memory Foam made with BioFoam to gently cradle your pet and to help to relieve issues like joint pain, arthritis, hip dysplasia, and other body aches, and a 2" Orthopedic Base made of highly resilient CertiPUR-US® base foam for support, a construction very similar to Brentwood's mattresses.
Because we only want the absolute best for our pups, it's non-toxic, with a host of certifications like CertiPUR-US certified foams, Greenguard Gold Certified, Climate Neutral.
The bed is also notably easy to care for, thanks in part to the water-resistant liner protecting the foams from accidents and a machine-washable cover. Replacement covers are also available too.
And finally, it's attractive in our homes. The furniture-grade quilted cover reminds us of tweed, so it's not necessarily soft and cozy, but it's also not anything that seemed to keep our loyal tester away. It's also built to hold up against scratching and stains.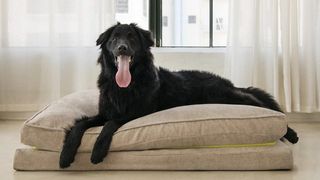 Coop Home Goods makes some of the comfiest, fluffiest pillows, and when we discovered they launched a pet bed last year, well, we had to try it, especially since our resident dog tester is quite the pillow hog.
If your dog tends to choose a cushy surface, the pillowlike memory foam and microfiber fill is the ultimate landing pad, while an orthopedic memory foam base supports their joints and muscles. Both the foam base and the pillowtop are encased in a protective water-resistant shell that resists accidents and moisture.
For the easiest cleaning ever, the top layer zips off in seconds to simply be tossed into the wash. Coop even gives you a backup cover so your baby is never without comfy bed access.
This bed is built to last and comes with a 100-night trial and a one-year warranty, plenty of time for your pet to take the bed through trials. The durable and stylish chenille cover was made with burrowing in mind, and the adjustable fill means this bed is essentially tailor-made to your dog's every need.
Our only gripe so far is that it's so far only available in one colorway, and the neon yellow accent zipper is a design choice that is not for everyone, but it's so comfortable, we want a human version.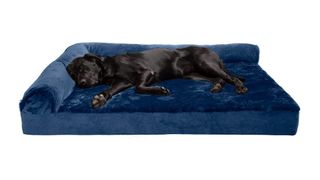 Let (large) sleeping dogs lie. Our pick for the big boys to catch some rest: Furhaven's Deluxe Chaise Lounge with plenty of room for Dobermans, Saint Bernards and other big breeds a destination to relax. We love the L-Shape Design since it offers a place for a dog to rest its head, curl up, or spread out, offering both comfort and security.
The design comes in tons of sizes, including Jumbo Plus, well-suited for big dogs up to 125 pounds, and constructions: including orthopedic, memory foam, and cooling gel. The Orthopedic finish uses an Egg Crate Orthopedic Foam Base that soothes pressure points and offers good air circulation. Dogs prone to overheating may like the cooling gel foam that contains microgel beads that help reduce heat at the surface and is infused with memory foam contouring properties. Finally, the memory foam version holds insulating properties to help keep your pet warm and cozy. All the versions are rated as orthopedic.
The main sleeping surface is lined with plush faux fur, while the supportive bolsters are wrapped in smooth velvet fabric, which provides a nice contrast. Furhaven notes that this design is not well-suited for destructive dogs who like to chew and dig.
Sizes small through large offer three inches of foam, jumbo supplies four, and jumbo plus dogs get 5 inches to cushion their joints. The cover also zips off to easily be machine washable.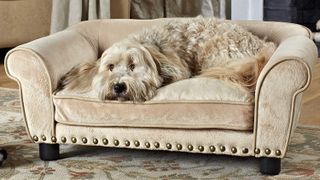 You'll no longer have to share the couch with Lucky unless you really want to when you give your little prince or princess a sofa throne of their own. After all, it's a seemingly never-ending debate as to whether the dog should be allowed on the couch. Our choice: the Enchanted Pet Home Dreamcatcher Sofa, or really any of the brand's similar designs including mid-century beauties, classic chesterfield sofas, and curvaceous models.
We suggest similar designs because most models are only available in one size, but varying sizes are available that cater to both small and large breeds, but they feature similar characteristics, and they arrive fully assembled. All you have to do is screw in the legs.
The Dreamcatcher is recommended for dogs up to 30 lbs. who like to curl up and lean when they sleep. With a faux-leather design and a nailhead trim, this is one stylish bed for your pooch, which is great if you want your dog's bed to add to your decor, not distract. The elevated design also helps pets avoid drafts and the two-inch feet absorb vibrations. There's even a discreet storage pocket to hold toys and bones.
The cover on the removable foam pad can be washed, but some found the bed a little too stiff for their pups. They easily remedied it for a memory foam pillow of the correct size. Some also noted some color discrepancies between the color pictured and what arrived, a more yellowish hue.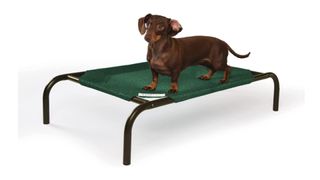 The dog days of summer will be here before we know it, and it's important to keep your pup cool and comfortable. The Coolaroo Steel-Framed Elevated Dog Bed is a classic choice to leave outside on your patio for your dog to recline on and enjoy the outdoors, and just as usable for indoor use.
The covers are made of a breathable high-density polyethylene (HDPE) fabric that may help eliminate hot spots and is resistant to fleas, mites, mold, and mildew. It's covered by a one-year warranty, and replacement covers are easily accessible. The elevated design promotes increased airflow on all sides of the bed and creates low-impact areas to pressure points and joints. A small bed can fit dogs up to 50 lbs, while the X-Large will accommodate dogs up to 150 lbs.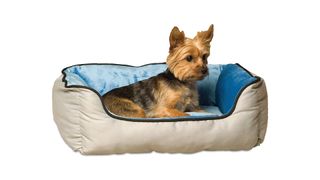 On the other end of the spectrum, are dogs who can't get enough of warm, cuddly spaces! Enter: heated beds, which are divided between self-heating and plug-in electric versions. The self-heating feature is great because the pet parent doesn't have to be home to turn it on, but plug-in versions can help warm your dogs' bed before he even gets inside, and you have control over when it's heated. They're sort of like a heating pad for your dog, that only go to a warmth that's safe for your pet.
The K&H self-warming lounge sleeper bed is made with self-warming mylar technology, also known as "space blankets" where a two-layer system captures and reflects heat back to your pet. For comfort, it's made with a polyfill from recycled bottles. This particular K&H bolster design is only available in one small-size measuring 16" x 20" but pad styles are available too, such as this K&H thermo heated bed (at Petco) that plugs in.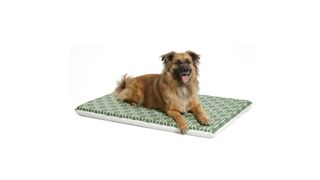 Young pups in need of reassurance that their crate is a safe space will do well with a cushiony crate pad that makes the space warm and inviting and puts their comfort first. Considering your pet may take some acclimating, the best crate pads will come in sizes that fit most common dog crate sizes, hold up in the event of accidents, and stay intact when tasked with digging and destructive dogs.
The Midwest QuietTime Defender Series Reversible Crate does all that and then some. The washable Teflon fabric repels pet stains, dirt, oils, and liquids, and also reverses to a soft Fleece. A comfortable foam core provides cushion and support, and it's available in many sizes to fit comfortably inside your pet's crate.
How to choose the right dog bed for your dog
Why you can trust Real Homes Our expert reviewers spend hours testing and comparing products and services so you can choose the best for you. Find out more about how we test.
Consider the individual needs of your pet. Dogs have different sleep preferences and habits that make some bed types more suitable than others to their needs. The best way to figure out what kind of bed is to observe your pet's behaviors.
Dr. Hess noted that smaller dogs tend to like to be enclosed or surrounded by a bolster and/or fabric feature, while larger dogs tend to prefer sprawling out. Anxious dogs may benefit from beds infused with lavender (it's soothing for dogs too) or similar cuddler beds.
Another factor pet parents should keep in mind is whether their dog tends to chew on their bed to ensure they get a bed made of more durable fabric. It's also critical that pet parents choose a bed that is an adequate size for their dog.
She recommends orthopedic beds for older dogs, noting "Senior dogs who naturally have aging joints, dogs with injuries, or any dog who wants extra comfort and support will typically benefit from orthopedic bed." Another popular option for older, arthritic dogs is heated beds that help reduce stiffness and joint pain.