Stressed about starting college this fall? Bring your Pinterest board vision to life with our dorm organizing ideas. Oftentimes, your college dorm might be the first opportunity you have to live in a space on your own, meaning it's the ideal opportunity to experiment with your home design taste and preferences. But it also means you have to figure out how to keep the clutter to a minimum.
As temporary living spaces, college dorms aren't always known for feeling the comfiest or looking the cleanest, however, with a few adjustments and personal touches, your dorm can feel like home. Here are eight ways to organize your dorm without making permanent changes to your room or breaking the bank.
1. Use Your Wall Space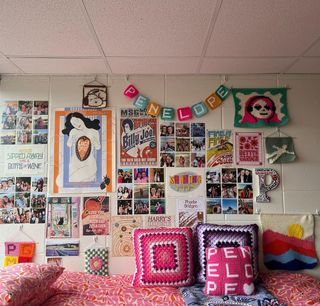 Designing dorms can be challenging for many reasons, including that many of the walls are made from cinder block and nails (oftentimes) should be avoided. For this reason, posters and the like are popular options to decorate. Felt dorm decorations such as this personalized name banner from Etsy, or this rainbow-inspired hanging decoration from World Market, are great ways to add texture to your walls without causing permanent damage.
2. Make Your Desk Space Comfy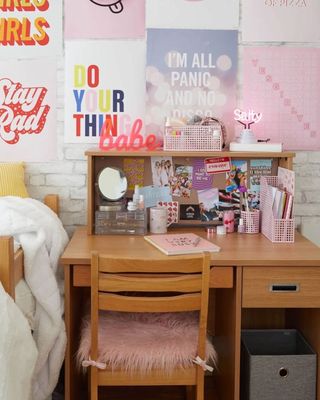 Your college dorm is a great opportunity to customize your personal space exactly as you like it but designing your dorm takes both tact and organization skills. Especially when it comes to organizing your desk space, every inch counts. That is the reason that pencil holders or folder organizers allow you to incorporate some personal style all while keeping your desk organized.
3. Incorporate Some Unique Arts And Crafts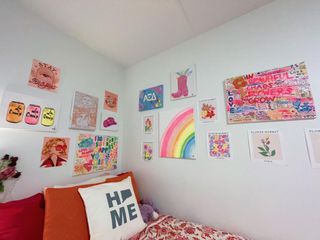 With many dorms offering limited natural light or square footage, it can be challenging to create a space that feels like your own. By incorporating some of your own works of art or any unique pieces you've collected among your other decor you can make your room feel even more special. Start with some art supplies from Amazon or even a craft kit from Target. Creating your own piece can also help you unwind after a stressful school week.
4. Use Bright Colors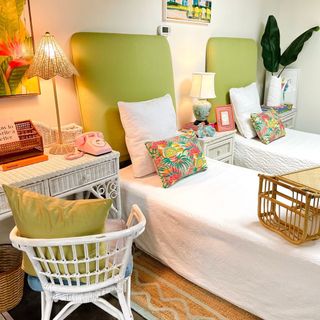 Typically dorm walls are painted white and in order to create a space that allows for more creativity and focus, using more bold colors can help invite that energy. Whether you use orange pillows on your bed to brighten your mornings or you prefer bright-toned curtains that match your school's logo, there are plenty of ways to incorporate happy colors throughout your room.
5. Embrace Plants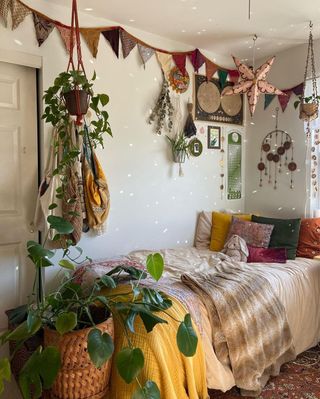 Since temporary living spaces such as dorms are cleaned often, they can also feel very sterilized. By adding a few plants, you can add a bit of the natural world to your room. This is also a great opportunity to learn how to care for a living thing on your own. Just be sure to ask your roommate before inviting plants in your room as some house plants can trigger allergies.
6. For Crowded Rooms, Stick To Minimalism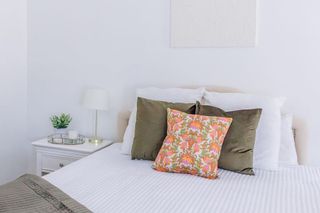 Most dorms are divided into doubles, triples or even quads — meaning that space can get crowded. If there are bigger pieces of furniture in your room that take up space, consider approaching your dorm design with a more minimalist approach. Light colors and limited decor will allow you to keep your space more tidy, leaving you with more time and energy to study (or socialize)
7. Don't Forget a Late Night Snack Corner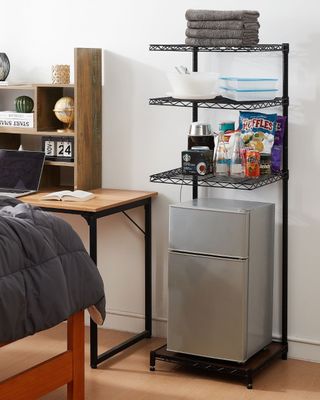 Many times, dorm dwellers are learning to cook on their own for the first time in their lives. Whether you're already a five-star home chef or you are still confused about the Instant Ramen instructions, creating a snack corner with a simple wire shelf can be a great way to take care of yourself between meals.
8. Use Multi-Functional Furniture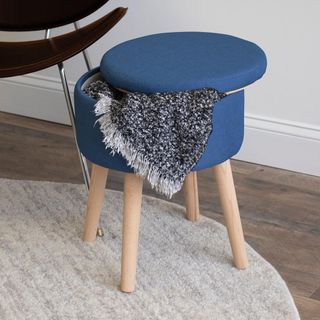 If you're limited on square footage, utilizing multi-functional furniture allows you to save space in your room. Some ideas include finding seating with storage, like this ottoman, or using a large trunk to store clothes or books. Under-the-bed storage containers are also a great way to save space for those not in bunk beds.