Apartment kitchen organization can be a culinary minefield — I've been there. Your cook space might be lookin' cute AF one day, but before you know it, you'll be low-key hearing Collette from Ratatouille screaming "Keep your station clear!" in your head. I'm quivering like that cute li'l rat just thinking about it.
When I moved into my two-bedroom maisonette, it was pretty much a blank canvas. But for any newcomers here, I test and review 99% of all small kitchen appliances on the Real Homes site, so my cook space can very quickly pile up.
However, what's (weirdly) reassuring is how many people face similar kitchen organization problems to me, day in, day out. Fortunately, the best brands have caught on and come out with stylish small kitchen organizers to organize everything and the kitchen sink.
Here, I'm going to show you how you go about organizing an apartment kitchen by shopping smart. Don't worry if you're 5ft 3in (like me). You won't need to climb any counters or invest in a stepladder to reach your accessories. Everything is accessible — including the price of the star items that make a cameo in my edit.
The prices below were correct at the time of publishing this article.
A word on apartment kitchen organization
When organizing an apartment kitchen, it's good to manage your own expectations. In a newly-built property, the walls are probably going to be on the thin(ner) side, so don't expect to start drilling wall fixtures into paper-thin plasterboard.
With contemporary condos, chances are you're getting a small slither of kitchenette in an open-plan lounge-diner situ. Play to the strengths of this configuration by creating a seamless space that feels like one huge room. A boho-chic living room can spill into a kitchen peppered with bamboo and rattan touches.
From a more practical perspective, I'm 100% certain that these tips for moving into your first apartment will make your life 10x easier.
1. "Counter" clutter with clever kitchen organization
A clean countertop will make your space look 100x bigger than it is. Here, I've sourced some innovative solutions that aren't living rent-free in your cook space. Use your over-the-sink space, walls, and the "roof" or side of your chic mini fridge to magic space up.
ICYDK, risers are your BFF. They create height, elevate items, and can double your storage space by placing items on top of cabinet shelves, as well as below.
Another "cool" apartment organization hack? Use a pan divider (like this one from Amazon) to stack lesser-used cookware and lids. Then, if space permits, stash this on top of your refrigerator. Come on, not every day is a Tagine or steamer basket sort of day. I personally use my Always 2.0 pan for 99% of meals and only bring out the big guys *if* I'm making multiple courses.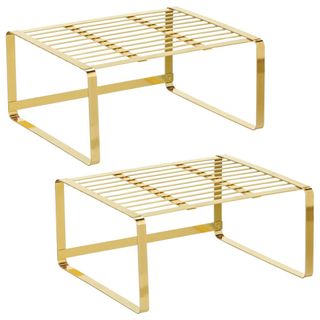 Rust-resistant
mDesign Stackable Gold Shelf Riser (set of 2)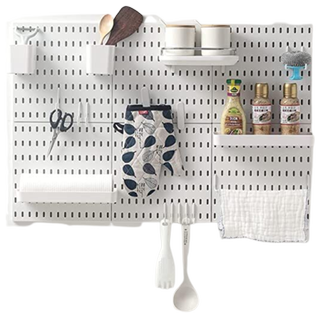 Wall-mounted
JoyBHole Pegboard with Shelf and Hooks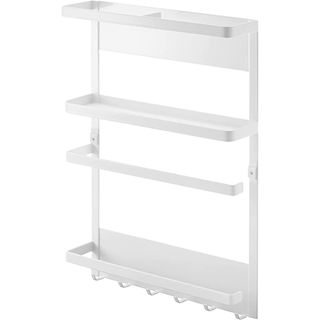 Magnetic
Yamazaki Home Plate Magnetic Organizer
2. Get your sink space into formation
Personally, I've got a dishwasher, but if you handwash your dinnerware sets — the last thing you want is for them to spend a week on Costa Del Countertop. Investing in a good over-the-sink dish rack will ensure that they're "In-N-Out" before you can order takeout. Foldable, stackable, and collapsible items all fit the brief for efficient washing and drying.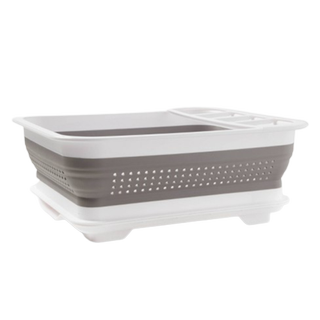 Collapsible
Room Essentials™ Collapsible Dish Rack
Over the sink
Umbra Dry over the Sink Dish Drying Rack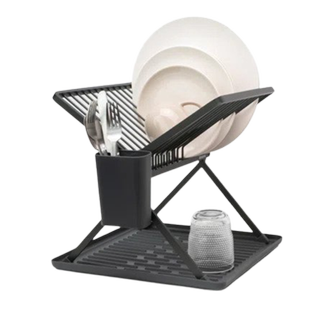 Foldable
Brabantia Sinkside Compact Foldable Dish Drying Rack
3. Saucy gals keep their condiments under control
IDK about you, but my favorite part of going to a restaurant (hello, Cheesecake Factory) is getting a caddy full of condiments. Dip dip, hurray! Deliver the same culinary standards when you dine at home. It'll keep everything neat and tidy too, and free up cupboard space. I'm totes #teampantry when it comes to storing ketchup once opened btw.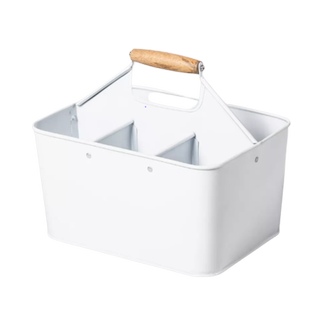 Four compartments
Sun Squad™ Metal Condiment Caddy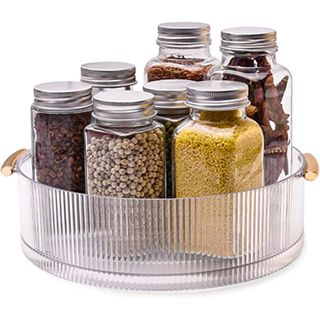 Fluted acrylic
Kulvgda Lazy Susan Organizer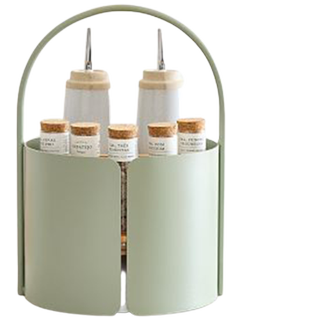 Portable
4. Get a grip with shelf liners
If you'd prefer to keep dressings and oils in a cabinet, the shelf liners I've included below will also stop syrupy things like balsamic, maple, and honey from sticking to the unit and potentially damaging your furniture.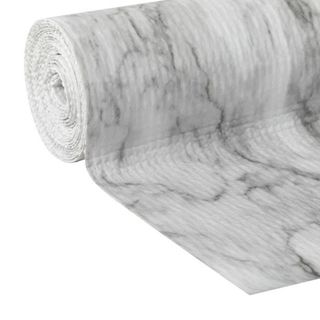 Easy to install
EasyLiner Smooth Top 20 in. x 18 ft. Shelf Liner, Gray Marble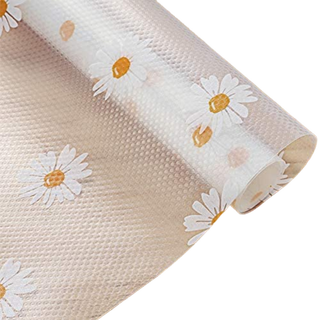 Easy to clean
Jacriah Daisy Shelf Liner for Kitchen Cabinets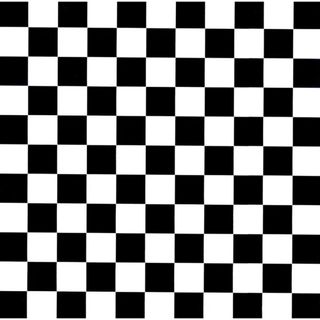 Checkered
Con-tact Brand Creative Covering Adhesive Shelf Liner
4. "Drawer" up a plan and get #spooning with cutlery organization
Slay your cutlery game by ensuring your forks, knives, and spoons are in order. Whether you choose wood or plastic, a good drawer organizer is an absolute game-changer. You won't have to fork out a fortune, promise.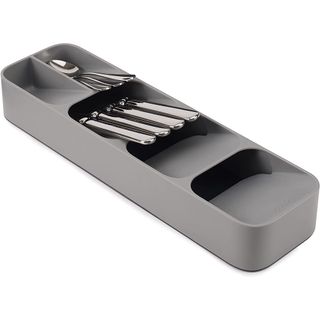 Compact
Joseph Joseph DrawerStore Cutlery Organizer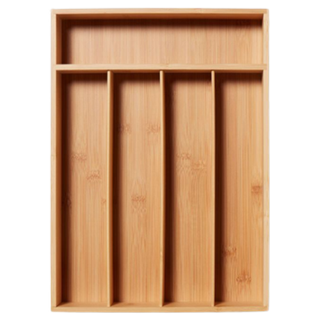 Eco-friendly
Brightroom™ Bamboo Flatware Drawer Organizer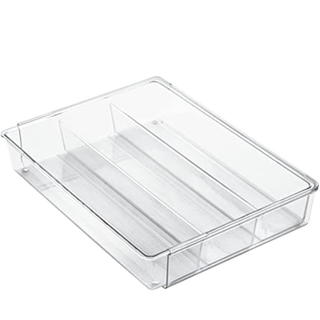 Expandable
mDesign Plastic Divided Drawer Storage Organizer
5. Let the trash talk begin!
It's not sexy by any means, but part of keeping an apartment kitchen organized is having ample waste management with a good kitchen trash can. Food, refuse and recycling has got to be kept under wraps, not only for an aesthetically-pleasing kitchen but for a safe and hygienic preparation space too.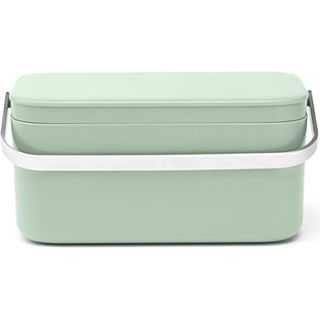 Dishwasher-safe
Brabantia Food Waste Caddy with Stay-Open Lid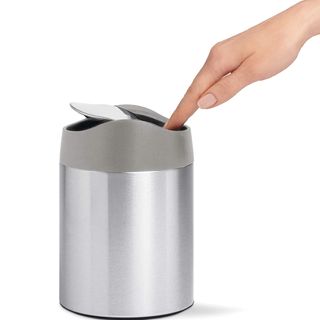 Countertop
Simplehuman Brushed Stainless Steel Trash Can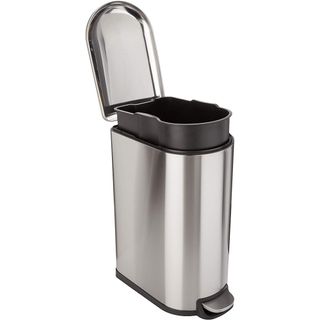 Narrow
Amazon Basics Soft-Close Trash Can
6. Keep your head afloat with good under-sink storage
Hide all of your cleaning supplies under your sink for aesthetic appeal. The objective is to make your kitchen look clean, without unappealing bottles and whatnot on display. Achieve this with hooked door organizers for carrier bags, expandable storage that'll stretch to the corners of the cabinetry, and roll-out drawers. Here are our fave under-sink organizers.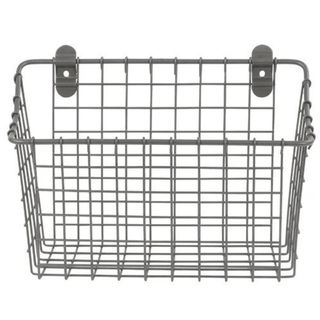 Fully assembled
Spectrum Diversified Steel Cabinet Door Organizer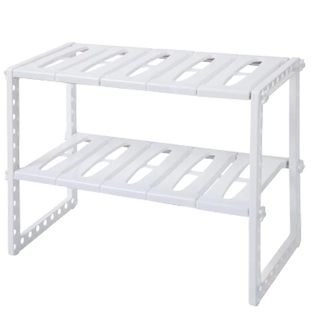 Adjustable
Ubesgoo Expandable Under Sink Storage Shelf Rack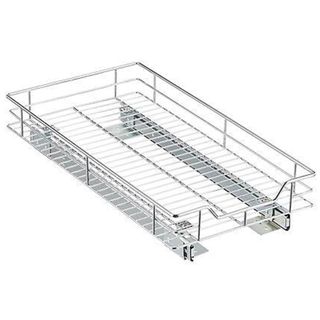 Pull-out
The Container Store 11" Commercial Roll-Out Drawer
7. Dont' spill the beans — contain them
A healthy kitchen IMO is equal storage of both candy and "cookable carbs." I'm talking rice, pasta, quinoa — you name it. And so, rather than being a basic B and keeping things in their foil/cardboard packets, I like to decant grains, pulses, and popular snacks into pretty pantry storage containers like my fave celebs. It also gives "trendy zero waste bulk bin store" vibes.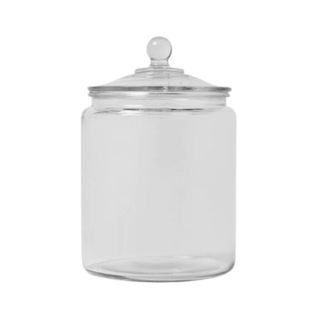 Classic
Threshold™ 64oz Glass Jar and Lid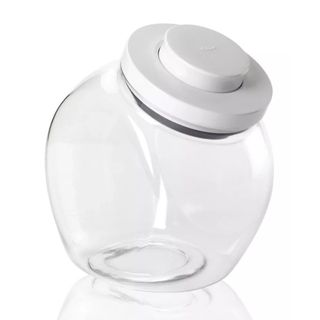 Airtight
Oxo Good Grips Pop Cookie Jar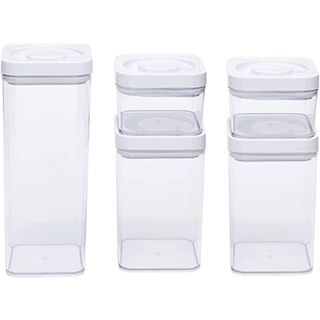 Built-in Gasket
Amazon Basics Airtight Food Containers (set of 5)